Around 200 animals were rescued from a Pennsylvania home this week, including 170 dogs and 12 cats.
Authorities initially arrived at the house in Effort, Monroe County, where a person had died Friday, according to FOX 29 Philadelphia. 
"When the Coroner's office responded, they found a large number of dogs at the property and were concerned with the unsanitary living conditions, possible lack of veterinary care and sheer number of animals," the Pennsylvania SPCA explained in a press release. They reported that over 170 dogs were recovered.
"The initial number reported [of rescued animals] was 70, but subsequent searches continued to locate even more dogs," the Pennsylvania SPCA added. 
PENNSYLVANIA 14-YEAR-OLD ESCAPES ABDUCTION ATTEMPT INSIDE SHOPPING MALL, POICE SAY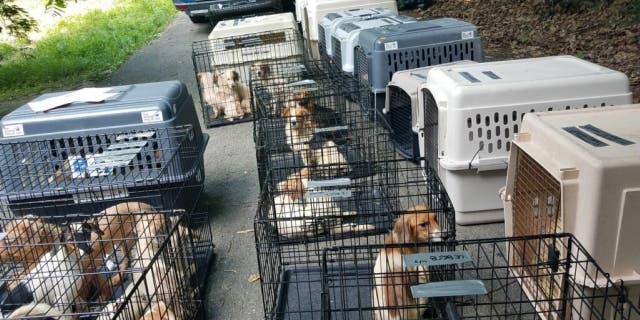 Two chickens, two peacocks, a dove and a parakeet were all found in the home.
Three finches, four rabbits, 12 cats and two guinea pigs were also rescued. Many of the dogs were Jack Russell terrier mixes and included both adults and puppies.
Officials said that the house's residents were "overwhelmed" by the amount of animals.
"While no harm may have been intended in this case, the owners of the animals rescued today were clearly overwhelmed," Pennsylvania SPCA CEO Julie Klim said. "Though the circumstances of this rescue were tragic in nature, we are grateful that these animals were safely removed from their poor living conditions."
MANHUNT LAUNCHED AFTER MURDER SUSPECT WHO WROTE HE'S 'NOT SORRY' ESCAPES PENNSYLVANIA JAIL
"We encourage anyone looking to adopt a small dog to consider adopting one of these or any of those currently in our shelters," Klim added.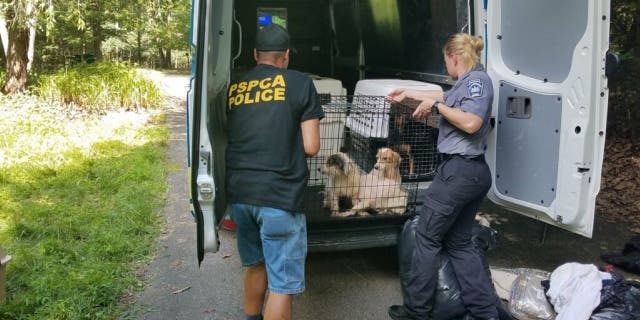 Authorities are investigating the incident and any animal cruelty or neglect charges are pending. Anyone with information about this case or other possible animal cruelty incidents is asked to call the Pennsylvania SPCA's Cruelty Hotline at (866) 601-SPCA.
CLICK HERE TO GET THE FOX NEWS APP 
Fox News Digital reached out to the Pennsylvania SPCA for more information, but has not heard back.