Seven Buddhist monks are among nine suspects who are being held in pre-trial detention after being arrested for allegedly embezzling assets worth about $8.9 million  from donations received by a temple in Thailand's northeast, authorities said Thursday.
The Criminal Court for Corruption and Misconduct Cases said the actions of the ringleaders in the case "gravely undermined Buddhism."
Five monks and a driver were sent to pre-trial detention on Thursday, according to a statement from the court, located in Bangkok. They were arrested at the temple, Wat Pa Thammakhiri in Nakhon Ratchasima province, on Tuesday when police staged an early morning raid and uncovered property worth about $2.9 million allegedly hidden by the suspects.
CLERKS IN 'SMALL, STRUGGLING' MISSOURI TOWN EMBEZZLED MORE THAN $600K FOR GAMBLING, RESTAURANTS: AUTHORITIES
Cash, jewelry and amulets were found in many spots, including the monks' private quarters, police said. Some items were buried underground.
The first arrests in the case occurred last Friday, when police took into custody the temple abbot and a famous monk, Kom Kongkaew, who were accused of stealing over $5.3 million of the temple's money.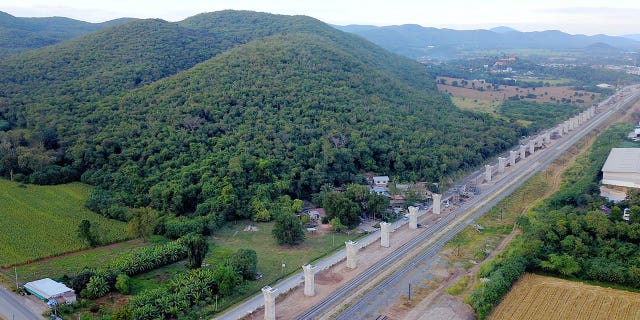 Kom, his sister, and the abbot were denied bail Monday. The court said that after he was taken into custody, Kom instructed the six suspects arrested this week to hide the valuables that were discovered by police. The court deemed all nine to be flight risks who might tamper with evidence.
Police said the abbot, Wutthima Thaomor, told them that Kom advised the monks to use some of the stolen funds to purchase jewelry.
CLICK HERE TO GET THE FOX NEWS APP
The abbot, along with Kom and his sister, are accused of taking the donation money by withdrawing cash from the temple's bank account and handing it over to be deposited in the sister's bank account, in which police discovered $3.8 million. Another $1.5 million in cash was found at her home.
Some Buddhist temples in Thailand are extremely wealthy because their followers donate large amounts as a way of making religious merit.