It took six games of these playoffs for the Colorado Avalanche to finally look the part of a defending Stanley Cup champion.
Colorado's reward? A trip back home for Game 7 and the chance to dispatch the pesky Seattle Kraken.
Mikko Rantanen scored his seventh goal of the playoffs, Artturi Lehkonen scored twice, including an empty-net goal in the closing seconds, and the Avalanche beat the Kraken 4-1 on Friday night in their first-round playoff series.
CLICK HERE FOR MORE SPORTS COVERAGE ON FOXNEWS.COM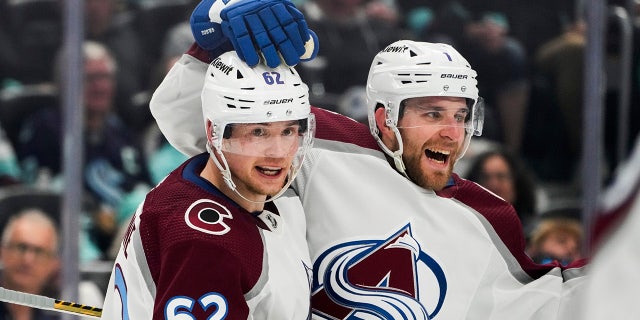 Rantanen scored in the final seconds of the first period, tying it at 1 after Seattle posted the first goal yet again. The Avalanche then dominated the final two periods, flashing some of what made them Stanley Cup champs a season ago.
PANTHERS' OFFENSE EXPLODES, STAY ALIVE IN SERIES WITH GAME 6 WIN OVER BRUINS
"I don't think we've had a full 60 (minutes) yet, a full, good 60, and today we did. We played three good periods, even though they scored the first goal again, but we (stuck) with it and played to our identity," Rantanen said.
Erik Johnson scored his first of the playoffs on a deflected shot 7:21 into the second. Lehkonen redirected Devon Toews' slap pass at 16:57 to give Colorado a 3-1 lead. Toews had two assists, as did Cale Makar after being suspended for Game 5.
"We reiterated it after the game. Any time we've had adversity, we've said we're going to take it one step at a time and go right at it," Makar said. "Huge character win for us tonight, hopefully gave a lot of guys confidence in terms of what we're able to do out there."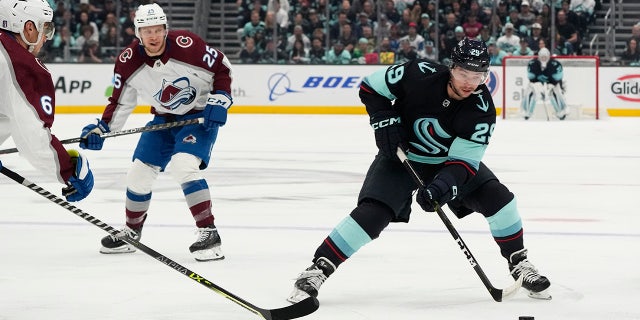 Game 7 will be Sunday in Denver. It's the first Game 7 in franchise history for Seattle and the first for the Avalanche since the second round of the 2020 playoffs in the bubble, when Colorado lost to Dallas.
"It's a new opportunity for this group, and we've been a good road team all year. That's been a strength of this team," Seattle's Jordan Eberle said. "We've got nothing to lose."
STARS BOUNCE WILD IN 6 WITH 4-1 WIN BEHIND HINTZ, OETTINGER
Vince Dunn became the 14th different player to score a goal for Seattle this postseason when he slipped a slap shot past Colorado goalie Alexandar Georgiev at 15:48 of the first. Dunn was second in points for Seattle during the regular season but had been held without a point until scoring his third career playoff goal.
But Georgiev's night was mostly quiet, although he made big stops on Oliver Bjorkstrand and Jaden Schwartz in the final minutes. Georgiev finished with 22 saves.
"They deserved tonight's win. They played well. They were a little bit better than we were, and we couldn't push our way back into the game," Seattle coach Dave Hakstol said.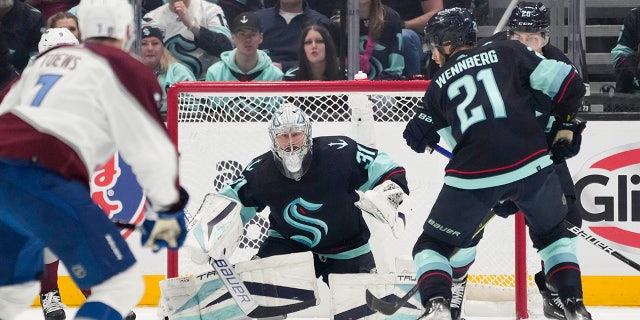 Seattle goalie Philipp Grubauer was peppered all night, and only some spectacular saves kept the score from getting out of hand. Grubauer finished with 35 stops.
Colorado played in their first elimination game since Game 6 of the 2021 conference semifinals, when the Avs were eliminated by Vegas. One of the most impressive parts of Colorado's run to the Stanley Cup last year was its ability to control every series.
CLICK HERE TO GET THE FOX NEWS APP
But Seattle's win in Game 5 put Colorado in a precarious position, and the Avs responded with their most complete performance of the series.
"We just wanted to play our game, we played our best game of the series and were rewarded for it," Johnson said. "And they're a very good team, they really put us on our heels at times. But it felt good to play our game and get rewarded for it."