Andy Dalton is a three-time Pro Bowl quarterback who has more passing yards (38,150) than Jim Kelly, Phil Simms and Kurt Warner and more touchdown passes (244) than Len Dawson, Steve Young and Terry Bradshaw.
But without any playoff wins and failing to maintain as a starting quarterback after his time with the Cincinnati Bengals was over, does he belong enshrined in Canton with some of the other greats? His new Carolina Panthers teammate Mile Sanders thinks so.
The veteran running back, on WFNZ radio's "Mac and Bone Podcast" earlier in the week, endorsed Dalton becoming a Pro Football Hall of Famer.
CLICK HERE FOR MORE SPORTS COVERAGE ON FOXNEWS.COM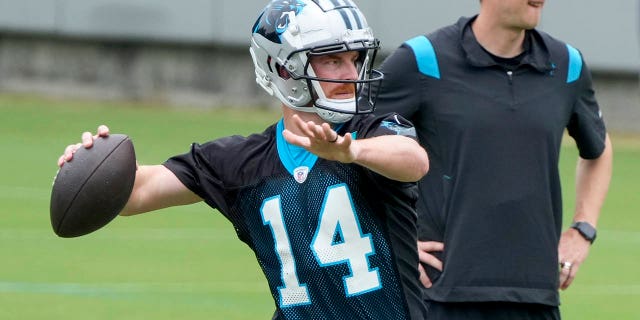 "I have a good feeling about these guys," Sanders first said of his Panthers teammates. "These guys work, and that's the main thing I've noticed in OTAs. We got a very, very good young quarterback (rookie Bryce Young) that's being mentored by a very, very, very good quarterback, a future Hall of Famer, Andy Dalton, who I have a lot of respect for.
"And you got guys like Adam Thielen mentoring the young receivers, and that's a great guy to take notes from. We got a seasoned O-line that I love – I love the film, I love watching their film. And the defense is stacked."
Another solid season as a starting quarterback and Dalton could be crossing the 40,000 passing yard total that only 23 others have accomplished in their careers.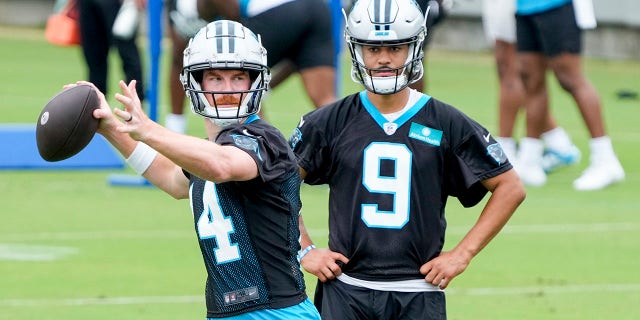 DOLPHINS' TYREEK HILL MAKES BOLD PREDICTION FOR 2023 SEASON: 'I WILL BREAK 2,000 YARDS NEXT YEAR'
Dalton is coming off of a season in which he split time as the starter with the New Orleans Saints. In 14 games, he had 2,871 passing yards, 18 touchdown passes and nine interceptions. The 18 touchdown passes were the most he's thrown since 2018 when he had 21 with the Cincinnati Bengals.
The Panthers selected Young with the No. 1 pick in the draft. It's unclear if he's the sure-fire starter for Week 1.
Dalton said earlier this month he still thinks he can be a starter.
"I view myself as a starter in this league. I don't think there are 32 guys better than me," Dalton told the Fort Worth Star-Telegram.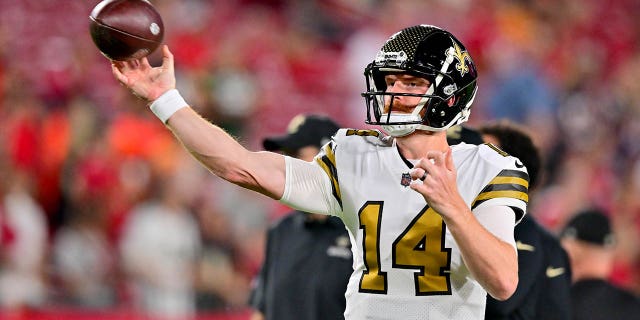 "But this is the situation I am in, and I understand that. As soon as I don't think I'm one of the best 32, or a little lower, I'll be watching football on TV."
CLICK HERE TO GET THE FOX NEWS APP
The veteran quarterback has not been able to find a permanent home since he left the Bengals following the 2019 season after nine years. He's played for the Saints, Dallas Cowboys and Chicago Bears since then.