Australian Trade and Tourism Minister Don Farrell visited China on Thursday as part of a joint effort to repair ties scarred by political rifts over the past decade.
In a statement issued by his office, Farrell said he would be "advocating strongly for the full resumption of unimpeded Australian exports to China."
China is Australia's biggest trading partner, with two-way exchanges totaling $287 billion in 2022. China recently resumed imports of coal, cotton and copper from Australia after a lengthy unannounced trade embargo.
Farrell said he would push for a review of tariffs on Australian barley and represent "the interests of Australian exporters and producers."
AUSTRALIAN LAWMAKERS MEET WITH US ENVOY TO PUSH FOR END TO JULIAN ASSANGE'S PROSECUTION
China blocked such exports in retaliation for government actions targeting Beijing's alleged interference in Australian elections, civic life and the large Australian-Chinese community.
Despite improvements in economic relations, ties between the two remain tense.
In April, Australian Foreign Minister Penny Wong said bilateral relations were unlikely to return to the level of the early 2000s, when trade was separated from political and strategic priorities.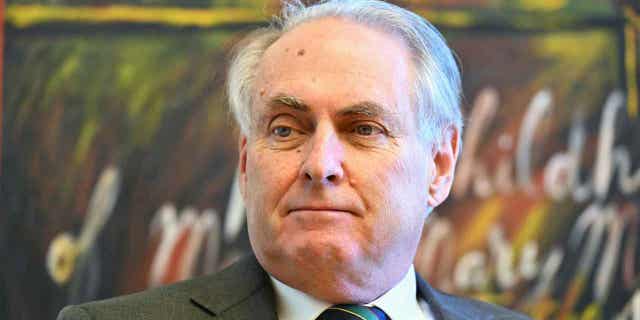 Since then, Australia has expanded security cooperation with the United States, China's main rival for influence in the Asia-Pacific region.
AUSTRALIAN BANK GIVES TRANSGENDER EMPLOYEES SIX WEEKS OF PAID LEAVE FOR 'GENDER AFFIRMING CARE'
Beijing has strongly criticized Australia's participation in the so-called AUKUS partnership, linking it with the United States and Britain to create an Australian fleet of eight submarines powered by U.S. nuclear technology, largely in response to China's growing military assertiveness in the South China Sea, the South Pacific and the East China Sea.
Australian Prime Minister Anthony Albanese will host U.S. President Joe Biden and the leaders of India and Japan — countries with which China maintains active border disputes — for a May 24 summit of leaders of the so-called Quad nations.
Australia has also blocked the sale of assets, including critical infrastructure, to Chinese companies on national security grounds in recent years.
CLICK HERE TO GET THE FOX NEWS APP
Farrell said he would meet with Chinese Commerce Minister Wang Wentao following a commitment in February to improve dialogue "at all levels as a pathway towards the full resumption of trade."
"Since then, the Australian Government is pleased there have been several positive trade developments," his office quoted him as saying.