There's nothing quite like a cold dessert to refresh and reinvigorate you during warm weather months.
This summer, make that cooling dessert the frozen yogurt bark from Yumna Jawad, of Feel Good Foodie. 
"This frozen yogurt bark is the perfect summer treat when you want something sweet on a hot day without a lot of effort or mess," said Jawad.
THIS STRAWBERRY TRIFLE IS THE PERFECT SPRING DESSERT: TRY THE RECIPE
"It's versatile as you can add whatever fruit, nuts or other toppings you like, and it's a healthier alternative to ice cream and other sugary cold desserts."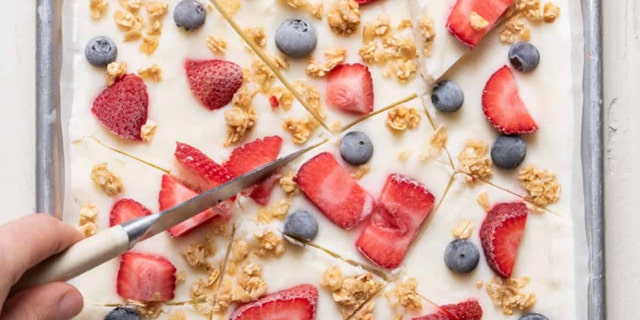 Speaking of not taking a lot of effort to make, this tasty dessert only requires 10 minutes of prep work.
TIKTOK FOOD TREND OF COTTAGE CHEESE ICE CREAM HAS PEOPLE WONDERING: IS IT HEALTHY?
After about three hours in the freezer (make 'em the night before you think you want 'em!), a chilled creamy treat is yours. 
Get the recipe below.
Frozen Yogurt Bark by Yumna Jawad, Feel Good Foodie
Makes 12 servings
Prep time: 10 minutes
Cook time: 3 hours 10 minutes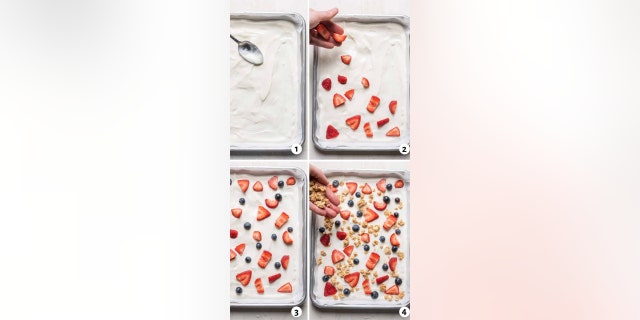 Ingredients:
2 cups whole milk vanilla yogurt
½ cup diced strawberries
HUMMINGBIRD BREAD LOADED WITH BANANAS, PINEAPPLE, COCONUT AND PECANS: RECIPE
¼ cup granola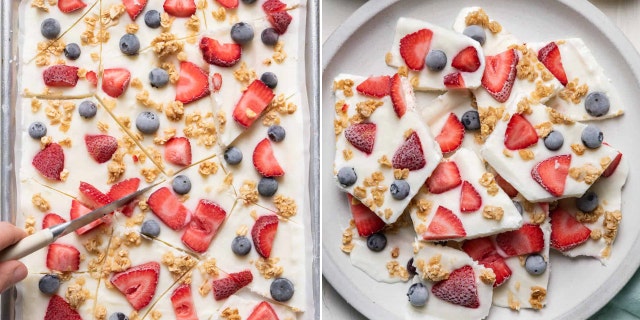 Directions:
1. Line a rimmed baking quarter sheet with wax or parchment paper.
2. Pour the yogurt into the baking dish and spread evenly on the prepared baking sheet so that it fills the shape.
3. Top with the strawberries, blueberries and granola.
CLICK HERE TO SIGN UP FOR OUR LIFESTYLE NEWSLETTER
4. Place in the freezer until the yogurt is firm, about 3 hours.
5. Cut into 12–15 pieces, and enjoy cold.
6. Store leftovers in the freezer.
CLICK HERE TO GET THE FOX NEWS APP
This original recipe is owned by feelgoodfoodie.net and was shared with Fox News Digital.