President Biden is expected to recommend Air Force Gen. Charles Q. Brown Jr., as the next chairman of the Joint Chiefs of Staff as Army Gen. Mark Milley's four-year term approaches its end.
If nominated and confirmed by the Senate, Brown, who currently serves as the chief of staff of the Air Force, would become the second black man in the position. Army Gen. Colin Powell, who was appointed to the post by former President George H.W. Bush in 1989, was the first.
Though Brown was long expected to become the 21st Chairman of the Joint Chiefs of Staff, Biden also interviewed Gen. David Berger, the 38th Commandant of the Marine Corps, the Wall Street Journal reported.
Brown's expected nomination was first reported Thursday by Politico, the WSJ said.
SENATE CONFIRMS CHARLES BROWN AS AIR FORCE CHIEF OF STAFF, MAKING HIM FIRST AFRICAN-AMERICAN SERVICE CHIEF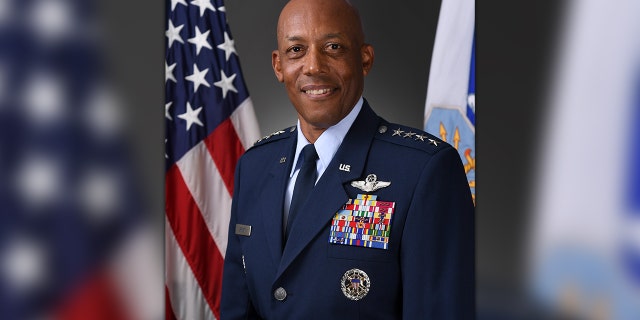 Though the chairmanship does not follow a strict rotation between branches, it was unlikely that another Army general would be nominated to succeed Milley. It also appeared to be unlikely that a sailor would be nominated for the position since the current Joint Chiefs vice chairman is Navy Admiral Christopher Grady.
As expected, the White House and defense officials have been quiet on Brown's potential nomination, releasing limited details in statements to media outlets. 
"When President Biden makes a final decision, he will inform the person selected and then announce it publicly," the White House said via the WSJ. "That hasn't happened yet."
If confirmed, Brown would be sworn into office on Oct. 1, the day after Milley's term ends.
CHINA ON 'DISTURBING' PATH TO ECLIPSE US MILITARY BY MID-CENTURY, MILLEY WARNS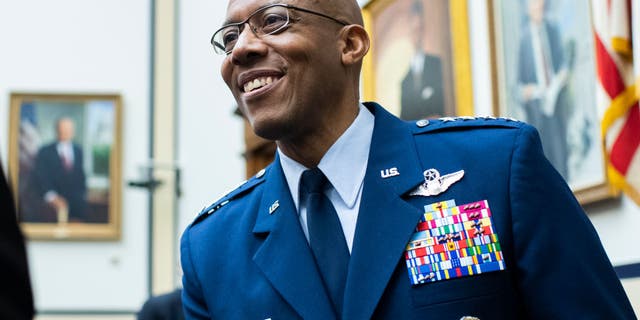 Brown's resume includes 26 assignments during his nearly 40 years of service in the Air Force. He was promoted to his current rank as a four-star general on July 26, 2018, according to his biography on the USAF website.
During his decades in the military, Brown has commanded a fighter squadron, the U.S. Air Force Weapons School, two fighter wings and U.S. Air Forces Central Command. He is also a command pilot with more than 3,000 flying hours, including 130 combat hours.
Prior to becoming the Air Force Chief of Staff in August 2020, he was stationed at Joint Base Pearl Harbor-Hickam in Hawaii in the following roles: commander of the Pacific Air Forces, air component commander for U.S. Indo-Pacific Command and executive director of Pacific Air Combat Operations Staff.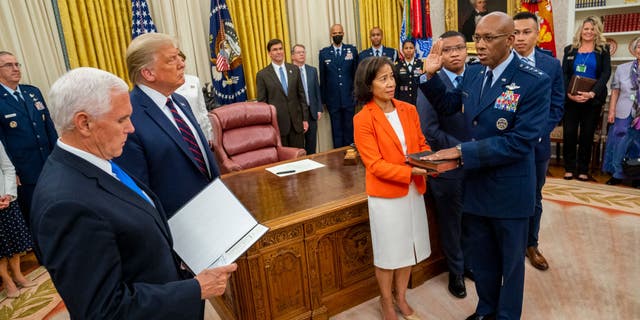 As chairman, Brown would inherit a Pentagon facing notable domestic and foreign issues, including its submersion in Russia's war on Ukraine, competition with China in the Indo-Pacific and challenges within U.S. military recruitment.
CLICK HERE TO GET THE FOX NEWS APP
The last time an Air Force general served as the Pentagon's top officer was in the early 2000s when former President George W. Bush appointed Gen. Richard Myers to become the 15th Chairman of the Joint Chiefs of Staff. He sworn into office in October 2001.