OutKick founder Clay Travis joined "Fox & Friends" to call out the White House for trying to "hide Biden" from interviews, press conferences and debates. Travis said the White House may even refuse to have Biden debate former President Donald Trump, if he is the GOP nominee.
'HE'S TOO OLD': WHAT AMERICANS ACROSS THE POLITICAL SPECTRUM ARE SAYING ABOUT BIDEN'S BID FOR RE-ELECTION 
CLAY TRAVIS: Look, this is clearly a sign if you combine it with the lack of interviews, I believe basically the fewest interviews that any sitting president has done in generations, the lack of any sort of formal press conferences, even on state visits, they're clearly trying to hide Biden And this is not new. In 2020, they decided they were going to keep him in the basement, and they used COVID as an excuse. And now they're going to try and keep him in a basement and I guess use the fact that he's too busy to debate or that it's unnecessary. … I think they may try to extend this logic. Let's pretend that Donald Trump is the nominee.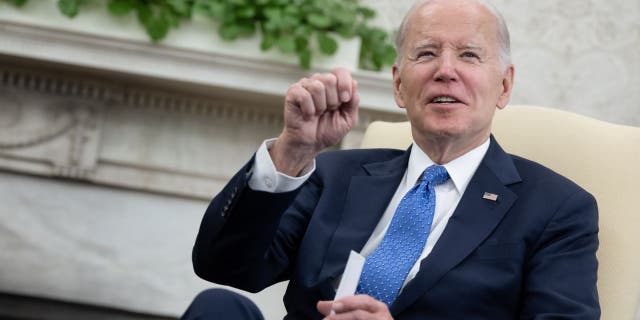 I can see how the Biden White House is terrified of being on the stage with Donald Trump or Ron DeSantis or Nikki Haley or Vivek Ramaswamy or whoever might end up the Republican nominee, but in particular Trump. I can see how they will argue, Oh, Trump's ideas are so dangerous, he is so disrespectful to our national democracy that we're not even going to allow Donald Trump the forum of standing on the stage next to the President of the United States. The reality is, because they're trying to run the 'Weekend at Bernie's 2' campaign after 2020 was a 'Weekend at Bernie's 1,' where remember we got a dead guy who was the star of the film. That's kind of the same thing that Democrats are doing now. And even Democrats, I think, recognize that Biden is much diminished at 80 and probably will be much worse at 82 than he was even when he got elected at 78. 
As President Biden declared his bid for re-election Tuesday morning, former president and Republican 2024 contender Donald Trump welcomed Biden to the race with a blistering indictment of the current president's record. 
"You could take the five worst presidents in American history, and put them together, and they would not have done the damage Joe Biden has done to our Nation in just a few short years. Not even close," Trump said in a statement. 
Broadly outlining the avenues of attack Republicans may use against Biden, Trump assailed the president's handling of the economy and inflation, rampant illegal immigration, the disastrous withdrawal from Afghanistan, and more, calling Biden "the most corrupt president in American history."