Connor Bedard is going to the Chicago Blackhawks thanks to a big win in the NHL draft lottery that could alter the future of the storied Original Six franchise.
The Blackhawks won the lottery Monday night for the right to choose Bedard, the league's most anticipated drawing since Connor McDavid in 2015. Bedard as a generational talent has drawn comparisons to McDavid and three-time Stanley Cup champion and two-time playoff MVP Sidney Crosby, whom he idolized growing up.
Chicago will try to get back to hockey's mountaintop with Bedard as the new face of the franchise, replacing departed stars Patrick Kane and Jonathan Toews who combined to help them win the Cup three times from 2010-2015. After committing last year to a full-scale rebound, this is the Blackhawks' first lottery win since 2007 when they got Kane.
CLICK HERE FOR MORE SPORTS COVERAGE ON FOXNEWS.COM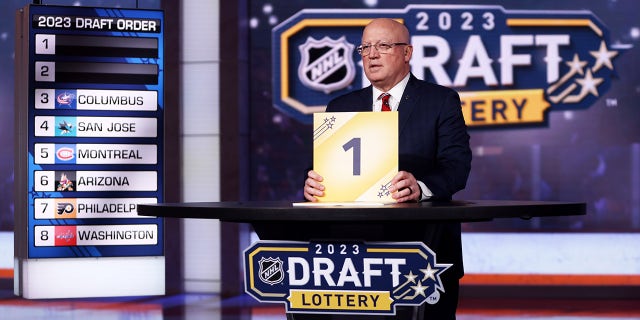 Deputy Commissioner Bill Daly unveiled a placard featuring the Blackhawks logo at 8:22 p.m. EDT, signifying they had gotten the No. 1 pick and setting off a wild celebration among fans at a watch party. Chicago had the third-highest odds of winning the lottery at 11.5%, behind Anaheim's 25.5% and Columbus' 13.5%.
"I think I just said, 'Wow' because you understand the impact that a first overall pick can have — and having a first overall pick in the right year," Blackhawks general manager Kyle Davidson said at a news conference in Chicago. "Hopefully that's what we've got here. It can change a franchise, it can change a city and it can change an era in a team's history. There's a lot of weight to that and lot of significance to that."
League-worst Anaheim won the lottery for the second pick and will get to choose among a trio of talented forwards: Canadian Adam Fantilli, Russian Matvei Michkov and Swede Leo Carlsson.
PANTHERS ONE WIN AWAY FROM ELIMINATING MAPLE LEAFS AFTER OVERTIME WINNER IN GAME 3
Columbus is set to pick third, continuing the Blue Jackets' run of lottery losing. GM Jarmo Kekalainen said an on-air slip up revealing his team was picking third "spoiled the moment."
"We're going to get a great player at 3, there's no question about it in my mind," Kekalainen said on a video call with reporters. "Everyone wants to win the lottery, then everything is your control, and obviously everybody's talked about a special player at the top of the rankings. But we're confident that we're going to get a big difference maker at 3."
Bedard has been the presumptive top pick in the 2023 draft for several years, considered the best prospect available since McDavid — and before that, Crosby.
A native of North Vancouver, British Columbia, Bedard led all junior players across Canada with 72 goals and 143 points this past season while playing for the Regina Pats of the Western Hockey League. He doesn't turn 18 until July.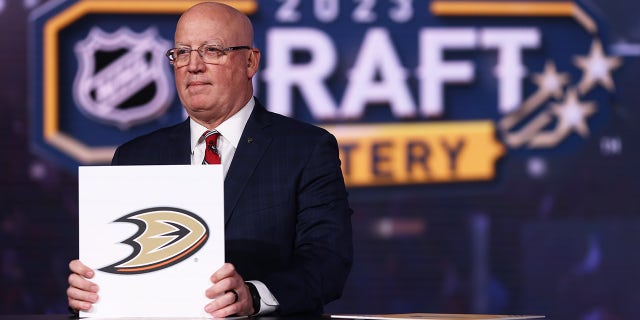 In a pre-taped TV interview that aired on ESPN, Bedard said of his future being determined: "There's different emotions watching, but I think we're all just watching as fans. … It's more for the teams."
The Blackhawks were once considered among the NHL's model franchises. But the team's reputation was tarnished by a 2021 investigation that found some of the organization's top leaders mishandled allegations that an assistant coach sexually assaulted a player during the team's title run in 2010, leading to a $2 million fine and the resignation of then-GM Stan Bowman.
Davidson, who was not with the team at the time, took over on an interim basis and in spring 2022 got the full-time job.
NEW YORK RANGERS PART WAYS WITH COACH GERARD GALLANT FOLLOWING FIRST-ROUND PLAYOFF EXIT
The front office then decided to bottom out and plunge into a long-term rebuilding process, trading star forwards Alex DeBrincat and Kirby Dach at the draft last year despite each being under 25. The strategy worked: Chicago lost 56 of 82 games to set up a chance at Bedard.
"No matter where we picked, I think we were going to get a great player," Davidson said. "I don't think it's vindication. It's certainly a nice bonus and a nice surprise to come away with No. 1."
Davidson never said Bedard's name after winning the lottery and alluded only to players at the top of the drafts who were "elite talents" and "NHL-ready." He'll get to announce Bedard's name at the start of the draft June 28 in Nashville, Tennessee, which could turn out to be the start of a new chapter for Chicago.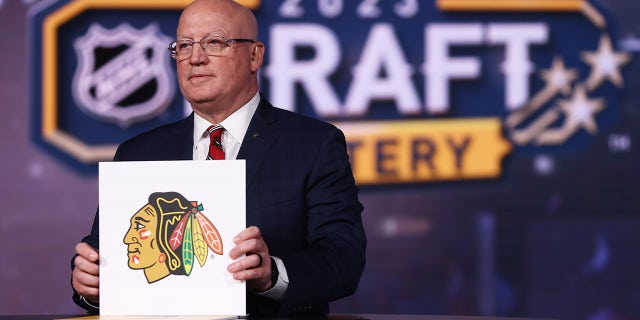 CLICK HERE TO GET THE FOX NEWS APP
"We have to build a team," Davidson said. "You look back at any Stanley Cup team, they have great players but it's not just one person that wins it."