The Chinese Communist Party (CCP) has been the ruling party in China for nearly 75 years. For those living there, this has meant limited individual rights, far-reaching governmental control and virtually no freedom of expression. 
Life under the CCP, in a word, is oppressive.
Beijing's autocratic tactics ramped up even more during the coronavirus pandemic when it implemented severe travel restrictions, lockdown measures, testing requirements and forced quarantining. 
Though not everyone living in China has stood by and accepted the CCP's oppressive standard of living, critics of the regime have often paid a price for dissidence with their lives.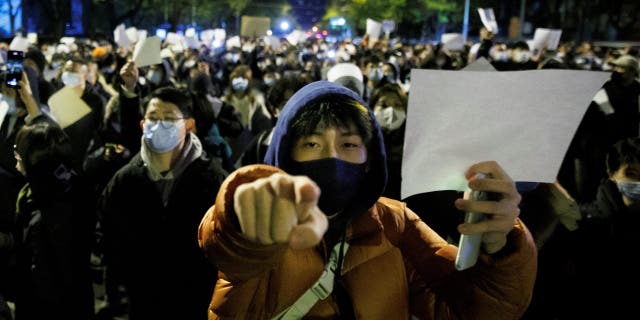 UNIVERSITY STUDENTS IN CHINA SENT HOME AMID GROWING PROTESTS
Peng Lifa, a name little known in the U.S. but revered among Chinese dissidents both inside and outside China, acted in a show of protest to ongoing COVID restrictions in China in the fall of 2022, when much of the world had long since lifted COVID mandates.
Peng, also known as "Bridge Man," is widely believed to be the individual responsible for launching one of the greatest protests in China since the Tiananmen Square Massacre some 34 years ago — the "white paper protest," or the A4 Revolution.
On Oct. 13, 2022, a man dressed in a yellow hard hat and orange shirt hung a banner on Sitong Bridge in Beijing that said, "We want food, not COVID testing. We want reform, not the Cultural Revolution. We want freedom, not lockdowns. We want to vote, not a leader. We want dignity, not lies. We are citizens, not slaves." 
A separate banner also hung that said, "Depose the traitorous dictator Xi Jinping" while a loudspeaker reportedly read out the banner's commentary.
"He didn't plan his escape at all. He was trying to buy as much time as possible to expose [the demonstration] for the public," Xiao Qiang, a human rights activist, founder and chief editor of China Digital Times and a research scientist for UC Berkeley School of Information, where he researches the CCP and censorship, told Fox News Digital. 
"And then immediately, of course, people [were] taking videos with their cellphones. And then, a few minutes later, it's already circulated Twitter and YouTube. At the same time the Chinese censors come in, in a matter of minutes, to delete those messages."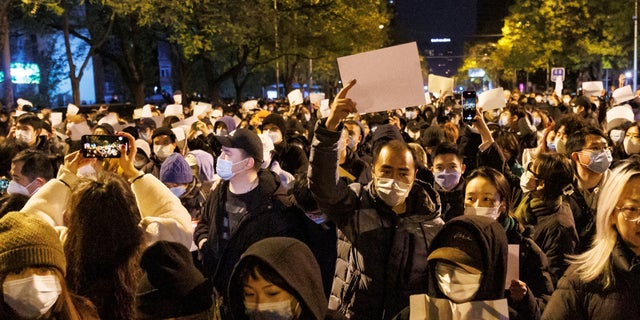 PROTESTS RATTLE CHINA AS PEOPLE SAY ENOUGH TO COUNTRY'S DRACONIAN COVID LOCKDOWN POLICIES
Some have argued Bridge Man's actions were on par with globally recognized figures like "Tank Man," the individual who stood in front of a line of nearly 60 tanks June 5, 1989, one day after the Tiananmen Square Massacre. 
The massacre was the result of the CCP's response to student protesters demanding political freedoms and the measures Chinese military forces took to crack down and enforce martial law.
The Chinese government claimed some 200 people were killed in the clashes, though a British diplomatic cable released in 2017 suggested that figure was closer to 10,000. 
Tank Man's identity has never been revealed, and the uncertainty surrounding his whereabouts has led many to believe he was arrested by the CCP or disappeared, a fate many fear Peng faces.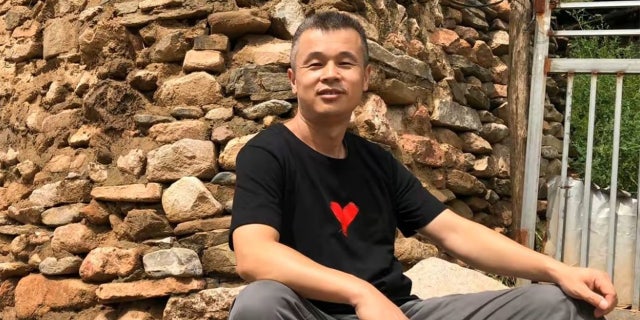 Peng is believed to have been taken into custody shortly after he launched his protest, and his whereabouts, along with the whereabouts of his wife and daughter, remain unknown. 
But his demonstration worked, and by November 2022, protestors across China began holding up blank sheets of standard A4 printing paper to symbolize the silence Chinese citizens are subject to under CCP rule.  
The demonstrators also began chanting slogans like "End zero-COVID," "We want human rights," and "Down with the Communist Party," which human rights advocates have attributed to Bridge Man.
"Peng Lifa stood up to Xi Jinping, all alone with just a piece of cloth and some paint. And he won," Rep. Mike Gallagher, R-Wisc., the chairman of the House Select Committee on the CCP, told Fox News Digital. 
"His protest kicked off demonstrations around China, his words went viral being passed by AirDrop and on bathroom walls. And he inspired the 'white paper' protesters who ultimately toppled the techno-totalitarian zero-COVID lockdowns. 
"It was the greatest embarrassment of Xi Jinping in his career." 
Gallagher described the demonstrations as "the most significant pro-freedom protests in China since Tiananmen Square."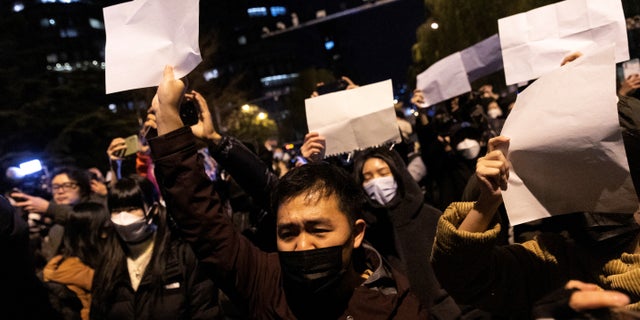 "I believe Peng Lifa's courageous and peaceful protest at the Sitong Bridge belongs up there with Democracy Wall and Tank Man," he added.
But Peng's show of protest was significant beyond the inherent risk he took and widespread success it saw.
CHINA PROTESTS GARNER MUTED REACTIONS FROM WORLD LEADERS, UN
"His final action is an incredible piece of not only planning but commitment — sacrificing his own life to do this," Xiao said. "But he didn't do that out of impulse."
Ahead of the Bridge Man protest, Peng sent a booklet or manifesto around to a handful of human rights activists and CCP dissidents through his Twitter account, encouraging them to take further action to stand up to the Chinese government.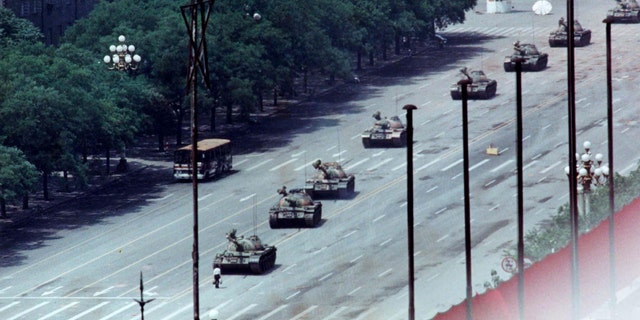 Xiao referred to the work as a "sort of tactical manual" on how to stand up to the CCP. 
"If you read the manual, you know he had been thinking about this for years. It's not something he does in just a moment of passion," he explained. 
The work included a collection of research, tactics and the different voices of various CCP dissidents that Xiao was already familiar with. 
"But he put them together and put his life on it to sort of personalize this … Chinese resistance," Xiao added. "He is truly the face of the courage and the resistance."
The language used during the Bridge Man protest matched that of the manifesto that Peng sent to Xiao and others, which is how human rights groups and Chinese dissidents were able to verify Bridge Man's identity. 
Almost immediately, Xiao realized the significance of the protest and began working with his team to archive Peng's manifesto to not only preserve his story, but to block the CCP from allowing his identity to again go missing like that of Tank Man.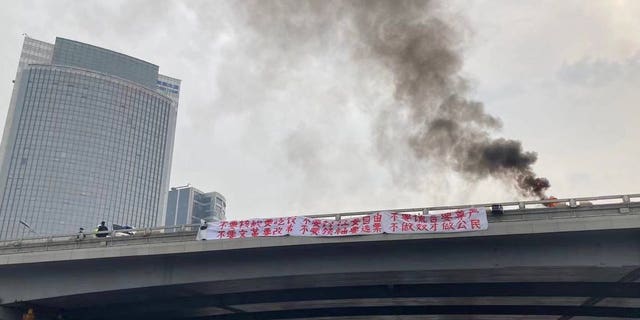 "This is truly remarkable action. Under the zero-COVID policy, which was really brutal … so many Chinese were unhappy about it, but they cannot express themselves because they are intimidated by the [CCP] power," Xiao explained. "And then there's one man that's standing up to the that power. And that single voice — that's really a collection [of voices] — he says what all the other people want to say."
Gallagher and Xiao said they would like to see the U.S. and the Biden administration do more to demand answers from the CCP on the whereabouts of Peng and his family. Though both men also argued that a critical step in ensuring Peng's story is not lost is to make sure Americans know his courage and how he helped to bring down the oppressive COVID restrictions in China. 
CLICK HERE TO GET THE FOX NEWS APP
"There have been alarming reports that have detailed the crackdown on white paper protesters around China," Gallagher told Fox News Digital.  "My view is if the world turns its back on the peaceful white paper protesters and Peng Lifa now, the CCP will know it can still get away with brutalities like Tiananmen Square.
"The CCP wants to erase the memory of Bridge Man and the white paper protests because they show that the Chinese people are willing to stand up to authoritarianism and demand freedom."