Britain's High Court ruled Thursday that part of a strike by thousands of nurses planned for next week is illegal, handing a small victory to the government in its bitter dispute with public sector unions.
The court said a six-month strike mandate given to the Royal College of Nursing by a members' vote expires at midnight on Monday and not, as the union argued, the following day. The union had planned to walk out for 48 hours starting at 8 p.m. on Sunday. For the first time, the walkout will include nurses working in intensive care, emergency rooms and cancer wards.
Judge Thomas Linden ruled that the strike mandate expires at midnight on May 1.
THOUSANDS OF UK NURSES, AMBULANCE STAFF WALK OUT IN PUBLIC HEALTH SYSTEM STRIKE
Health Secretary Steve Barclay welcomed the ruling, and said the government had gone to court "with regret, to protect nurses by ensuring they are not asked to take part in an unlawful strike."
Royal College of Nursing General Secretary Pat Cullen said the union would end its strike at midnight on Monday, but that nurses would be "angered" by the ruling. And she warned that "it may even make them more determined to vote in next month's reballot for a further six months of action."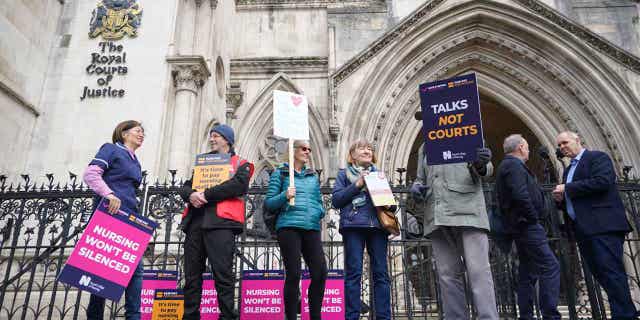 Earlier this month members of the Royal College of Nursing rejected the government's offer of a a lump sum payment for 2022-23 and a 5% raise this year.
U.K. DOCTOR TESTIFIES IN LUCY LETBY 'KILLER NURSE' TRIAL: 'NOTHING I'VE SEEN BEFORE OR SINCE'
A months-long wave of public-sector strikes has disrupted schools, hospitals and services as workers seek pay hikes to offset inflation that stood at 10.1% in March.
Firefighters, London bus drivers and some health care workers have reached deals to keep working. But many other professions remain locked in pay disputes. Ambulance crews, teachers, border staff, driving examiners, bus drivers and postal workers — as well as doctors and nurses — have all walked off their jobs to demand higher pay.
CLICK HERE TO GET THE FOX NEWS APP
Unions say wages, especially in the public sector, have fallen in real terms over the past decade, and a cost-of-living crisis fueled by sharply rising food and energy prices has left many struggling to pay their bills.
Thousands of children stayed home from school Thursday as teachers in England and Northern Ireland walked out in their latest one-day strike. And train drivers announced new strikes that coincide with major public events, including the FA Cup soccer final at London's Wembley Stadium on June 3.