Authorities are responding to a person who climbed atop the KTLA5 radio tower in Los Angeles, California, sitting precariously on the ledge and holding a "Free Billie Eilish" sign. 
According to the Los Angeles Police Department (LAPD), officers first received a call about the man at about 6:30 p.m. on Tuesday, April 25 after a bystander noticed the unidentified man holding a handwritten sign in one hand and an electric guitar in the other. 
The man was sitting approximately 30 feet on the narrow ledge of the KTLA5 digital sign holding the sign demanding for the pop singer's release. Authorities are calling the man a protester, but it is unclear what he is protesting against. It is unclear how the man got up to the ledge.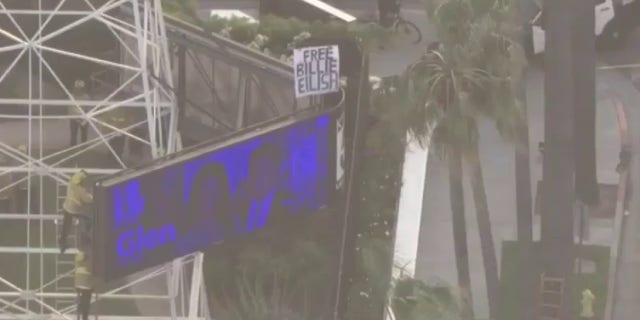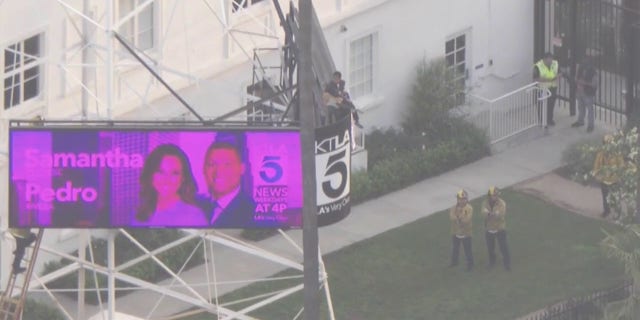 On other side of the handwritten sign another message read, "MK ultra sex slaves donald marshall clones."
A large inflatable airbag was positioned below the tower as Los Angeles Fire Department crews and LAPD's crisis negotiation team work to remove the person safely. KTLA5 reported that law enforcement attempted to persuade the man to come down.
'PRO-LIFE SPIDER-MAN' FREE CLIMBS 40-STORY CHASE TOWER: 'I WANT TO SHOW PEOPLE HOW TO HAVE FAITH OVER FEAR'
Crowds of bystanders gathered across the street at a gas station to watch the standoff unfold.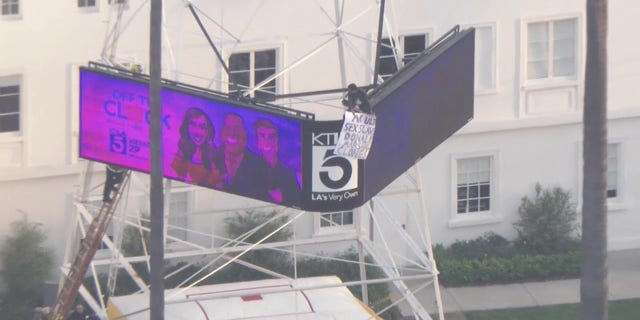 CASH APP'S BOB LEE VISITED SUSPECT'S SISTER HOURS BEFORE MURDER. ARGUED WITH ALLEGED KILLER, COURT DOCS REVEAL
Police closed Sunset Blvd. and warned residents to expect delays. 
CLICK HERE TO GET THE FOX NEWS APP
KTLA5 reported at 12:30 a.m. on Wednesday, April 26 that the man decided to make his way down after spending approximately four hours atop the sign. He was spotted climbing down a tall ladder provided by authorities.
It is unknown at this time if he will face charges for his actions.