A California professor is accused of trying to sexually lure a 7-year-old girl in conversations with an undercover FBI agent.
Rodger "Rod" Githens, an associate professor at the University of the Pacific, was arrested Friday and is being charged with receipt and distribution of images of a minor engaging in sexually explicit conduct, according to a criminal complaint filed in the U.S. District Court for the Eastern District of California.
The criminal complaint details how Githens allegedly attempted to sexually lure a 7-year-old girl in the sting operation. An undercover FBI agent originally met Githens on the Grindr dating app before the two moved their conversation over to Telegram, where the professor appears to open up.
Githens allegedly expressed in the graphic conversations with the FBI agent that he previously had sexual relations with children as young as 5-years-old.
INDIANA MAN ALLEGEDLY STABBED MOTHER, WHO WAS FOUND WITH A KITCHEN KNIFE 'PROTRUDING' FROM HER HEAD: POLICE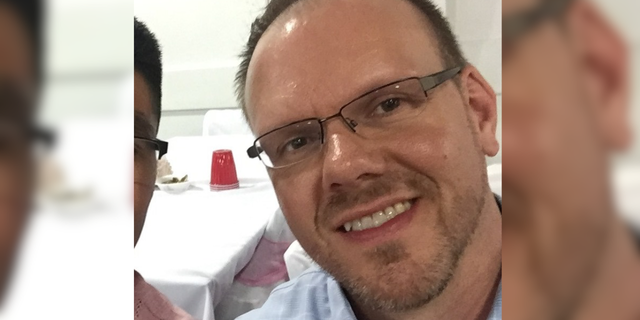 "We made out, touched," the professor said of the alleged sexual activities with a minor.
The undercover agent explained that he had a 7-year-old niece who he has been "sexual with."
Over a series of messages, Githens said he would "love to make out" with both the undercover agent and the 7-year-pld girl.
"Would love to make out with you both. Touch you both. Eat her pu–y," Githens wrote, according to the affidavit, claiming that he's "experienced."
"Honestly I love chatting but would love to have a dad or uncle invite me," Githens added.
When discussing future plans to meet with the undercover agent, Githens said he would bring the 7-year-old her favorite chocolate bar and an Ariel doll.
Githens was once asked if he has done any "touching" with kids, to which he replied "with my husband's [11-year-old] nephew I did."
He said that the alleged groping took place in Mexico.
The professor was questioned on April 19 in West Sacramento, California. When agents executed a search warrant and looked through his phone, they found multiple examples of child pornography.
MISSISSIPPI ESCAPED INMATE SPOTTED AT HOUSTON-AREA GAS STATION, POLICE SAY
In one case, the professor allegedly sent a video depicting a minor performing oral sex on an adult male.
"Hope it won't freak you out," he said with one of the graphic videos. "I get it completely it's pretty extreme."
Githens' husband told federal agents that he wasn't aware of the professor's possession/distribution of child pornography.
In a statement, a University of the Pacific spokesperson told Fox News Digital that Githens was placed on administrative leave when it found out about the charges.
CLICK HERE TO GET THE FOX NEWS APP
"The university does not comment on ongoing legal proceedings. While we have received no information of illegal acts involving the university or university property, we are nevertheless launching an independent review by an external investigator," the spokesperson said.