A missing video camera that was dropped by a Japanese journalist who was killed while filming a street protest in Myanmar has been found nearly 15 years later.
The 50-year-old journalist was one of ten people who were killed when soldiers arrived to disperse the crowd with gunfire.
The camera when found still had the original tape inside it. Its contents were screened at Wednesday's event.
A video camera that had been missing for more than 15 years after it was dropped by a Japanese journalist who was fatally shot during a street protest in Myanmar was handed over Wednesday to his sister at a ceremony in Bangkok.
Kenji Nagai was recording the demonstration on Sept. 27, 2007, in downtown Yangon -– part of a peaceful anti-military uprising known as the Saffron Revolution -– when soldiers arrived, dispersing the crowd with gunfire. The 50-year-old journalist, who was working for Japan's APF News, a small video and photo agency, was hit and mortally wounded. He was one of about 10 people killed that day.
Nagai's sister Noriko Ogawa received the small Sony Handycam from Aye Chan Naing, head of the Democratic Voice of Burma, a Myanmar media organization which was involved in its recovery.
"Thank you from the bottom of my heart," she said. "This is a great surprise and joy for me, as I hadn't even had any information about the camera until now."
The handover of the camera comes as Myanmar is in the grip of upheaval far worse than that of 2007. A widespread, determined armed resistance has sprung up in response to the overthrow of Aung San Suu Kyi's elected government by the military in 2021. According to tallies kept by journalists in Myanmar, three of their local colleagues have been killed by the authorities since the army takeover and more than 150 detained. A handful of foreign journalists were also detained and later deported.
MYANMAR AIR STRIKE DESTROYS 2 VILLAGES INHABITED BY ETHNIC REBEL FORCES, KILLS 5
The camera when found still had the original tape inside it. Its contents were screened at Wednesday's event.
The images showed protesters and monks in the street close to Yangon's ancient Sule Pagoda, singing and chanting, with police blocking their way. Trucks full of soldiers then arrived, prompting Nagai to turn the camera on himself.
"The army has arrived. Over there, that's the army," he says. "I think it's a heavily armed army. In front of the temple, it is filled with citizens. Citizens are gathering in front of the head of the Buddha. A heavily armed army truck has arrived."
The images then appear to show people scattering. The video cut off before the fatal moment.
However, video recorded by the Democratic Voice of Burma caught the moment of Nagai's death, as he fell down and was then apparently shot at close range by a soldier. A photo of the incident taken by Adrees Latif of the Reuters news agency won a 2008 Pulitzer Prize.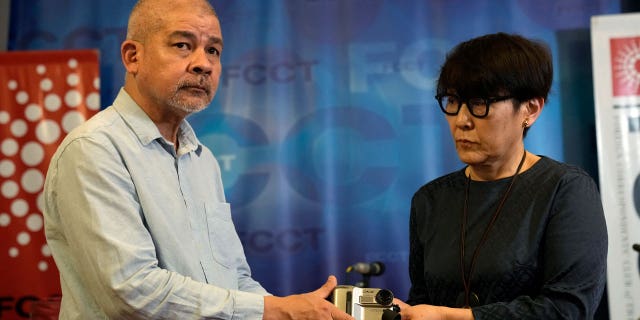 Exact details of when and how Nagai's camera was found and where it was kept in the intervening years remain vague. Aye Chan Naing said only that it had gone through a series of people before getting out of Myanmar.
"For obvious security reasons, we cannot go deeper into how we get out. What I can tell you is we got it through a good citizen who knew what was right and what was wrong and that is how we got it," he said.
Nagai's sister said she hoped an analysis of the tape would disprove the Myanmar government's claim that he had not been deliberately targeted.
"I will definitely bring this camera and tape back to Japan and I would like to confirm that this is what my older brother really held onto until the end, investigate the details of the data and clarify what my brother wanted to tell, and the truth about the cause of his death. I hope I can reverse the Myanmar military's claim that my brother's death was an accident," she said.
An op-ed in Myanmar's state-controlled press less than a month after the shooting said Nagai was to blame for his own death because he put himself in harm's way.
CLICK HERE TO GET THE FOX NEWS APP
"The Japanese correspondent caused his tragic end by getting among the protesters, it said. "Surely, the Japanese correspondent was shot accidentally, not on purpose. He met his tragic end due to the fact that he was together with the protesters at an improper site at an improper time."
The article also complained that Nagai had entered the country on a tourist visa, not a journalist visa. Journalist visas were very difficult, if not impossible, to obtain during the period of the protest.
Shawn Crispin from the New York-based Committee to Protect Journalists, a press freedom group, said danger for journalists in Myanmar persists.
"Today's event is important and timely as a reminder that the Myanmar military has and continued to kill journalists with impunity," said Crispin, who took part in Wednesday's ceremony. "And the killings won't stop until Kenji's murder receives full justice, from the triggerman, from any commanders that day who gave shoot-to-kill orders, to the military leaders who orchestrated that day's lethal repression."