Clashes that erupted last month between armed fighters in a city in Sudan's restive Darfur region killed at least 100 people, according to Sudan's Doctors Syndicate.
Hospitals were still out of service in the Darfur city of Genena and an accurate count of the wounded was still hard to make, the doctors' union added in a statement posted on its official Facebook page late Sunday.
The fighting in Genena, which broke out a few days after Sudan's two rival generals took up arms against each other in the capital of Khartoum, pointed to the possibility that the conflict could engulf other parts of the East African country.
PRESIDENT BIDEN CALLS CIVIL WAR IN SUDAN 'UNCONSCIONABLE' AS US EMBASSY PERSONNEL EVACUATE
The doctors' union did not specify the two parties to the clashes in Genena, a city of around half a million people located near the border with Chad that has been a flashpoint since the early days of the fighting.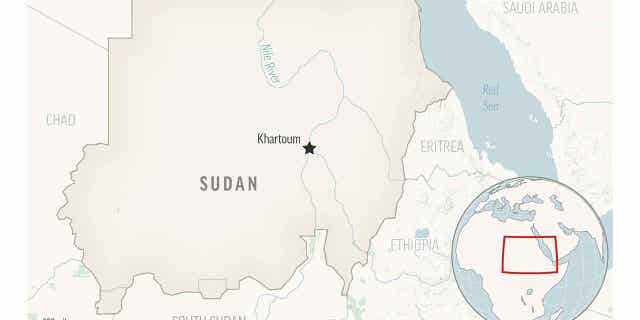 US CLAIMS SUDAN TOO DANGEROUS TO EVACUATE AMERICANS WHILE REST OF THE WORLD SAFELY REMOVES THEIR CITIZENS
Late last month, residents described how armed fighters, many wearing the uniform of the Rapid Support Forces paramilitary, rampaged through the city, looting shops and homes and battling with rival forces. They said the fighting was dragging in tribal militias, tapping into longtime hatreds between the region's two main communities — one that identifies as Arab, the other as East or Central African.
In the early 2000s, African tribes in Darfur that had long complained of discrimination rebelled against the Khartoum government, which responded with a military campaign that the International Criminal Court later said amounted to genocide. State-backed Arab militias known as the Janjaweed were accused of widespread killings, rapes and other atrocities. The Janjaweed later evolved into the Rapid Support Forces paramilitary group, known as the RSF.
CLICK HERE TO GET THE FOX NEWS APP
At least 481 civilians were killed in Khartoum clashes that erupted in mid-April between the military, led by Gen. Abdel Fattah Burhan, and the RSF, led by Gen. Mohamed Hamdan Dagalo, according to the same doctors' statement. The number of the wounded among civilians has jumped to more than 2,560.