Nearly three months after the Norfolk Southern train derailment in East Palestine, Ohio, one resident is speaking out after experiencing health effects she believes is tied from the incident. 
On the night of Feb. 3, 2023, 38 Norfolk Southern freight train cars derailed in East Palestine, Ohio, some of which contained hazardous materials.
Courtney Miller, an East Palestine resident described her symptoms to Fox News' Brian Kilmeade, claiming she has "many issues." 
SOME EAST PALESTINE RESIDENTS STILL LIVING IN HOTELS ALMOST 3 MONTHS AFTER TRAIN DERAILMENT
"A lot of it is stomach pain, constant stomach pain. It feels like stabbing in my stomach," she said. "I've had a shortness of breath, I've tried to go to the hospital a few times because of it, and they're telling me that I don't meet criteria."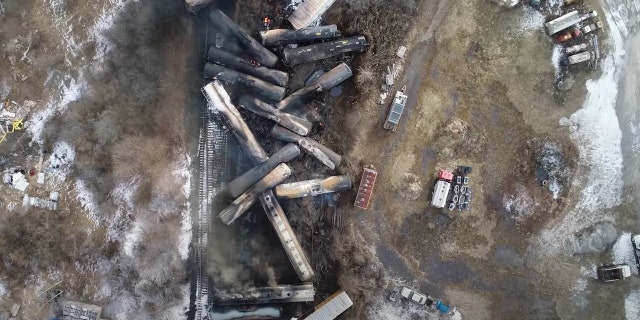 Miller also described lesions on the right side of her face with pus oozing out. 
"I didn't know if it was a chemical burn or if it was from the dioxins or why it's only on the one side of my face and not the other," she said.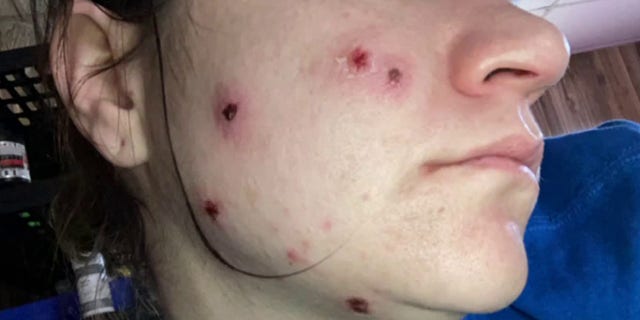 The United States Environmental Protection Agency (EPA) took control of the response and clean-up efforts following the incident, conducting tests for contamination in the air and water in the surrounding areas.
Miller says she lives about 100 yards from the train derailment site and has taken samples of the water, claiming that the EPA was "lying."
ERIN BROCKOVICH URGES EAST PALESTINE RESIDENTS TO DOCUMENT HEALTH CONDITIONS AS SOME DIAGNOSED WITH BRONCHITIS
"I spent 5 hours in the creek the one day, and then I spent numerous hours in the creeks afterwards just to find samples to make sure that we didn't go unheard and that the EPA was lying to us, because they were," she said.
Miller continued, "I found the dioxins and I gave the test results and no matter what I do, it's just like endless. It's endless. It's endless of them shutting you down constantly of them not getting you answers. Just not doing anything."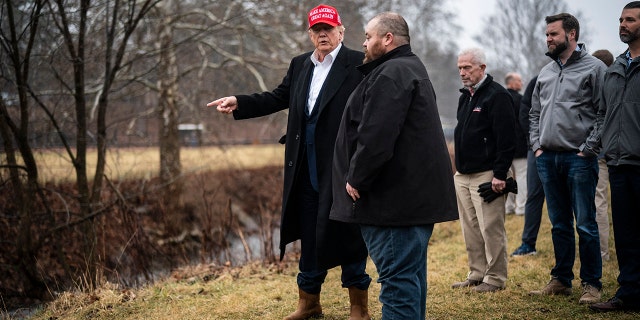 Former President Donald Trump visited East Palestine on Feb. 22 meeting with the town's mayor, Trent Conaway.
OHIO TRAIN DERAILMENT: OFFICIALS INSIST EAST PALESTINE IS SAFE BUT RESIDENTS AREN'T BUYING IT
Transportation Secretary Pete Buttigieg visited the next day on Feb. 23 to inspect the site after being criticized for not visiting sooner.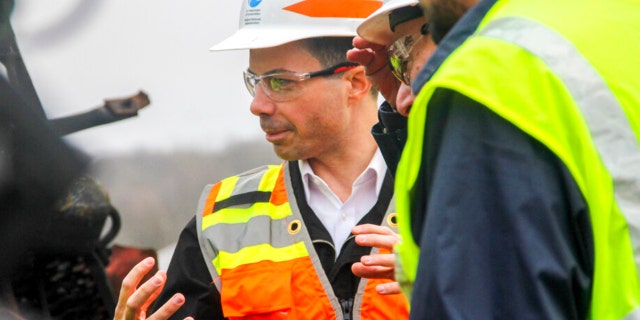 Many have questioned the federal government's response to the Norfolk Southern train derailment and the health impact it has on those who reside nearby.
Since the February train derailment, other East Palestine residents have spoken out about their health effects.
Shelby Walker, another East Palestine resident, claims she tested positive for vinyl chloride and benzene. 
BIDEN STILL HASN'T VISITED EAST PALESTINE, ONE MONTH AFTER SAYING HE WOULD 'AT SOME POINT'
Miller told Kilmeade she has not received any financial assistance since the incident to help with medical coverage, but plans on traveling to New York to find answers. 
Miller has moved her family out, but she remains in the small Ohio-Pennsylvania border town.