ESPN personalities Bomani Jones and Domonique Foxworth floated the idea that the NFL will be concerned if more Black quarterbacks like Lamar Jackson and Jalen Hurts start to become the face of the sport instead of White quarterbacks like Josh Allen and Joe Burrow.
Jones and Foxworth, a former NFL defensive back who was also the vice president of the NFL Players Association Executive Committee, talked about the idea on the latest episode of "The Right Time with Bomani Jones." The two started to talk about how the Philadelphia Eagles were acquiring all of these former Georgia Bulldogs players before Foxworth began on his point.
Jackson and Hurts both became the highest-paid players in the NFL with their latest contract extensions with the Baltimore Ravens and Philadelphia Eagles, respectively.
CLICK HERE FOR MORE SPORTS COVERAGE ON FOXNEWS.COM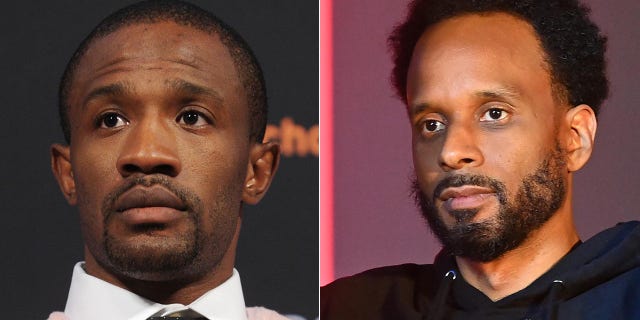 "Before we get to the Eagles and how scary that is, something just hit me – there's gonna be some rule changes in the NFL," Foxworth said. "They 'gon do something. And you may be looking at me like I'm crazy, but wait 'til I explain something to you, then you're gonna be like, 'yup, they about to fix this.'
"Who's the best quarterback in football? Patrick Mahomes? Who's the two highest-paid players in all the league? Lamar Jackson and Jalen Hurts. Who are the first three quarterbacks drafted in this draft? Black dudes. … Oh, we got a rule change coming down the pike."
Jones said "something has fundamentally changed" when teams refused to select quarterback Will Levis in the first round. Three of the first four selections – Bryce Young, C.J. Stroud and Anthony Richardson – were quarterbacks and all of whom are Black.
"Guys, as crazy as you think this is. I'll never forget the first time I saw Harry Edwards speak and he was talking about the quarterback position and when (Michael) Vick, (Daunte) Culpepper, you know that run of dudes started coming, what they did was they started making those punitive roughing the passer penalties where if you just touch the guy on the helmet that you got 15 yards 'cus they had to slow up those defensive backs … Guys, it's turning into a problem where can't nobody even talk themselves into Will Levis, right? Something has fundamentally changed," Jones said.
TOM BRADY SENDS CONDOLENCES TO SHAQ BARRETT AFTER BUCS STAR'S DAUGHTER DROWNS IN POOL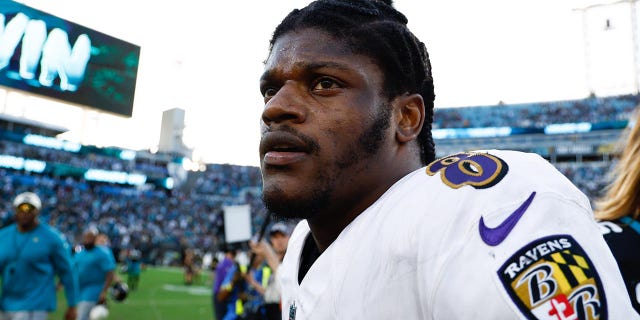 Foxworth replied, "So, you might be listening to this and thinking that Dominique is arguing that the NFL is just flat out 'I hate Black people racist.' No, it's a different type of racism. It's because they think that you are a 'I hate Black people' type of racist. They know that the stars of this entertainment property are the quarterbacks. That is who the people who are three degrees removed from you who's a superfan they don't know nobody but four or five quarterbacks' names. And you know what they believe? The same way the NBA is probably concerned about all these international players, they know that the stars that sell consistently, that they have known to sell consistently are tall White dudes."
Jones said the "secret sauce" for NFL viewership are White people and added that it is the same reason for the spike in popularity of women's college basketball.
"They need to go down to the lower level, and I don't know if it's baseball, I don't know if it's soccer, I don't know what these cold White dude athletes are playing but they need them to get them to start playing quarterback so we can get some more Josh Allen, Joe Burrow and Justin Herbert," Foxworth added. 
"We need to get some more of them in the league because if we get to a situation where it's a bunch of Lamar Jacksons and Jalen Hurts the face of the league, the NFL is going to be concerned, not because they care who their labor is but because they think it's y'all who care who the labor is."
Mahomes has arguably been the face of the NFL since he won his first Super Bowl during the 2019 season. The league still reigns supreme on TV as the league accounted for 82 of the top 100 telecasts for 2022, according to Forbes.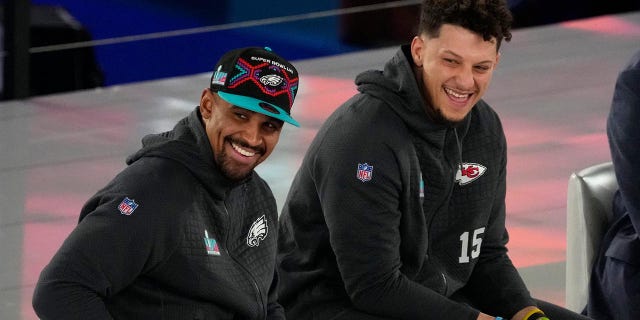 CLICK HERE TO GET THE FOX NEWS APP
The average audience dipped from 17.1 million in 2021 to 16.7 in 2022, but those two years are among the highest it has ever been since the NFL topped out at 18.1 million in 2015.