A lesser-known form of solar power that has several advantages over the traditional kind is gaining traction in the United States. 
The solar panels float on water, so they don't take up land; the water keeps the panels cooler, which makes them produce more electricity, plus the arrays prevent the loss of water through evaporation.
A recent scientific paper says many countries could produce more than the electricity they use from floating solar.
When Joe Seaman-Graves, the city planner for the working class town of Cohoes, New York, Googled the term "floating solar," he didn't even know it was a thing.
What he did know is that his tiny town needed an affordable way to get electricity and had no extra land. But looking at a map, one feature stood out.
"We have this 14-acre water reservoir," he said.
Seaman-Graves soon found the reservoir could hold enough solar panels to power all the municipal buildings and streetlights, saving the city more than $500,000 each year. He had stumbled upon a form of clean energy that is steeply ramping up.
Floating solar panel systems are beginning to boom in the United States after rapid growth in Asia. They're attractive not just for their clean power and lack of a land footprint, but because they also conserve water by preventing evaporation.
BIDEN'S LATEST CLIMATE ACTION THREATENS US POWER GRID, EXPERTS SAY
A study published in the journal Nature Sustainability in March found that thousands of cities — more than 6,000 in 124 countries — could generate an amount equal to all their electricity demand using floating solar, making it a climate solution to be taken seriously. In the process, they could save roughly enough water each year to fill 40 million Olympic-sized swimming pools.
Zhenzhong Zeng, a contributor on that study and associate professor at the Southern University of Science and Technology in Shenzhen, China, said in the United States, counties across Florida, Nevada, and California have the potential to generate more power than they use. Of course, they would need a mix of energy to actually provide power all hours of the day, Zeng said.
The concept of floating solar is simple: attach panels onto rafts so they float on water instead of blocking off land that could be used for agriculture or buildings. The panels are sealed and act as a lid that brings evaporation down to nearly zero, benefiting regions like California that repeatedly experience periods of drought. The water also keeps the panels cool, allowing them to generate more electricity than their land-mounted counterparts, which lose efficiency when they get too hot.
"We hear from our installers that they like it because it's something different," said Chris Bartle, director of sales and marketing for floating solar company Ciel & Terre, which has built 270 projects in 30 countries. "They get to go out on the water as opposed to on a rooftop. We joke that you need life jackets instead of ladders," he said.
Bartle's company has launched 28 floating solar projects in the U.S.
BIDEN ADMIN INADVERTENTLY PRAISES FOSSIL FUEL DRILLING BENEFITS
Limited land may have spurred some countries in Asia like Japan and Malaysia to expand floating solar, and other countries just took advantage of the steep plunge in prices for solar that has dramatically changed the economic picture for solar adoption globally.
A report by London-based Fairfield Market Research says the region currently accounts for 73% of revenue from floating solar and "spearheads the global landscape," but predicts that policy incentives in North America and Europe will spur significant growth.
One of the biggest floating solar farms in the U.S. is the 4.8 MW project in Healdsburg, California, built by Ciel & Terre.
"It's funny, I don't think a lot of people in Healdsburg know about it," said David Hargreaves, a local realtor and YouTuber who lives nearby. People may not know that solar panels can be placed on water, so they don't look out for it, he said.
The world's largest array so far is the 320 MW Dezhou Dingzhuang Floating Solar Farm in Shandong, China. North America's largest, by comparison, is a fraction of that — 8.9 MW at the Canoe Brook Water Treatment Plant in Millburn, N.J., owned by New Jersey Resources Clean Energy Ventures, which operates utility-scale commercial as well as residential solar systems across the Northeast.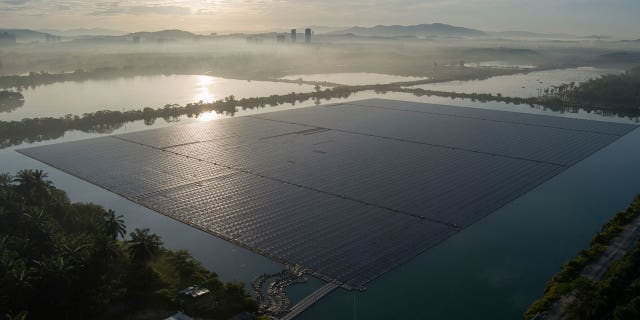 "We're excited to see it start gaining traction in the US," said Robert Pohlman, vice president of NJRCEV.
But higher costs up front remain a barrier. Bartle estimates floating solar costs 10-15% more than land solar initially, but owners save money in the long run. Deeper water can increase installation costs, and the technology can't operate on fast-moving water, on the open ocean, or shorelines with large waves.
Engineers are working on other challenges. If the solar panels cover too much of a water body's surface, dissolved oxygen levels could change and water temperature will drop, which could harm aquatic life. Researchers are looking into whether the electromagnetic fields generated by cables could negatively influence aquatic ecosystems, however, there's no evidence of that yet.
Duke Energy, the large U.S. utility that owns some 50,000 MW of energy capacity, is aiming to achieve net zero carbon emissions from electricity production by 2050. It just launched a small floating solar pilot, just shy of 1 MW in Bartow, Florida.
"The favorite part of my job is that I get to come out here," said Tommy Oneal, an environmental specialist at Duke Energy, as he gestured towards new panels floating on top of the cooling pond of an adjacent gas power plant.
CLICK HERE TO GET THE FOX NEWS APP
"I see eagles, alligators, and all kinds of cool stuff … It's fun, these issues make my job different every day. When I went to college, I never thought I'd be dealing with alligator issues," said Oneal.
In Cohoes, public officials are preparing for the installation of their project later this year at an estimated final cost of $6.5 million. The federal government is paying almost half of that through a federal Housing and Urban Development grant. Another $750,000 is covered by the utility National Grid. The city is also looking into New York solar incentives and the Inflation Reduction Act.
As far as he knows, Seaman-Graves said, it's is the first municipally-owned floating solar project in the country.
"We are an environmental justice community and we see a big opportunity for low to moderate income cities to replicate what we're doing," he said.