A fossil hunter found a 450,000-year-old mammoth tusk while on a recent visit to a local quarry. 
Jamie Jordan, 33, was at a quarry in Cambridgeshire, near Peterborough, England, roughly 75 miles north of London, when he spotted something notable in the rubble. 
The four-foot-long mammoth tusk was "sticking out like a sore thumb," he told SWNS.
BOY, 8 YEARS OLD, DISCOVERS GIANT SHARK TOOTH IN SOUTH CAROLINA: 'FIND OF A LIFETIME'
"I could not believe my eyes," Jordan recalled of the moment, as SWNS, the British news service, reported.
The tusk is believed to belong to a steppe mammoth from before the last ice age.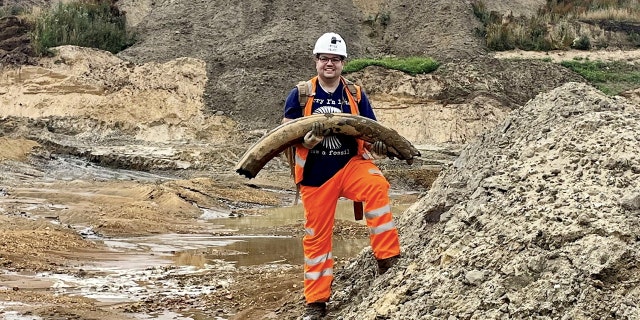 "The mammoth itself would have looked like a much bigger version of a modern-day elephant — up to 13 feet tall, and weighing 14 tons," noted the Peterborough Telegraph.
Jordan, who reportedly found his first fossil when he was a boy of just four years old, said he'd never spotted a full mammoth tusk before — he said they're normally broken into pieces when quarried. 
GIRL, 9 YEARS OLD, DISCOVERS RARE PREHISTORIC MEGALODON TOOTH IN MARYLAND WATERS: 'I COULDN'T BELIEVE IT'
"It was just on top of the ground. It was very heavy to pick up," he said, as SWNS reported. 
This particular type of mammoth is believed to have lived in herds. 
Jordan told Fox News Digital in an email on Saturday, "It's now a mammoth task to preserve the tusk for generations to come. It will take about six months to fully preserve."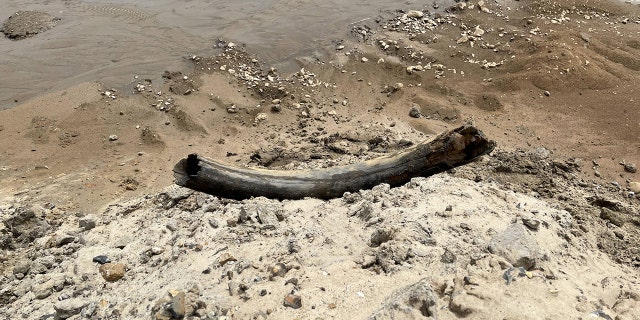 After finding the rare tusk, Jordan said the fossil was taken to Jamie's Fossils Galore, a nonprofit paleontology museum, for preservation and examination. 
The preservation process includes ensuring the tusk is kept wet to prevent it from damage, according to SWNS. 
"We will be spending the next few months working to preserve the tusk — it can take up to six months to do that," said Jordan.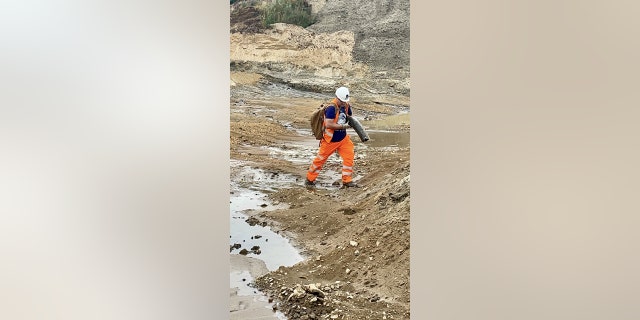 From there, the team at Fossils Galore will examine the tusk to find out more about the mammoth's life, such as its habitat and food supply. 
"We will also look for signs of predation — whether from early humans or other animals," Jordan said. 
FIRST-EVER GORGOSAURUS SKELETON SELLS AT AUCTION FOR $6.1M TO UNKNOWN BUYER — SCIENTISTS FRUSTRATED
The museum runs activities over the summer for families to learn more about paleontology — ultimately hoping to lure in more paleontologists in the future. 
By 2006, Jordan began running fossil hunting trips "so he could take members of the public to safe areas and show them how to find fossils."
The staff at Fossils Galore are also working on analyzing a skeleton they found in Surrey in 2017 — an iguanodon dinosaur that lived more than 100 million years ago. 
In 2008, they also discovered a nearly complete skeleton of a plesiosaur, according to reporting by the Good News Network.
CLICK HERE TO SIGN UP FOR OUR LIFESTYLE NEWSLETTER
On its website, Fossils Galore explains that Jamie Jordan first founded it in 2003 as a website — a place where Jordan could "share his fossil knowledge" with others.
By 2006, Jordan began running fossil hunting trips "so he could take members of the public to safe areas and show them how to find fossils."
CLICK HERE TO GET THE FOX NEWS APP
Then, "with an ever-growing collection, [he] also decided to start taking some of his fossils into schools to teach children all about what lies beneath our feet," the website also notes.