5/11/23 – Is free speech under fire on college campus? The Foundation for Individual Rights and Expression – or FIRE – says yes. 
"The students that I hear from that are pro-censorship that want certain ideas censored on campus," said Alex Morey, FIRE's director for campus rights advocacy. "They're good people, and they care about these issues. They care about things like racism and bigotry – an easy thing to look at and say, well, censorship is going to be what stops it."
FIRE is non-partisan and says their mission is to protect individual rights regardless of political leaning. Morey said the key to maintaining free speech is to engage with people of varying ideas rather than censoring them.
"The worst thing that colleges can do for students is lean in to that victim mentality, lean into the idea that you're right, you're not capable of having this conversation. We're going to protect you," said Morey.
MASSACHUSETTS COLLEGE PROGRAM ENDS THE USE OF THE WORD 'FIELD': 'MAY HOLD NEGATIVE ASSOCIATIONS'
FIRE recently ranked Georgetown University among the top universities for censorship after a law school lecturer, Ilya Shapiro, was put on leave for  criticizing President Biden's Supreme Court Justice Ketanji Brown Jackson. Shapiro tweeted that Biden picked a "lesser black woman," and posted a poll asking if Biden was racist and sexist for saying he'd only select a Black woman. was put on leave for over 100 days in 2022, and was later reinstated, but decided to quit.
Georgetown Law School responded to FOX's inquiry about the incident in a statement saying that Shapiro was put on paid leave while the university's Office of Institutional Diversity, Equity, and Affirmative Action looked at the incident. The Office of Human Resources also looked into the tweets to see if they violated professional misconduct.
"Georgetown Law remains committed to preserving and protecting the right of free and open inquiry, deliberation, and debate," the school wrote in their statement. "We have an equally compelling obligation to foster a campus community that is free from bias and in which every member is treated with respect and courtesy, and will always strive toward both of these indispensable goals."
FOX spoke with Georgetown students who said they feel comfortable expressing their view point, but some acknowledged their viewpoint is in line with the majority of students.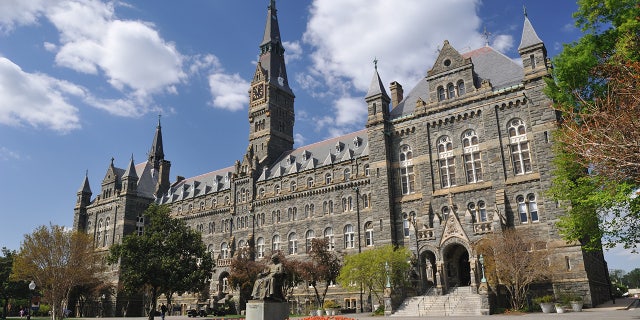 "There's a real presence for activism on campus," said freshman Dylan Davis. "There's a Republican club, a Democratic club, whatever you align with you'll find a pocket."
Some, however, said they only felt comfortable expressing a view that was widely accepted.
"I feel comfortable expressing any type of view point, but that is because my views points align with people on campus," said Cassidy Wiley, a senior.
Morey said many colleges foster an environment that only accepts one viewpoint, which she said goes against the purpose of higher education.
NORTHWESTERN STUDENT GOVERNMENT FREEZES COLLEGE REPUBLICANS FUNDING OVER POSTER CRITICAL OF LGBTQ COMMUNITY
"The point of college is to get [students] to a place where they can go out into the real world and engage with these tough topics without that sort of soft landing place of a college campus," she said. "And so the worst thing that colleges can do for students is lean in to that victim mentality."
Princeton student Adam Hoffman agrees. Hoffman wrote an op-ed in the NYT earlier this year about how students are being pushed to the right by left-leaning colleges. In an interview with FOX, Hoffman said that college administrators won't stand up to students. 
"It seems to me that the administration of these universities, Princeton included, [there] is a certain liberalism that cannot say stop," he said. "So the result of that is that you trend towards this radicalness and extremism, and you can never say, no, that's too far."
Some schools, however, are starting to push back.
Stanford Law School mandated that all students must participate in a half-day training on free speech after students repeatedly interrupted conservative Judge Kyle Duncan's event on campus earlier this year. Dean Jenny Martinez apologized to Duncan and wrote in a letter to students about why she apologized.
"I believe we cannot function as a law school from the premise that appears to have animated the disruption of Judge Duncan's remarks — that speakers, texts, or ideas believed by some to be harmful inflict a new impermissible harm justifying a heckler's veto simply because they are present on this campus, raised in legally protected speech, and made an object of inquiry," she wrote.
CATHOLIC CHARTER SCHOOLS? OKLAHOMA CITY TESTS THE WATERS
Martinez said some students and faculty also received threatening messages after the event.
CLICK HERE FOR THE FOX NEWS APP
Hoffman warns that this behavior starts on a college campus, but follows students into adult life.
"What we saw identified as radical leftism on campus ten years ago, is now taking over the public square in America today," he said. "I think the craziness that we're seeing on campus now will be in the American public square very soon."