Jonathan Marchessault scored his first two goals of the playoffs, Jack Eichel had a goal and an assist, and the Vegas Golden Knights beat the Edmonton Oilers 5-1 on Monday night for a 2-1 lead in their second-round playoff series.
Zach Whitecloud and Chandler Stephenson also scored for Vegas. Laurent Brossoit left in pain at 11:44 of the first period after turning away three of four shots. He appeared to injure his left leg sliding across the crease. Adin Hill came on and stopped all 25 shots he saw in relief.
Warren Foegele scored the first goal of the game for Edmonton before the Golden Knights countered with five. Stuart Skinner was pulled in the second period after giving up four goals on 23 shots. Jack Campbell replaced him and made nine saves.
CLICK HERE FOR MORE SPORTS COVERAGE ON FOXNEWS.COM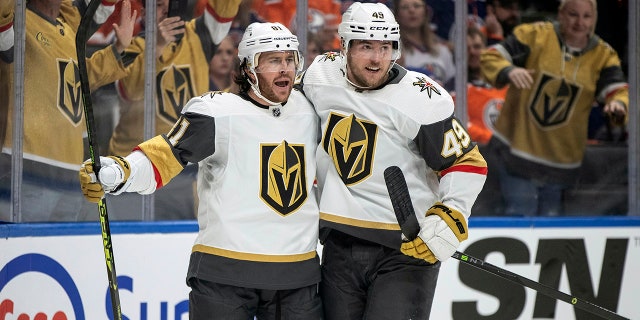 Game 4 of the best-of-seven series is here Wednesday night, followed by Game 5 on Friday night at Las Vegas.
The Golden Knights took the series opener 6-4 before falling 5-1 at home.
Skinner was removed from Game 4 of Edmonton's first-round series against the Los Angeles Kings and the Oilers overcame a three-goal deficit to win in overtime with Campbell in net, but there was no similar comeback this time.
Vegas vowed to spend more time playing even-strength, and not give Edmonton's vaunted power play running at 56 percent the minutes it had in Game 2. The Oilers went 0-for-2 with a man advantage in the game, while Vegas was 0 for 4.
Edmonton center Leon Draisaitl, who came in with 13 goals and four assists in eight playoff games coming in, was held off the scoresheet for the first time Oilers captain Connor McDavid also didn't record a point for the first time since the series opener against L.A.
PANTHERS ONE WIN AWAY FROM ELIMINATING MAPLE LEAFS AFTER OVERTIME WINNER IN GAME 3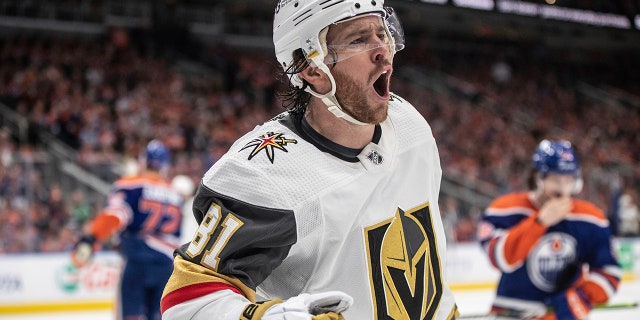 Vegas coach Bruce Cassidy wanted more puck possession than his team had in Game 2, and the Golden Knights obliged.
They led 2-1 and outshot the Oilers 15-7 after 20 minutes, and then scored three more goals in the second period.
Vegas took a 3-1 lead at 7:25 when Whitecloud skated to the faceoff circle to Skinner's left and wired a shot over the Edmonton goalie's glove.
Eichel beat Skinner far side with a wrist shot at 12:03, after Edmonton's Evan Bouchard fell in the neutral zone to give Eichel a lane. That gave the Golden Knights a three-goal lead and ended Skinner's night.
The Oilers got a goal overturned for goaltender interference, but Vegas struck again within 20 seconds of that challenge when Nicolas Roy charged in from the wing and Stephenson converted the rebound at 17:13.
Edmonton scored off the rush 2:45 into the game when Foegele redirected Derek Ryan's pass upstairs on Brossoit.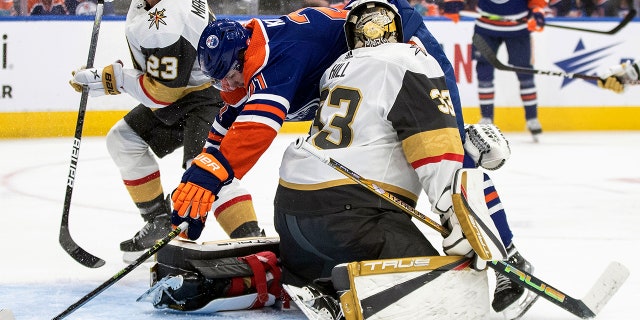 Eichel and Marchessault combined at 4:44 to even the score 1-1. Eichel gloved a pop fly and dropped the puck beside the crease. In the ensuing flurry, Marchessault wrapped the puck around Skinner's left pad.
Marchessault scored again with 51 seconds left to put Vegas ahead for good. Eichel carried the puck to the side of the crease and backhanded a pass to the slot for Marchessault to bury.
CLICK HERE TO GET THE FOX NEWS APP
Oilers forward Zach Hyman was played just a few shifts after his leg collided with Vegas defenseman Nicolas Hague's at 6:36.