NEWYou can now listen to Fox News articles!
This story discusses suicide. If you or someone you know is having thoughts of suicide, please contact the Suicide & Crisis Lifeline at 988 or 1-800-273-TALK (8255).
From an early age I knew that I wanted to serve my country. At age 17, I joined the Montana National Guard with signed consent from my parents and high school principal. This was the beginning of a 26-year military career that included 22 years in the Special Forces and 11 combat deployments overseas.
I am proud to have served the greatest nation on earth and grateful for the comrades, friends, experience and wisdom that my service has brought me. 
But as I settled into retirement, I saw firsthand the tragedy of our nation's epidemic of veteran suicide. I felt confused and frustrated–haven't the U.S. Department of Veterans Affairs and aligned nonprofits poured billions of dollars into solving this issue over the years?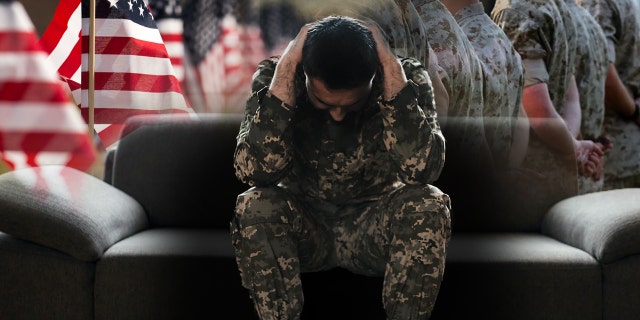 You might have heard of the phrase "22 a Day," meaning that every day, 22 veterans are lost to suicide. But a recent report by America's Warrior Partnership, in partnership with researchers at the University of Alabama and Duke University, found that the real veteran suicide rate per day is closer to 44 deaths. This rate is also more than double the VA's report of 17 per day. This means that the problem is worse than we think, and that current models for fixing the problem sadly aren't cutting it. 
I TRULY UNDERSTOOD MEMORIAL DAY WHEN I BECAME PART OF THIS GOLD STAR FAMILY
The more research I did to understand the problem, the more I kept coming across a common issue with existing programs to prevent veterans suicide: they only target veterans. 
There are 18 million veterans in the country today. There are 350 million Americans. What if we can get these Americans to forge a meaningful and routine relationship with the veterans in their lives? 
If family members and friends are given a front-row seat to their veterans' struggles and educated on the warning signs of suicide, then they can help prevent veteran suicide on a personal level. Strengthening veterans' pre-existing local networks of support shifts the burden of suicide prevention from individual vets to entire communities, letting veterans know that suicidal ideation is not a struggle they have to face alone. 
3 THINGS I WANT MY CHILDREN TO KNOW THIS MEMORIAL DAY
This is the concept I had in mind in 2021 when I founded Check A Vet with former Defense Secretary Chris Miller, who is also my close friend and former commander. Check A Vet is the new grassroots "start-up" model to end veteran suicide. It is hyper-focused on establishing local peer-to-peer support groups for veterans, comprised of their families, friends and neighbors. 
By working with mental health experts and leaders in the medical community, Check A Vet has come up with a program that resembles Alcoholics Anonymous and Al-Anon, but without the 12 steps. To prevent veteran suicide, it's imperative that veterans have a safe space to communicate openly about their experiences and emotions.
The key component to preventing veteran suicide is spreading the message that suicide is preventable. Veterans, families and friends need to be able to recognize suicide risk factors. Our name says it all: Have you checked on a veteran today? 
CLICK HERE TO GET THE OPINION NEWSLETTER
By reaching out to veterans in a thoughtful and consistent way, Americans can replace the isolation that veterans often feel, which can tragically lead to suicide, with fellowship.
I am proud to have served my country. Now, I am dedicating my life to serving our country's bravest by expanding Check A Vet and its mission to prevent veteran suicide across the country. It will take all of our combined efforts to prevent veteran suicide. I hope you will join me. 
CLICK HERE TO GET THE FOX NEWS APP