Republican legislators pushed through a new state budget plan early Friday that greatly expands eligibility for Indiana's private school voucher program after they added money for traditional schools amid complaints over small funding increases they were set to receive.
This year's legislative session came to an end with the budget vote that drew criticism of the GOP school funding plan from public schools groups and Democrats, who claimed it short-changed traditional public schools with funding increases less than the inflation rate.
The school voucher expansion in the initial budget deal announced Wednesday by Republican leaders was set to consume more than $500 million of the nearly $1.2 billion increase planned for general K-12 funding over the next two years. The revised plan added about $300 million to boost the total increase to about $1.5 billion.
House members voted 70-27 and senators voted 39-10, largely along party lines, in favor of the budget as the Republican-dominated Legislature adjourned this year's session around 2:30 a.m.
INDIANA BUDGET PLAN TO INCLUDE SCHOOL VOUCHER EXPANSION, EXPEDITED TAX CUTS
Longtime education lobbyist Dennis Costerison said school district leaders began contacting lawmakers with concerns after school funding projections released Wednesday showed that nearly 75% of the state's school districts would receive funding increases of less than 2% in the budget's second year.
"With schools, and everybody else from the governor to the General Assembly, wanting to get more money for teacher salaries, where's that money going to come from?" said Costerison, executive director of the Indiana Association of School Business Officials.
The GOP budget agreement announced Wednesday boosted total base K-12 school funding by 6% in the first year and 2% the second year. But traditional school districts would only see projected average increases of 3.5% and 1.1% after more than $500 million was diverted to pay for a 75% increase in the number of students receiving the state vouchers toward paying private school tuition.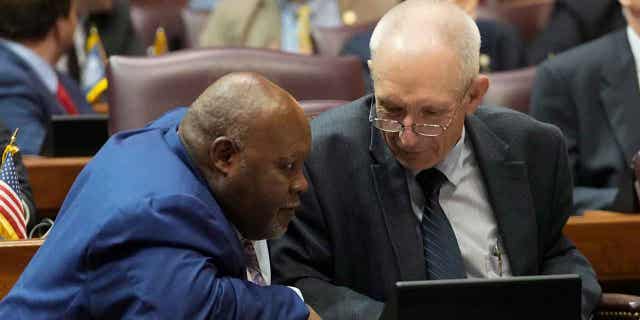 Thursday's revisions pushed the funding boost for public school districts to 5.4% in the budget's first year and 1.3% in the second year, according to projections from the nonpartisan Legislative Services Agency.
House Ways and Means Committee Chairman Jeff Thompson, the top House budget writer, defended the voucher program expansion.
"It gives parents the opportunity to choose what they believe is the best school or type of school for them," Thompson said. "They're the ones that decide what fits."
INDIANA SENATE LIKELY TO PASS BILL STRIPPING TEACHERS UNIONS OF SOME LEVERAGE
Republicans boosted the school funding figure by shifting money away from a Senate-backed provision that directed $1 billion toward paying down future teacher pension fund obligations.
A leader of the state's largest teachers union said the additional school funding was an improvement but the increase would still not keep up with inflation.
"Most schools will struggle with any sort of pay increase, particularly in the second year," said Dan Holub, executive director of the Indiana State Teachers Association.
The school funding discussion overshadowed other less-discussed provisions in the budget plan that included extending an automatic inflation-related increase in the state gasoline tax by three years and providing sizeable pay raises for the governor and other statewide elected officials starting in 2025.
The gasoline tax pays for infrastructure projects and currently rings in at 33 cents a gallon after being allowed to go up 1 cent each July since 2017 when Republicans boosted it to 28 cents from 18 cents. The annual increase was set to expire in 2024, but the budget bill extends it to 2027.
Republicans rebuffed calls from Democrats last year to suspend state gasoline taxes. The levy also includes a 7% sales tax that will stand at 20.3 cents a gallon in May. Prices jumped after the Russian invasion of Ukraine.
Thompson called extend the annual increase a "reasonable" step amid rising construction costs.
"It was just a compromise to look at those increased costs," Thompson said "Also, as you see the amount of collections are going down, with better mileage and other types of vehicles, it's just to keep the revenue kind of where it's at."
CLICK HERE TO GET THE FOX NEWS APP
The budget bill also would raise salaries for the governor and other officials by linking their pay to that of state Supreme Court justices, who receive annual raises in line with those given to other state employees.
The pay increase, which would take effect after Holcomb leaves the governor's office, would boost the incoming governor's pay nearly 50% from the current $133,683 to match the $198,513 paid to the five justices. The lieutenant governor, attorney general, secretary of state, state auditor and state treasurer would all receive pay bumps of at least 39% as their salaries would increase to between 60% and 88% of what court justices receive.
"You need to set them to some type of standard," Thompson said. "It makes sense so that they're all tied together."
Democratic Rep. Ed DeLaney said he found it "troublesome" that those proposals had not been previously debated.
"Some of these policy decisions need to be debated," DeLaney said. "But apparently some people have figured out that not debating them is more likely to lead to success."