Indiana Republican state Senators signaled their final approval Tuesday of a bill that would remove the requirement for administrators to discuss some topics with a teachers union representative, a proposal educators across the state have denounced as an avenue to strip their negotiating power.
Proponents of the Senate bill have called the legislation a "deregulation bill" that would better allow non-union teachers to discuss issues like curriculum, student discipline and class size.
Bill author Republican Sen. Linda Rogers said Tuesday the bill is "all about flexibility" for teachers and school administrators.
NEW CONTRACT WOULD RAISE AVERAGE LA TEACHER SALARY TO $106,000 AND LOWER CLASS SIZE
"This bill treats educators as the professionals they are," Rogers said before the 27-23 vote. "We cannot continue to embrace outdated mandates."
Indiana's Republican-dominated Legislature has restricted teacher union contract negotiations over the past decade, leaving negotiations solely to cover pay and benefits, such as health care coverage, and prohibiting those contracts from covering any other subjects.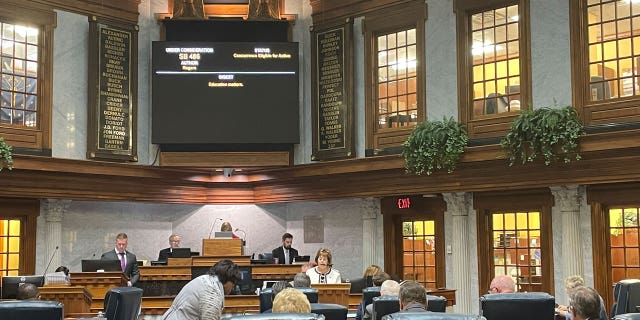 The bill does not remove the requirement for school administrators to negotiate these contract topics with a teachers union representative. But critics of the proposal have said that if discussions, outside of the contract, about day-to-day issues at school are not required, student learning environments and teacher working conditions could worsen.
Indiana teachers clad in red shirts, holding signs protesting the Senate bill, filled the Statehouse hallways last week, on the day the state House advanced the bill. With Tuesday's approval, however, the bill goes to the desk of GOP Gov. Eric Holcomb.
"I think one thing has been very clear throughout this session, and that is, teachers are not willing to hesitate to let their voices be heard," Democratic Sen. Shelli Yoder said Tuesday. "We have heard them, and they oppose this."
MASSACHUSETTS TEACHERS' UNION BEGS FOR CASH AFTER BEING FORCED TO HANDOVER $300K FOR ILLEGAL STRIKE
Several Republicans joined all 10 Democrats in voting against the bill, including GOP Sen. Michael Young, who argued the bill would prohibit administrators from listening to teachers' concerns about school safety.
"If I was a teacher, I'd like to have the opportunity to speak to my administration about those issues," Young said. "And I think that's legitimate to do."
Indiana State Teachers Association President Keith Gambill called for Holcomb to veto the bill, saying lawmakers "ignored the impassioned pleas of our state's teachers" in approving it.
CLICK HERE TO GET THE FOX NEWS APP
"This brazen act of disregard for the educators who tirelessly serve our students is unacceptable," Gambill said in a statement.