Benjamin Netanyahu, Israel's longest-serving prime minister, told U.S. Congressional members on Thursday that Iran is like "50 North Koreas," and if it could threaten every city in the U.S. with nuclear extortion, it would change history.
The prime minister met with a bipartisan group of House members, which was led by the Chairman of the Intelligence Committee of the House of Representatives, Michael Turner.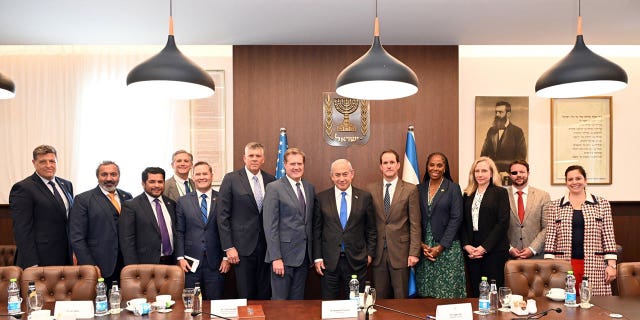 The meeting was held in Netanyahu's office in Jerusalem, in what appeared to be a "round-table" type of discussion, and he was asked about Iran.
SPEAKER MCCARTHY EXPECTS BIDEN TO INVITE NETANYAHU TO WHITE HOUSE AMID STRAINED TIES WITH TOP MIDEAST ALLY
"Iran is like 50 North Koreas," he said. "It is not merely a neighborhood bully, like the dynasty that rules North Korea. This is an ideological force that views us, Israel, as small Satan, and views you as the great Satan. And to have North Korea, or rather Iran, being able to threaten every city in the United States with nuclear blackmail, is a changing of history."
The bipartisan delegation of House members comes at a time of tense political standoffs in both countries.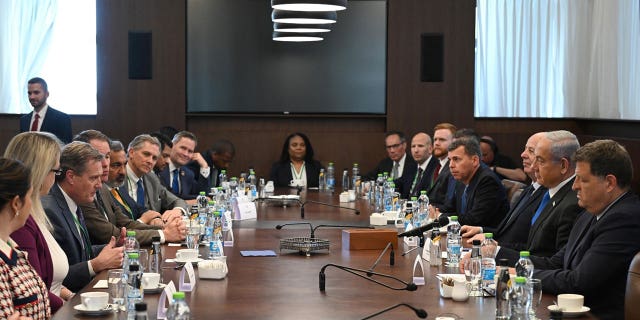 Speaker of the House Kevin McCarthy, R-Calif., spoke in Israel earlier this week and criticized the Biden administration for not inviting Netanyahu to the White House.
BIDEN DROVE 'HISTORICALLY' CLOSE MIDDLE EAST ALLIES INTO THE ARMS OF AMERICA'S GREATEST ENEMIES, EXPERTS SAY
McCarthy reportedly said during the visit that he will invite the prime minister to Washington if Biden fails to.
In a sign of the fraught relations between the Biden administration and Netanyahu's conservative coalition, U.S. National Security spokesman John Kirby remained largely noncommittal about a visit, declaring, "Israeli leaders have a long tradition of visiting Washington. President Biden and Prime Minister Netanyahu have known each other a long time. I expect the prime minister will visit at some point." Kirby noted there are no definitive dates for a meeting.
In 2015, Netanyahu defied the Obama administration, which lobbied him not to deliver a speech to Congress opposing the Democratic-drafted Iran nuclear deal that poses, according to Israel's government, an existential threat to the Jewish state.
NETANYAHU TELLS PIERS MORGAN DEMOCRACY IS SAFE IN ISRAEL DESPITE HIS MOVES TO WREST CONTROL OF 'TOO POWERFUL'
Communist China recently out-organized the U.S. and helped normalize diplomatic relations between Iran and Saudi Arabia. Veteran Mideast experts see the restoration of ties between one of America's principal enemies, Iran, and a long-term U.S. ally, Saudi Arabia, as a devastating setback to Washington's power in the region.
The United States has classified Iran's regime as the world's worst international state sponsor of terrorism.
The visit this week also comes when tensions in Israel are heightened.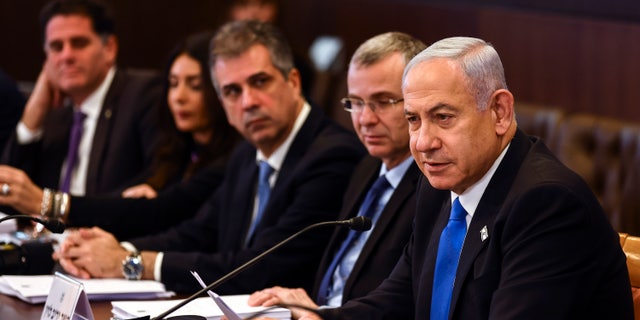 Netanyahu is seeking to shift power away from the judiciary to the Knesset while opponents of the move believe it will weaken Israel's system of checks and balances.
CLICK HERE TO GET THE FOX NEWS APP
Weekly mass demonstrations have unfolded against the judicial reform efforts since early 2023. A second counterprotest, which also filled the streets with protesters, took place last week to support an overhaul of Israel's judiciary.
Yonat Friling and Benjamin Weinthal of Fox News contributed to this report.