Israel's Shin Bet internal security agency is defending its use of a sophisticated surveillance tool that was used to send threatening text messages to Palestinian protesters during unrest at Jerusalem's most sensitive holy site two years ago.
A leading civil rights group has asked Israel's Supreme Court to halt the practice, saying the threatening messages exceeded the authorities of the Shin Bet. It has also noted that the messages were sent erroneously to people uninvolved in the unrest.
In a May 4 submission, the Shin Bet asked the court to dismiss the case. It said the tracking technology was a legitimate tool within the scope of its authority.
ISRAEL LAUNCHES RARE AIRSTRIKES IN LEBANON FOLLOWING VIOLENCE AT JERUSALEM HOLY SITE
It described the misfired messages as an isolated error, said it had identified "several specific flaws in the manner of sending the messages" and updated its guidelines to prevent similar mistakes in the future.
It described the tool as "proportionate, balanced and most reasonable."
The messages were sent to hundreds of Palestinians in May 2021 at the height of one of the city's most turbulent periods in recent years. At the time, Palestinian protesters were clashing with Israeli police at the Al Aqsa Mosque in violence that helped fuel an 11-day war between Israel and the Hamas militant group in the Gaza Strip.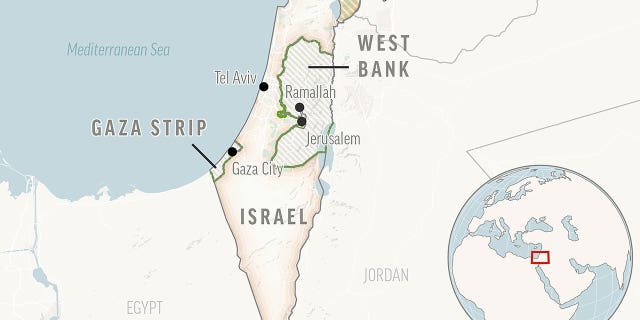 Using mobile-phone tracking technology, the Shin Bet sent a text message to people it believed were involved in the clashes and told them "we will hold you accountable" for acts of violence.
The recipients included both Palestinian residents of east Jerusalem, who hold Israeli residency rights, as well as Palestinian citizens of Israel. While some recipients had participated in the clashes, others, including people who lived, worked or prayed in the area, received the message erroneously and said they were surprised or scared. Jewish Israelis in the area are not known to have received the message.
CLICK HERE TO GET THE FOX NEWS APP 
The Association for Civil Rights in Israel has warned that such mass messages could have a "chilling effect" on Israel's Palestinian minority and says the Shin Bet should properly investigate anyone suspected of breaking the law.
Two of the group's attorneys, Gil Gan-Mor and Gadeer Nicola, issued a joint statement accusing the Shin Bet of using "intrusive surveillance tools" to intimidate citizens and convey that they are under surveillance.
"Sending a threatening text message to a citizen is not an option in a democratic country," they said.