Japan will lift most of its coronavirus border controls, including a requirement that entrants show proof of three vaccinations or a pre-departure negative test, beginning Saturday as the country's Golden Week holiday season begins and a large influx of foreign tourists is expected.
All entrants with symptoms will still be required to take COVID-19 tests after arriving until May 8, and those who test positive will be placed in designated quarantine facilities, Chief Cabinet Secretary Hirokazu Matsuno told reporters. After May 9, testing of those with symptoms will be voluntary.
Japan will also drop a special measure subjecting visitors from mainland China to random testing upon arrival that was implemented in late December when infections surged there, he said.
JAPANESE SAFETY CHIEF CRITICIZED FOR CLAIMING TO HAVE CONTINUED ENJOYING HIS MEAL WHEN INFORMED OF PM ATTACK
The government had originally planned to implement the changes on May 8, when it will downgrade the official status of the coronavirus to a common infectious disease like seasonal influenza, but decided to speed them up for the holiday season beginning Saturday.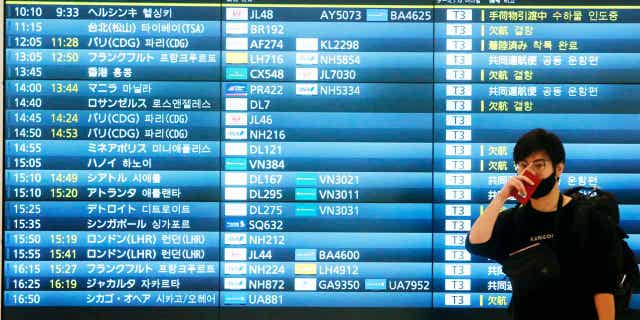 Japan's government dropped its requests for mask wearing in March, leaving it up to each person's discretion. Most Japanese continue to wear them, although they are only recommended now in crowded trains, hospitals and other public spaces, and near elderly and other vulnerable people.
CLICK HERE TO GET THE FOX NEWS APP
COVID-19 is currently categorized as a Class 2 disease along with SARS and tuberculosis, which allows restrictions on the movements of patients and their close contacts and the issuing of emergency measures by the government. Downgrading it to Class 5 will scrap those rules.