Jessie James Decker showed off her toned physique in a black bikini while promoting her swimwear brand Kittenish's new collection.
The 35-year-old singer modeled the bikini in two sizzling snaps that she shared on Instagram and called out mom-shamers in the caption.
"'Cover up you're a mom,'" the Dancing With The Star's alum wrote on Thursday, adding emojis of a cat face with tears of joy and an upside-down smiley face.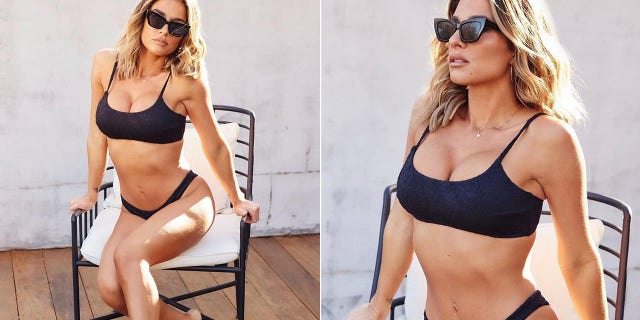 Decker continued, "This textured sexy little black numba amongst many other fabulous suits drops tomorrow @kittenish."
JESSIE JAMES DECKER FIRES BACK AFTER BEING ACCUSED OF PHOTOSHOPPING ABS ONTO HER KIDS
"So set your timers for 12c sweet cheeks. U don't wanna miss this one. Meow."
In the images, the mother of three donned a pair of black cateye sunglasses as she posed on a chair. She accessorized with gold hoop earrings and a delicate gold necklace. 
The "I Look So Good" songstress shares daughter Vivianne, 9, and sons Eric Jr., 8, and Forrest, 5, with husband Eric Decker, 36. The two married in 2013 when the football star was playing for the Denver Broncos.
This is far from the first time that Decker has fired back at her online critics. In November, she responded to anonymous Instagram users who accused her of photoshopping abs onto her children in a beach photo taken during a family trip to Mexico.
"that doesn't look right.. sorry, not sorry," one user wrote.
"it's a sad world we live in today when having healthy fit kids who are super active play sports are build [sic] muscle naturally is 'weird,'" the country star responded.
"Surely this is an app but I don't see anyone saying as much," another user commented.
"yeah I used an 'ab' app on my small children wtf," Decker wrote in response.
She explained that her kids "eat well and do sports" to maintain their muscle. Vivianne also participates in gymnastics.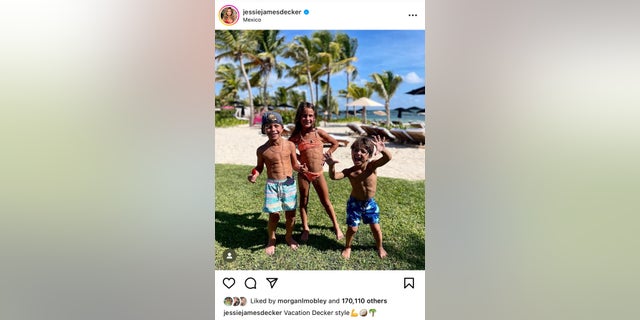 "We do a lot of home cooking. The kids love their steak and chicken," she responded to one user.
Decker also called out another user, although the original comment had been deleted.
"From one mother to another. Please don't call my children's appearance strange just because they don't look the way you think they should? It's unkind."
A few days later, Decker slammed her haters again as she shared a video of her children wearing swimsuits and playing by a pool during their vacation in Mexico.
"Being accused of photoshopping abs on my kids (I can't help but laugh) or … the polar opposite over 'overtraining' our kids makes me realize how bizarre our world has gotten regarding the body and what's normal and what's not," she wrote in the caption.
She continued, "We preach about body positivity and acceptance but my kids having a mass amount of genetic and built muscle from athletics is 'weird'? I want to raise my kids to feel proud of their bodies and hard work from either Vivis elite competitive gymnastics to Eric Jr wanting to be like dad as an NFL receiver to little Forrest who spends hours dancing his heart out." 
"Let's not pick and choose what we normalize regarding bodies and be accepting of all people and children. If we wanna do 'better' then do better," Decker added.
CLICK HERE TO SIGN UP FOR THE ENTERTAINMENT NEWSLETTER
"I'm proud of my children and encourage them to live their dreams. So we'll see y'all at the 2032 Olympics, and wearing Bubbys jersey in the stands and dancing at Forrests rock concert."
In December, the television personality poked fun at the controversy on her Instagram Story. She shared a photo of Eric standing shirtless in the kitchen while drinking a glass bottle of milk.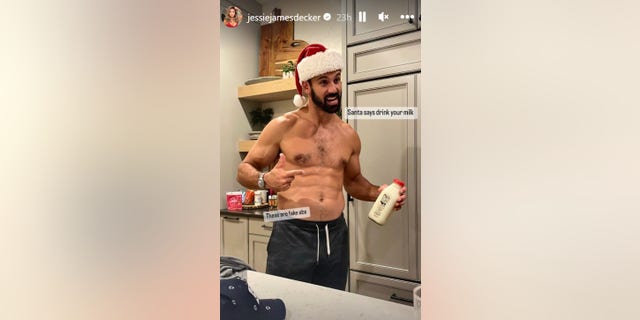 CLICK HERE TO GET THE FOX NEWS APP
"Santa says drink your milk," she wrote across the image along with a note below his torso,"These are fake abs."
In August 2018, Decker faced backlash from fans who slammed her for posting picture of herself breastfeeding her then four-month-old son, Forrest, while holding a glass of wine.
"Cheers b—-es," she wrote in the caption.
The singer later defended herself in an interview with Us Weekly. 
"I have three children. I know what I'm doing now," she told the outlet  "And it's totally OK to toast to a celebration and have a drink while you're breast-feeding."
"After three children I've learned about what things to worry about and what things not to worry about and a sip of wine isn't one of them!"