A staffer for "The Tonight Show" put host Jimmy Fallon on blast as the writers strike that has paralyzed Hollywood halted production of the NBC late-night program. 
At Monday's Met Gala, Fallon expressed solidary with members of the Writers Guild of America (WGA), who officially went on strike after Hollywood studios failed to reach an agreement with the union. 
"I wouldn't have a show if it wasn't for my writers, I support them all the way," Fallon, who himself is a WGA member, told Variety before predicting his show would "go dark" if an agreement was not met. 
But after the strike was declared, "Tonight Show" senior photo research coordinator Sarah Kobos suggested Fallon kept himself distant from his staff as they were told their pay will be suspended in the coming days. 
LATE-NIGHT SHOWS SHUT DOWN AMID WRITERS STRIKE AS HOSTS SHOW SUPPORT: 'COULDN'T DO THIS SHOW WITHOUT THEM'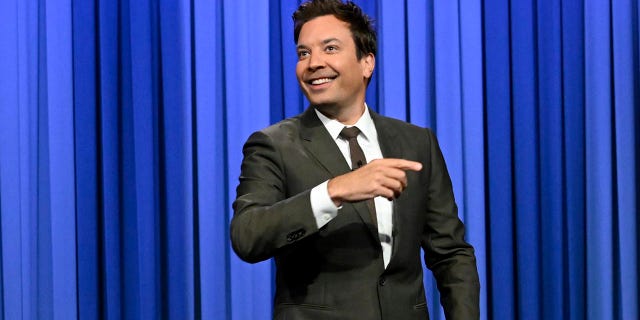 "He wasn't even at the meeting this morning to tell us we won't get paid after this week," Kobos tweeted Tuesday.
Kobos then pleaded directly to Fallon, telling the host "please support your staff." 
"Had fun bowling with ya last week, but a fun party won't pay my rent," Kobos added. 
A source familiar with "The Tonight Show" told Fox News Digital that Fallon does not normally participate in daily production call meetings with staff. 
Kobos, whose Twitter bio says she is a senior photo research coordinator on Fallon's program, described herself a "non-union and not a striking worker" though she still joined the picket line. 
She separately tweeted, "we are told NBC decided to stop paying us after this week and end our health insurance after this month if the strike is ongoing. They won't even tell us if we will technically be furloughed. Just active employees who aren't paid. And that we shouldn't vent to coworkers."
FALLON DINGS BIDEN'S CONFUSED ANSWERS TO KIDS AT WH: 'MIGHT WANT TO TAKE A HARD LOOK AT THAT AGE THING'
She went on to write that "Late Night" host and fellow NBC star Seth Meyers "was in their zoom production meeting and that he is going to try and take care of his staff and crew after NBC stops paying."
Representatives for Fallon and NBC declined to comment. Kobos did not immediately respond to Fox News' request for comment.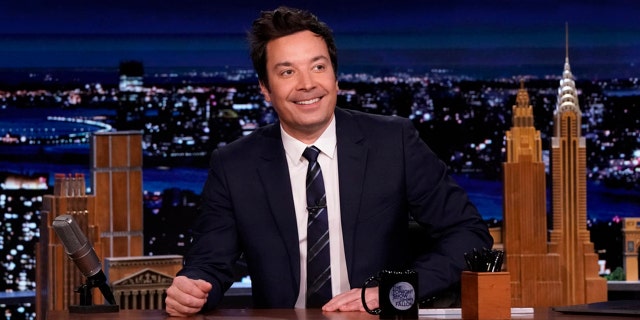 "The Tonight Show" is among hundreds of TV shows and film productions that are being impacted by the writers strike as it, along with its late-night rivals, including "The Late Show with Stephen Colbert" and "Jimmy Kimmel Live," halted new programming. 
BILL MAHER, ELON MUSK DISCUSS 'WOKE MIND VIRUS,' TWITTER TAKEOVER, AI DURING 'REAL TIME' INTERVIEW
NBC announced that re-runs of "The Tonight Show" and "Late Night" will air for the rest of the week, something that will likely continue if the strike carries on. 
However, Fox News' "Gutfeld!" will continue airing as scheduled since its staff is not impacted by the strike.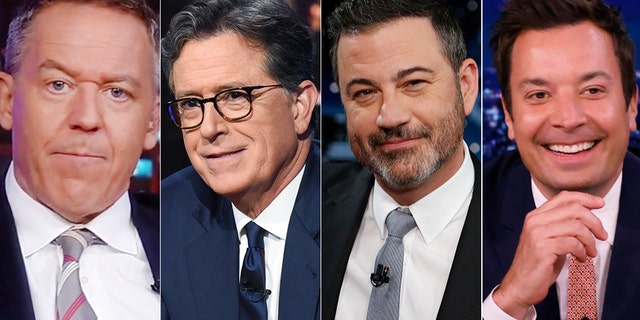 For the first time in 15 years, members of the WGA went on strike, arguing the current streaming era brought additional work opportunities and record profits, but their pay has lagged behind. Subsequent negotiations to rectify this difference have failed.
"The decision was made following six weeks of negotiating with Netflix, Amazon, Apple, Disney, Warner Bros Discovery, NBC Universal, Paramount+ and Sony under the umbrella of the AMPTP," the Writers Guild of America West said in a series of tweets.
CLICK HERE TO GET THE FOX NEWS APP
The members added: "Though our Negotiating Committee began this process intent on making a fair deal, the studios' responses have been wholly insufficient given the existential crisis writers are facing."
The WGA represents over 11,500 writers across both television and film. 
FOX Business' Lawrence Richard contributed to this report.