Special Climate Envoy John Kerry arrived in China Sunday ahead of planned "in-depth" talks on climate change with the country's communist government.
"We need genuine cooperation," Kerry said ahead of the trip last week, according to the New York Times. "China and the United States are the two largest economies in the world and we're also the two largest emitters. It's clear that we have a special responsibility to find common ground."
Kerry's trip comes after he was heavily criticized for his use of a private jet during a House Foreign Affairs Committee hearing last week, where some Republican lawmakers accused the climate envoy of hypocrisy.
A State Department spokesperson told Fox News Digital that Kerry "flew commercially to Beijing" on a "common commercial air flight" but his office has yet to respond to follow-up questions on specifics, including any potential airline.
JOHN KERRY SCORCHED FOR MISLEADING ON PRIVATE JET USE: 'DEMOCRATS' STANDARD OF HYPOCRISY'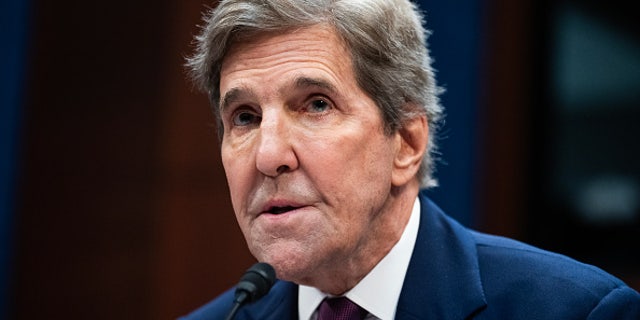 Kerry arrived one day ahead of the talks with Chinese officials, which are expected to include meetings with China's lead climate negotiator, Xie Zhenhua. It will be Kerry's second trip to China in his special envoy role, coming after private talks with Chinese counterparts in April 2021 following a regional climate summit.
"This is not about China. This is not a counter to China," Kerry said after those meetings. "This is about China, the United States, India, Russia… a bunch of countries that are emitting a pretty sizable amount."
On Monday, Kerry praised the "incredible job" China has done on renewable energy, according to a report from the Washington Post, though he urged the country to stop building new coal-fired power plants.
China is the world's largest polluter, emitting over 10,065 million tons of CO2 in 2019, according to an analysis by Climate Trade. That number is nearly double the United States, which came in second at 5,416 million tons of CO2.
Kerry, meanwhile, has faced scrutiny of his own carbon footprint, with Republican lawmakers taking aim at his use of private jets in last week's hearing.
JOHN KERRY'S FAMILY PRIVATE JET EMITTED OVER 300 METRIC TONS OF CARBON SINCE BIDEN TOOK OFFICE
"Bottom line is that the climate czar is showing a climate hypocrisy when him and his family left a 325-metric-ton carbon footprint from their private jet," Rep. Cory Mills, R-Fla., told Fox News Digital after the hearing. "Meanwhile, Kerry expects the average American to be carbon-neutral and to buy things like unreliable EVs they can't afford."
Kerry defended himself during the hearing, arguing his use of a private jet is "one of the most outrageously persistent lies that I hear" and that he never "personally" owned a jet.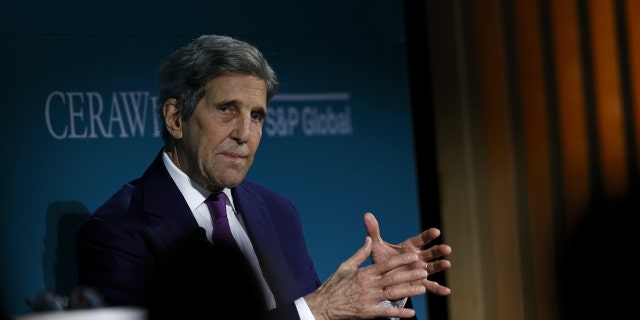 "Secretary Kerry has never owned a private jet, flies commercially, and is actively working on initiatives like the First Movers Coalition, which has helped major airlines like Delta and United in their commitment to invest in sustainable aviation fuels that reduce greenhouse pollution while allowing Americans to continue to enjoy travel," a Kerry spokesperson told Fox News Digital after the hearing.
JOHN KERRY HEADED TO CHINA FOR CLIMATE TALKS AMID GOP INVESTIGATION
The hearings weren't the first time Kerry's private jet use has come under scrutiny, with a Fox News analysis of federal data last year showing he and his family emitted over 300 metric tons of carbon dioxide since the Biden administration began.
Since being appointed climate envoy by President Biden, Kerry has called on the U.S. to treat "the climate crisis as the urgent national security threat it is," arguing for a transition away from fossil fuels and a push toward green energy sources.
But critics have pointed out that Kerry doesn't seem to be willing to make similar sacrifices, most notably by his use of private jets.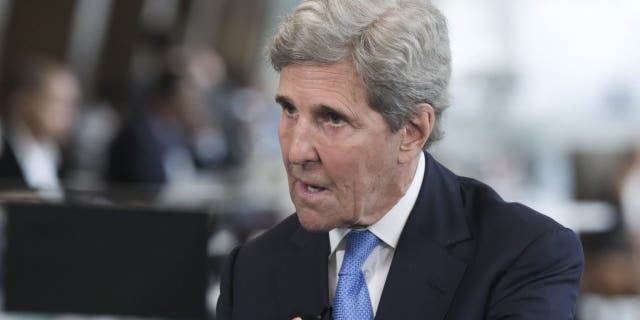 CLICK HERE TO GET THE FOX NEWS APP
"Here's the issue," Rep. Mike Waltz, R-Fla, told Kerry during last week's hearing. "This isn't some kind of partisan gotcha. When we are asking Americans to make serious sacrifices, as we transition, for the common good and your family and/or yourself are flying around on private jets, that smacks of hypocrisy. It actually hurts your cause."