Rep. Jim Jordan, R-Ohio, is spearheading an investigation into why the U.S. Marshals Service was instructed to "avoid" arresting protesters camped outside a Supreme Court justices' private residence, "despite the actions clearly violating federal law."
In March, Sen. Katie Britt, R-Ala., presented the U.S. Marshals Service training protocol during a congressional hearing that revealed guards were told to refrain from arresting protesters at Justice Brett Kavanaugh's home after the leaked Dobbs decision sparked outrafe frmo pro-abortion activists. During the hearing, Britt shared the protocol with Attorney General Merrick Garland, but he claimed to have never seen the slides before.
The Marshals parked outside Kavanaugh's home were reportedly told to "avoid, unless absolutely necessary, criminal enforcement action involving the protest or protesters, particularly on public space," prompting Jordan to launch a probe into the directives.
"The training materials provided to the U.S. Marshals strongly suggest that the Biden Administration is continuing to weaponize federal law enforcement agencies for partisan purposes," Jordan wrote in a letter to U.S. Marshals Service Director Ronald L. Davis, first obtained by The Hill, after Britt's discovery.
GOP SENATORS PUSH TO RAISE PRISON TIME FOR SCOTUS PROTESTERS AFTER GROUPS MOBBED CONSERVATIVE JUSTICES' HOMES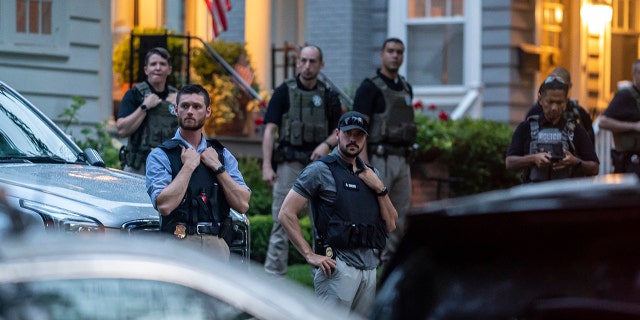 "While authorities apprehended the man who intended to do harm to Justice Kavanaugh, we are aware of no other arrests or charges for agitators demonstrating outside of the justices' homes—despite the actions clearly violating federal law," Jordan continued, as he seeks to address the lack of arrests. 
Jordan also called out the lack of arrests in an interview with Fox News Radio Wednesday, stating that it is a "crime to protest in front of a judge's home."
US MARSHALS WERE TOLD NOT TO ARREST PROTESTERS AT SUPREME COURT JUSTICES' HOMES 'UNLESS ABSOLUTELY NECESSARY'
"It's actually a crime to protest in front of a judge's home with the intent to change a decision, to impact a pending matter in front of the court. And obviously, that's what they were doing after the leak came out," the Ohio congressman said, referring to the protests and demonstrations that occurred after a leak of the Dobbs decision last May.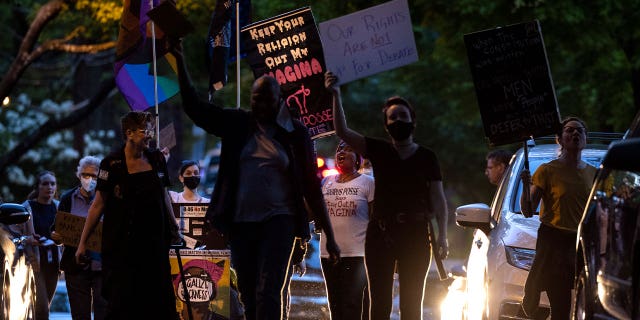 "That's why I think the leak came out… to create this whole atmosphere. And of course, we know where it ended up. It ended up with an assassination threat and attempt on Justice Kavanaugh," Jordan said.
"So we've received information that suggests that, it's what we put in the letter, that there may have been instructions from the Attorney General to, hey, whatever you do, only as a last resort. But that's in direct contradiction of the law, of the statute. So that's a concern," he said. "And we want to get some answers to that, and a host of other things. It seems like we've been investigating all kinds of things because so many these agencies have been turned on the American people."
Jordan's investigation comes just days after Sen. Marsha Blackburn, R-Tenn., and 10 Senate Republicans announced upcoming legislation that seeks to increase maximum prison sentences for anyone who attempts to influence Supreme Court justice decisions.
CLICK HERE TO GET THE FOX NEWS APP
"The Protecting Our Supreme Court Justices Act will deter intimidation of our Justices and send a message that the Biden administration has refused to send: Justices must be allowed to do their jobs without fearing for the safety of themselves or their families," Blackburn told Fox News Digital. 
Fox News' Jon Brown and Anders Hagstrom contributed to this report.