While touring the Welsh village of Aberfan Friday, Kate Middleton let a 1-year-old boy who grabbed the Princess of Wales' purse play with it while she continued to greet crowds who had gathered to meet the royal couple. 
"I am just speechless," the little boy's mom, Lucy Williams, told ITV afterward. "I think she sympathized with how hard it is with children."
Kate is a mom to three children: Prince George, 9, Princess Charlotte, 7 and Prince Louis, 5. 
The sweet moment was caught on video by ITV and showed Baby Daniel grabbing and playing with her small black purse as she and his mother laughed over it. 
KATE MIDDLETON SHOWS OFF 'PRINCESS SHUFFLE' IN VIRAL MOMENT AHEAD OF KING CHARLES' CORONATION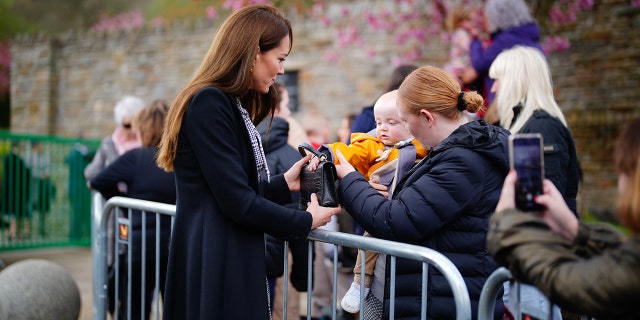 Lucy later told ITV the princess told her, "He can have it to play with. I'll come back for it!"
Near the end of the video, Lucy catches the purse as Daniel starts to drop it and holds it so the royal can take it back. All the while, Kate has her back to his escapades, greeting more well wishers, including another baby. 
Williams later jokingly called Daniel a "hurricane."
"It's typical him," she laughed of the incident to ITV. "He's a bit of a hurricane. I wouldn't expect anything less!"
APP USERS CLICK HERE TO WATCH VIDEO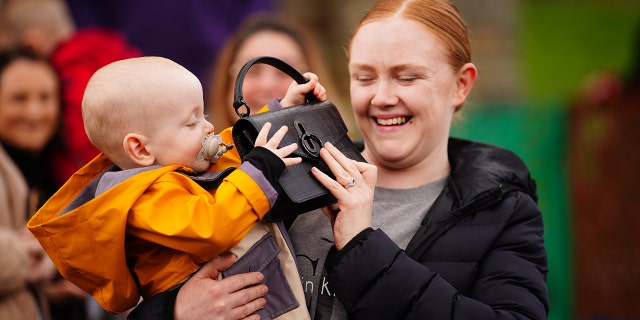 CLICK HERE TO SIGN UP FOR THE ENTERTAINMENT NEWSLETTER
Kate and Prince William were in the small village to learn more about the 1966 Aberfan mining tragedy that left 116 children dead when their school was engulfed by slurry and mud after a colliery spoil tip collapse. Twenty-eight adults were also killed.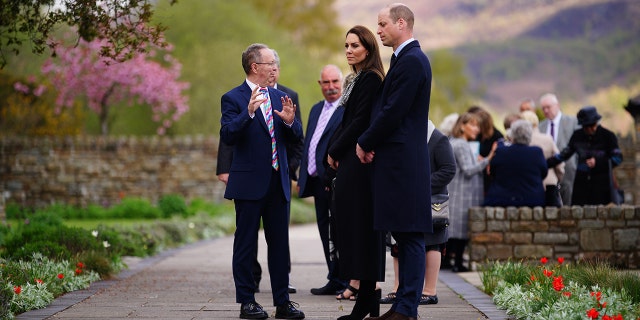 The visit was part of a two-day trip to Wales, which the Prince and Princess of Wales have visited more than once since being given the titles by King Charles III. 
The couple also celebrated their 12th wedding anniversary Saturday and released a new photo of themselves smiling on bicycles.
APP USERS CLICK HERE FOR PHOTO 
CLICK HERE TO GET THE FOX NEWS APP
William and Kate were married April 29, 2011, in Westminster Abbey, the same place where they will take part in King Charles III's coronation next Saturday.