Former White House adviser and Atlanta mayor Keisha Lance Bottoms said her nephew was nearly struck by a stray bullet that entered his bedroom over the weekend.
According to Bottoms, someone fired a gun in the air and the bullet penetrated the wall of the house – coming "inches away" from hitting her nephew who was lying in bed. 
"We are grateful that God protected him. If you have a gun, please act responsibly," she wrote in a tweet on Saturday. "This could be you or your child."
It's unclear who the home belongs to or where it is located.
KEISHA LANCE BOTTOMS ANNOUNCES DEPARTURE FROM WHITE HOUSE ROLE
Bottoms previously lost a nephew to gunfire on June 13, 2014, when Darius Bottoms, 18, was shot in his car in a case of mistaken identity, FOX 5 Atlanta reported.
His murder was featured in an episode of "The Real Murders of Atlanta" on the Oxygen channel.
EX-FALCON WILLIAM MOORE ARRESTED AFTER ALLEGEDLY SHOOTING INTO A CAR WHILE CHILDREN WERE INSIDE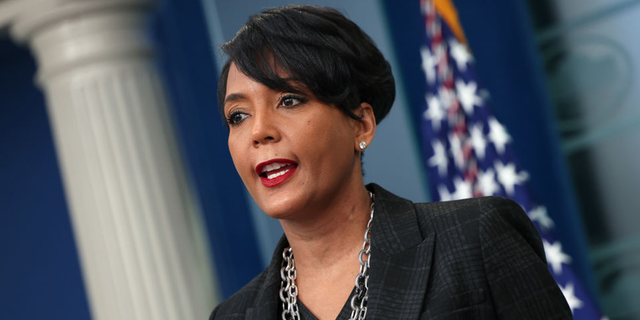 Bottoms, a Democrat, last served in the Biden administration as director of the White House Office of Public Engagement. She announced in February she would be stepping down from the role, which she had held since June. 
She officially left the White House on April 1 and was replaced by former Columbia, South Carolina, mayor Stephen Benjamin.
CLICK HERE TO GET THE FOX NEWS APP
Bottoms also served as the mayor of Atlanta from 2018 to 2022, but decided not to seek re-election. She was hired as a political commentator at CNN after her departure from the mayor's office and before joining Biden's team.