Last week, star quarterback Lamar Jackson agreed to a massive five-year, $260 million contract with the Ravens. The deal made him the highest-paid player in NFL history.
Coming to an agreement on the terms of the contract has been the main focus of the Ravens and Jackson the past two years. 
Frustrations spilled over on both sides throughout the long process, and Jackson made a trade request public in March.
That same month, the Ravens decided to place the non-exclusive franchise tag on the MVP quarterback.
CLICK HERE FOR MORE SPORTS COVERAGE ON FOXNEWS.COM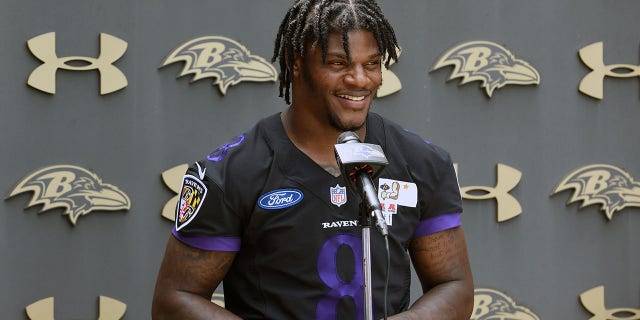 Ultimately, the saga had a happy ending.
"They say the best things come to those who wait. We waited for a while, and here we are," Ravens general manager Eric DeCosta said during Thursday's press conference.
ANTONIO BROWN POSTS BIZARRE TWEET CLAIMING HE WILL END RETIREMENT TO PLAY FOR RAVENS
Jackson admitted other NFL teams reached out to him after the Ravens used the non-exclusive franchise tag on him, but he was not interested in leaving Baltimore.
"To be honest with you, I really didn't care for other teams, really," Jackson said Thursday.
"I just really wanted to get something done here. I wanted to be here. I was like, 'Man, OK, other teams cool, but I want to be a Raven.' … I really wanted to get this done before anything, before my time up and branch off somewhere else. I really want to finish my career here and win a Super Bowl here."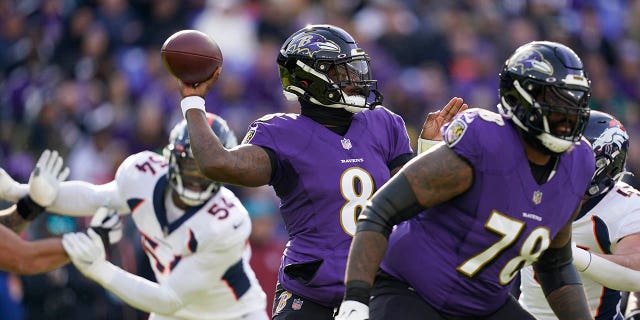 The 26-year-old also mentioned that he appreciated fans reaching out to him via social media during the negotiation process.
"It means a lot to me," Jackson said. "I can't even explain it, how much I love the fanbase. … I was always getting messages from them, people crying, sad in my DMs. I'm like, 'Man, they got me sad.' 
"I wanna tell them that we making progress, but I don't because I don't want to spoil what's going on. … I love the community so much. I tell everybody that's like my third home because Florida, Louisville, then here. But I'm here for five years, so this my home home."
Jackson has a lofty new goal for his 2023 campaign, saying he wants to throw for record-setting yardage.
"I think I told someone, like, 'Man, I wanna throw for like 6,000 yards with the weapons we have,'" Jackson said. "And I'm not an individual award type guy or a stat watcher. I just want to do that because no one's ever done it, and I feel like we have the weapons to do it."
Legendary quarterback Peyton Manning set the single-season passing record in 2013 when he threw for 5,477 yards.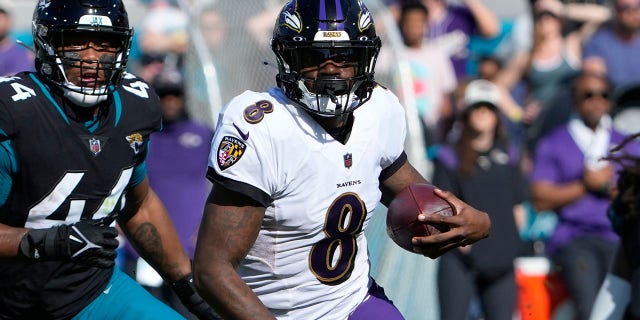 Baltimore upgraded its wide receiver room this offseason with the additions of Odell Beckham Jr. and receiver Zay Flowers and first-round draft pick Rashod Bateman. One of Jackson's favorite targets, tight end Mark Andrews, is also returning.
Former Georgia Bulldogs offensive coordinator Todd Monken will handle the play-calling duties for the Ravens in 2023.
CLICK HERE TO GET THE FOX NEWS APP
Jackson did not get into the specifics of his contract negotiations with the Ravens but noted that Jalen Hurts' contract didn't affect his deal. Hurts five-year, $255 million contract was announced 10 days before Jackson's deal.