A walrus who was controversially euthanized last year in Norway after becoming a viral sensation for videos of it enjoying itself in an Oslo fjord last summer now has its own statue in the Scandinavian capital.  
The walrus, named Freya, was notable for its seeming lack of fear of humans, but Norwegian authorities made the decision to kill the beloved 1,300-pound animal for public safety reasons, saying fans of the walrus hadn't kept their distance from it as officials had recommended. 
Astri Tonoian, the artist who made the life-size, crowd-funded sculpture unveiled in Oslo Bay on Saturday, said it is called "For Our Sins." 
"This is how humans treat wild nature, but it is also how humans treat humans," she said, according to BBC News. "This is how we treated Freya. And so, I will call the statue For Our Sins." 
WILD ON ICE EUTHANIZED AFTER SUFFERING INJURY DURING TRAINING FOR KENTUCKY DERBY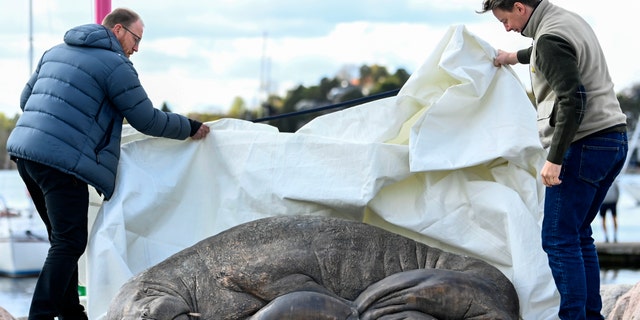 Erik Holm, the sculpture's crowdfunding organizer, told AFP news agency he "started this because I'm furious about the way the [Norwegian] Fisheries Directorate and the state handled this situation."
LOS ANGELES MOUNTAIN LION NICKNAMED 'HOLLYWOOD CAT' EUTHANIZED AMID BEHAVORIAL CHANGES, DECLINING HEALTH 
Frank Bakke-Jensen, director of Norway's Directorate of Fisheries, said in a statement before Freya was euthanized, "Through on-site observations the past week it was made clear that the public has disregarded the current recommendation to keep a clear distance to the walrus. Therefore, the directorate has concluded, the possibility for potential harm to people was high and animal welfare was not being maintained."
The euthanization fueled public outrage in the country. 
CLICK HERE TO GET THE FOX NEWS APP
Freya was often seen basking on boats, sometimes sinking them, and at times was within touching distance of gawkers. 
The Associated Press contributed to this report.