Massachusetts' Supreme Judicial Court upheld a nearly $37 million judgment in favor of Patricia Walsh Greene, who claimed she was misled by Marlboro parent company Philip Morris into believing its Light cigarettes were a safe alternative to standard Reds. Greene blamed this mistaken belief when she developed lung cancer in 2013.
Greene smoked a pack of Marlboro Lights a day until she quit smoking indefinitely in 1995.
The court ruled unanimously that Greene's smoking habits were altered by Philip Morris' promotion of Marlboro Lights, which internal research showed as having a higher overall correlation with cancer development.
The highest court in Massachusetts has upheld a nearly $37 million judgment for a woman who said she developed cancer after switching to Marlboro Light cigarettes because she thought they were less dangerous than the Marlboro Red cigarettes she had previously smoked.
The Supreme Judicial Court's unanimous ruling on Tuesday said that Patricia Walsh Greene might have smoked less or quit sooner had she not been swayed by Philip Morris' claims that Marlboro Lights were safer.
"Philip Morris represented that such products, including Marlboro Lights, delivered lower tar and nicotine and were a healthier alternative to regular cigarettes," the court wrote in its decision.
WI CIGARETTE SALES TANKED BY TAXES, SMOKING BANS, REPORT FINDS
But Philip Morris never disclosed to its consumers that internal research it conducted in the late 1970s showed that the smoke of Marlboro Lights was more likely to cause the DNA damage that can lead to cancer, the court said.
An email seeking comment was left with Altria, Philip Morris' parent company, on Wednesday.
Greene grew up surrounded by advertising for cigarettes and smoked her first Marlboro in 1971 at age 13, according to the court. She was smoking a pack per day by high school.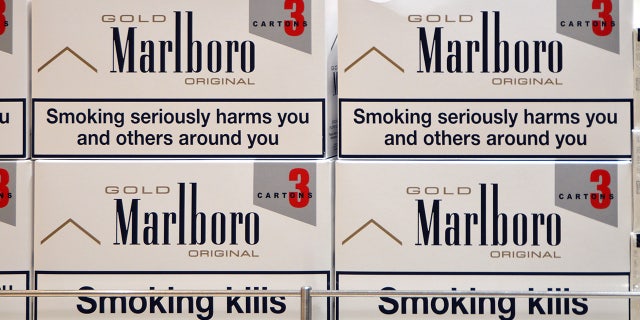 She tried quitting on several occasions using various methods from nicotine patches to hypnotism, before she managed to stop smoking for a nine-month period in 1979 and 1980, the court said.
When she resumed smoking after the nine-month pause, she switched from Marlboro Red cigarettes to Marlboro Lights after seeing advertising promsing that they delivered less tar and less nicotine, the court said.
IN NEW JERSEY, CANCER-STRICKEN CASINO DEALERS PUSH FOR ATLANTIC CITY SMOKING BAN
She smoked a pack of Marlboro Lights per day until she finally quit for good in 1995.
Greene was diagnosed with lung cancer in 2013, which had spread to her brain by 2018, requiring multiple surgeries and radiation, the court said.
Greene first sued Philip Morris in Middlesex Superior Court in 2015. The company was found liable for civil conspiracy and Greene was awarded the judgment in 2021.
CLICK HERE TO GET THE FOX NEWS APP
Philip Morris appealed, arguing that there was insufficient evidence to support the judgments against it, and saying that interest rates that resulted in the final award amount were excessive.