A Ukrainian drone strike caused a massive fire to erupt at an oil depot in Crimea, a Russia-appointed official reported Saturday.
Mikhail Razvozhayev, Russia's selected governor of Sevastopol, said that authorities had spotted two "enemy drones" that attacked the depot, with four tanks burned down as a result. Local forces were able to shoot down a third drone and disable a fourth through radio-electronic means.
Razvozhayev assigned the fire the highest level of difficulty to extinguish, but he claimed the fire had at least been contained. The fire has not yet claimed any casualties, he added.
He also noted that despite the complexity and significant damage the strike had caused, fuel supplies in Sevastopol would remain unaffected.
UKRAINE HAS RECEIVED OVER 98% OF COMBAT VEHICLES PROMISED BY NATO ALLIES, PARTNER COUNTRIES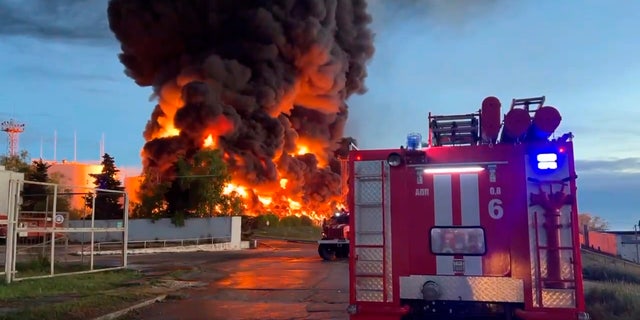 Andriy Yusov, Ukraine's military intelligence spokesperson, said the fire was "God's punishment" for "the murdered civilians in Uman, including five children." He said more than 10 tanks containing oil products for Russia's Black sea Fleet were destroyed in Sevastopol, but did not admit Ukraine's role in the attack.
Russian forces on Friday fired 20 cruise missiles and two drones at Ukraine's capital city of Kyiv and other cities, killing 23 people. The attack marked Russia's first direct attack on the capital since March 9.
PUTIN'S TROOPS FORTIFY ZAPORIZHZHIA NUCLEAR REACTORS AS RUSSIA GROWS WORRIED OVER UKRAINIAN OFFENSIVE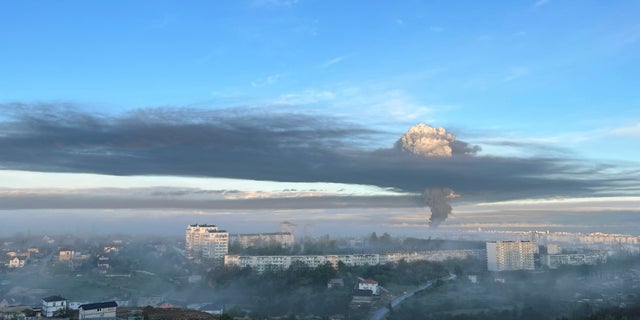 Kyiv itself escaped relatively unscathed with damage to residential buildings but no reported casualties at the time. Uman suffered the greatest losses, with at least 20 dead in that city alone and another 17 injured, according to the Ministry of Internal Affairs of Ukraine. 
Russian forces launched additional drones at Ukraine overnight, but Ukraine's Air Force Command claimed that it intercepted two drones – both Iranian-made – and shot down a reconnaissance drone on Saturday morning. 
UKRAINE'S PRIME MINISTER ASKS POPE FRANCIS TO HELP FACILITATE THE RETURN OF UKRAINIAN CHILDREN FROM RUSSIA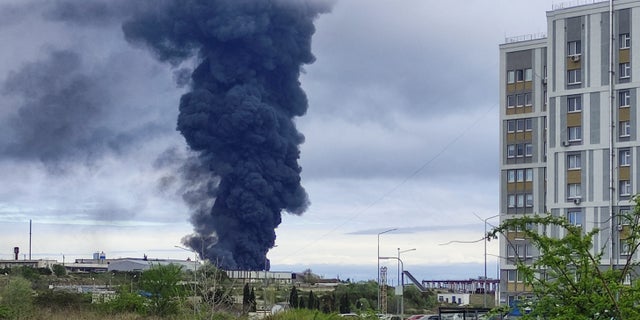 Razvozhayev reported that the Russian military had destroyed a Ukrainian sea drone that attempted to attack the harbor earlier this week. 
Crimea, which Russia annexed in 2014, remains one of the most contentious elements of Russia's war in Ukraine as many consider its occupation of the region illegal. 
Ukrainian President Volodymyr Zelenskyy said in an interview this week that his country will seek to reclaim the peninsula in the upcoming counteroffensive.
Experts working with the United Nations on Friday denounced reports of human rights violations including abduction, deportation and enforced disappearances against ethnic minorities in Russian-occupied Crimea, calling on Moscow to do more to protect the rights of Tatars and others there.
CLICK HERE TO GET THE FOX NEWS APP
The committee cited reports of "destruction of and damage to Crimean Tatar cultural heritage, including tombstones, monuments and shrines," and cited a lack of information about efforts to protect such sites from vandalism.
Fox News' Lawrence Richard and The Associated Press contributed to this report.