South Carolina Rep. Nancy Mace, R., joined Fox News host Trey Gowdy on "Sunday Night America" to discuss the ongoing investigation into President Biden and his son Hunter. Mace accused the FBI and Department of Justice of not doing their job, adding that if they are unwilling to act, "we will do their job for them."
"We're going to have a press conference on Wednesday morning at 9 a.m. to reveal more evidence that we found from suspicious activity reports and bank records," Mace said. "This is very troubling because for years now, as you said, Trey, the left says that no one is above the law. Well put your money where your mouth is and let's see where this investigation goes."
House Oversight Committee Chairman James Comer, R-Ky., previously told "Sunday Morning Futures with Maria Bartiromo" that "my message to the Department of Justice is very loud and clear. Do not indict Hunter Biden before Wednesday, when you have had the opportunity to see the evidence that the House Oversight Committee will produce," surrounding the Biden family's alleged business dealings.
BIDEN'S CLAIM TO HAVE NO KNOWLEDGE OF HUNTER'S BUSINESS DEALINGS IS BECOMING HARDER TO MAINTAIN
Mace and Comer's remarks come after it was announced a whistleblower claims that the FBI and the Justice Department are in possession of a document that shows an alleged elaborate scheme between a foreign national and then-Vice President Joe Biden.
When asked by Gowdy what a realistic expectation would be for what the Oversight Committee could do, Mace said that if evidence leads them there, "a referral to the Department of Justice would be the right next step." 
HUNTER BIDEN ATTORNEYS MEET WITH DOJ OFICIALS AMID ONGOING FEDERAL PROBE
"This won't end if somebody has broken the law and their last name is Biden. This doesn't end until justice is served," Mace added.
Gowdy asked Mace about Republicans controlling the appropriations process and whether House Appropriators would be willing to assist the Oversight Committee in making sure they gain access to all the information they need to do their job. Mace said she hoped "every single Republican and maybe a few Democrats will do the work necessary to hold those who've broken the law accountable, particularly if they're in the highest office of the land."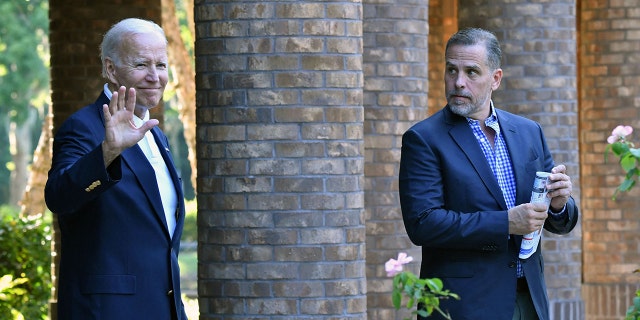 Mace also discussed the suspicious activity reports she had read and how she was initially called a conspiracy theorist for her concerns. 
"As you know, I like to call the balls and strikes against both sides of the aisle, and I've done that through this investigation as well and will continue to do that. We'll go wherever the evidence leads us," Mace said.