Joran van der Sloot, the prime suspect in the 2005 disappearance of Natalee Holloway, an American, who vanished while on a class trip in Aruba, will be extradited to the United States from Peru, her family said Wednesday. 
Holloway's mother, Beth Holloway, announced the news in a statement. 
"Almost exactly eighteen years later, her perpetrator, Joran van der Sloot, has been extradited to Birmingham to answer for his crimes," she said. 
Peruvian authorities agreed to extradite Van der Sloot, who is serving a 28-year prison sentence for the murder of a 21-year-old Peruvian Stephany Flores in 2010.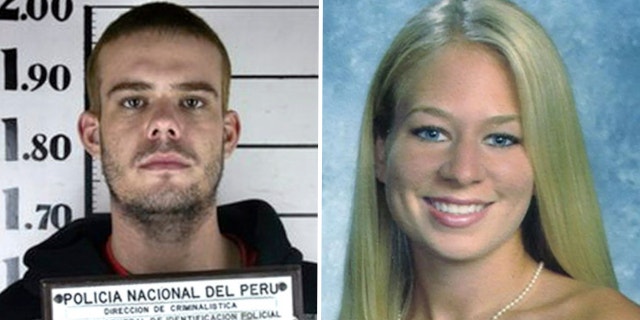 The government has agreed to temporarily hand over the Dutch citizen to American authorities "for his prosecution in the United States for the alleged commission of the crimes of extortion and fraud, to the grievance of Elizabeth Ann Holloway," Peru Minister of Justice and Human Rights, Daniel Maurate Romero, said in a statement.
Van der Sloot is one of the main suspects in the disappearance of Holloway, who failed to appear for her flight home on May 30, 2005, in Aruba. 
The 18-year-old was last seen leaving a bar early that morning with the young Dutchman. Her body was never found and the ensuing searches for the young woman would reap intense media scrutiny and worldwide attention. She was declared dead in 2014. 
CLICK HERE TO GET THE FOX NEWS APP
Flores was killed five years to the day Holloway, who was from Alabama, disappeared. Van der Sloot told police he killed the woman in Peru in a fit of rage after she discovered on his laptop his connection to the disappearance of Holloway. Police forensic experts disputed the claim.