Buckingham Palace on Friday released two new official portraits from King Charles III's coronation, including one in which he posed with Prince William and Prince George, the next two men in line for the throne.
The second portrait showed Charles and Queen Camilla with their eight Pages of Honour, which included George and Camilla's three grandsons and great-nephew, and their Ladies in Attendance – Camilla's sister Annabel Elliot and her friend the Marchioness of Lansdowne.
Charles became king immediately after the death of his mother Queen Elizabeth II in September after 70 years on the throne but was officially crowned last Saturday in a ceremony showing off the full pomp and pageantry of the British monarchy. 
Hugo Burnand, who also took four other official coronation portraits that were released on Monday, told Hello! magazine he wanted to show the line of succession.
ELIZABETH HURLEY REVELAS WHY SHE WASN'T IN THE UK FOR KING CHARLES III'S CORONATION: 'I FELT A BIT LEFT OUT'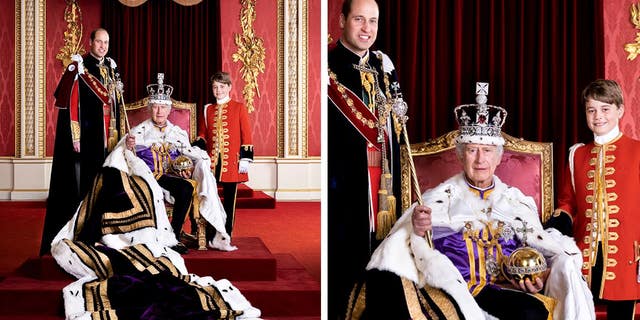 "I felt that it was important to take this picture," Bernand said. "I did a lot of research in the archives of past coronations, and I didn't see any previous pictures of the line of succession. While we have seen pictures of the Queen, Prince Charles and Prince William and Prince George, never have we seen them in the throne room with all the regalia."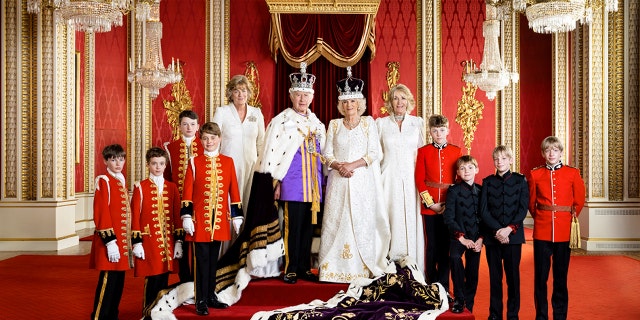 The photo shows Prince William dressed in the ceremonial dress uniform of the Welsh Guards and Prince George in his Page of Honour uniform standing on either side of the king wearing the Imperial State Crown and the Robes of Estate while holding the Sovereign's Orb and Sovereign's Sceptre with cross.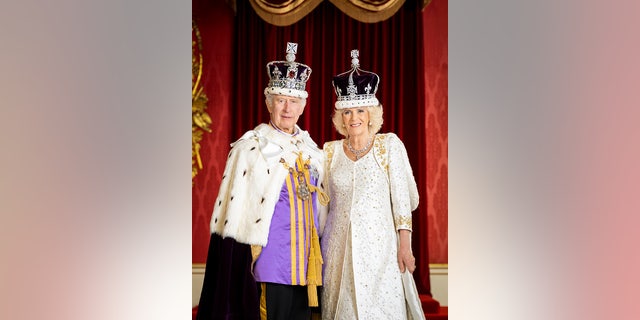 CLICK HERE TO SIGN UP FOR THE ENTERTAINMENT NEWSLETTER
The king sits in a throne chair in the Throne Room of Buckingham Palace. 
"There's a lot of formality in that picture," Burnand said, "but I think that I've managed to show the essence of the individuals at the same time, which to me makes it not just a historical document, but also a portrait."
CLICK HERE TO GET THE FOX NEWS APP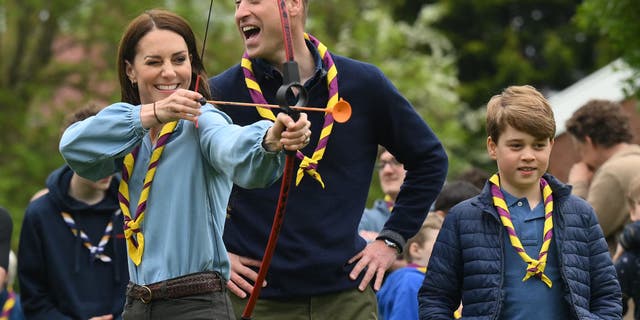 The public is far more used to seeing the modern royals dressed far less regal garb like when the Wales family tried their hand at archery Monday while at an event with the 3rd Upton Scouts in Slough for the post-coronation Big Help Out charity initiative.