Actor and writer Kirk Cameron — while conducting his 10th story book event across America at a library in Cherry Hill, New Jersey, on Saturday, April 29 — said he became "emotional and began to cry tears of gratitude and hope" when he heard some of the families start singing and worshiping God on their own as they waited in line for space at the event.
Given the "overflow" crowd that showed up on Saturday to greet him, according to Cameron and his publisher, Brave Books, some families couldn't immediately "get into the library for lack of space," said Cameron.
As a result, they began singing on their own as they waited their turn. 
KIRK CAMERON SAYS NEW JERSEN PARENTS ARE FEELING PRESSURE FROM THE LEFT TO TEACH THEIR KIDS 'WOKE VALUES' 
"When the overflow group of families … started their own worship service — think beautiful voices of children and strong declarations from moms and dads, hands raised, singing sacred songs of thankfulness and praises to God — filling the lobby, the staircase and expanding into the upper room [of the two-story library], I got emotional and began to cry," Cameron told Fox News Digital in comments via email.
He added that he cried "tears of gratitude and hope. Songs of courage and resolve."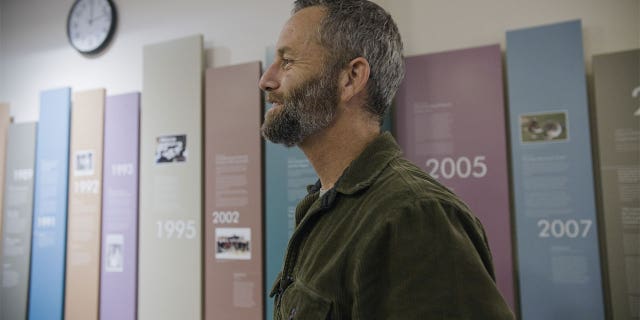 He also declared, "God's not finished with America."
Previously, Cameron told Fox News Digital in an on-camera interview about the importance of "getting back to basics," which includes loving our country, practicing our faith and putting our families first. 
OHIO UNIVERSITY'S STUDENTS DITCH SMARTPHONES IN FAVOR OF FAITH AND FRIENDS: 'AMAZING THING'
"Freedom is a rare and precious gift," he also said. 
"And we need to hold onto it."
Library patrons on Saturday were thankful "that the library allowed Kirk to have the story hour and get everyone in."
Brave estimated that some 700 people showed up at the Cherry Hill library on Saturday.
KIRK CAMERON REJECTS DRAG QUEEN STORY TIME, IS INSTEAD SPEAKING ABOUT FAITH, FAMILY AT ARKANSAS LIBRARY
"When [library] staff saw how many people were eagerly waiting outside, they decided to open up the room divider halfway through the first story hour group," Brave told Fox News Digital, given that there apparently was a cancellation by another group that had also rented space.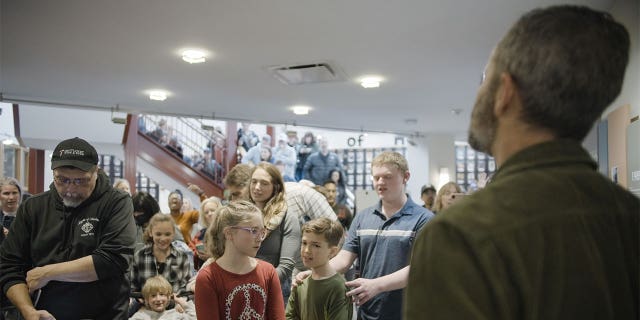 "This allowed Brave to host three separate story hours and not have to turn anyone away."
Brave also said that "library staff was very accommodating and welcomed Kirk Cameron, [as well as journalist] John Solomon and [musician] Sean Feucht with excellent customer service."
ARIZONA FAMILIES GIVEN 'GLIMMER OF HOPE' AT KIRK CAMERON, SHERIFF MARK LAMB BOOK EVENT: 'GOD WILL WIN'
The publisher also said, "What was most notable was how wonderfully Cherry Hill Public Library served their community and how thankful in return event patrons were that the library allowed Kirk to have the story hour and get everyone in."
"I leave the New Jersey public library full of hope and expectation."
The publisher said, "While families waited for their chance to get in for the story hour, John, Kirk, and Sean each took turns addressing the crowd waiting outside the meeting room."
AMERICA'S ONLY HOPE IS GOD, SAYS SEAN FEUCHT, CHRISTIAN SINGER-ACTIVIST: NATION IS 'MORALLY BANKRUPT'
It added, "Kirk was brought to tears as he was worshiping with the crowd seeing how many families came out in support."
Feucht, a Christian singer and musician who conducted "The Kingdom to the Capitol" tour recently, told Fox News Digital via email, "I leave the New Jersey public library full of hope and expectation that if parents are standing up here in the Northeast, then parents are going to stand up anywhere all across America."
He also said, "It's time to take this nation back for God, one library at a time."
CLICK HERE TO GET THE FOX NEWS APP
Feucht, who is founder of the "Let Us Worship" movement as well as a musician and missionary, led the audience in New Jersey in the national anthem, the "Pledge of Allegiance" and worship songs.
CLICK HERE TO SIGN UP FOR OUR LIFESTYLE NEWSLETTER
The Cherry Hill Public Library confirmed to Fox News Digital earlier that Cameron and his publisher rented space at the library for Saturday. 
It was considered a private event, the library said.