Judges in New York will have more discretion to jail people awaiting trial for alleged crimes, Gov. Kathy Hochul announced Thursday night, a policy change fiercely resisted by some of her fellow Democrats.
The governor held a state Capitol news conference to announce that a "conceptual agreement" had been reached on a $229 billion budget with the state Legislature, a deal that still needs to be approved by lawmakers. The budget includes policy proposals ranging from a minimum wage hike to allowing more charter schools in New York City.
But negotiations between the governor and legislative leaders ran well past an April 1 deadline, in large part because Hochul insisted on changes to the state's bail laws.
The issue has been a flashpoint between liberal Democrats, who say requiring people to pay cash to get out of jail rigs the system against poor people, and elected officials who cast it as a public safety issue.
NYC WEALTHY WOULD PAY HIGHER PARKING TICKETS UNDER CITY COUNCIL BILL
New York approved sweeping changes in 2019 aimed at keeping defendants who can't afford bail from being disproportionately jailed. But those changes have been tweaked twice before amid criticism that judges were being deprived of a tool they could use to hold people likely to commit new crimes.
The new agreement would remove a requirement that judges choose the "least restrictive" means to ensure defendants return to court. Judges have complained the standard "tied their hands," Hochul said.
"It gives judges discretion they need to hold violent criminals accountable, while still upholding our commitment to a justice system that is fair and accessible to all and also ensuring that poverty is never treated as a crime," she said.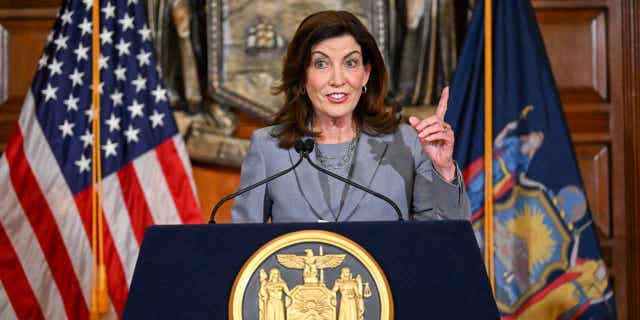 State Assembly Speaker Carl Heastie confirmed the conceptual agreement in a statement, saying it addresses many priorities advocated by Democrats. He added that some issues were still under discussion.
NEW YORK CITY PARKING GARAGE COLLAPSES, LEAVING MULTIPLE PEOPLE INJURED, 1 DEAD
Hochul's latest push for bail changes came after her closer-than-expected election victory last November in the Democrat-dominated state. Republicans attacked their opponents as soft on crime, making particularly strong gains in New York City suburbs.
Some lawmakers said Hochul's proposed changes would undercut the bail reforms approved in 2019 and result in more New Yorkers in pretrial detention — especially people with low incomes and people of color.
Assembly member Latrice Walker, a Brooklyn Democrat, accused Hochul of the "wholesale dismantling of bail reform."
Bail has become a point of contention between GOP and Democratic lawmakers in other states as well. Republican lawmakers in at least 14 states, including Georgia and Wisconsin, have pushed bills that would in part make it harder for defendants to get out of jail before trial.
The bail deal struck between Hochul and the Assembly and Senate leaders is one of several political compromises in the budget package.
The state would raise the minimum wage, but not to the $20 sought by liberal Democrats. Starting next year, the minimum wage will rise to $16 in New York City and some of its suburbs and $15 elsewhere in the state, with additional 50 cent increases in 2025 and 2026, Hochul said.
CLICK HERE TO GET THE FOX NEWS APP
The state would give an infusion of money to the authority that operates the subway, bus and commuter rail systems in the New York City metropolitan area, funded partly through a tax increase paid by larger businesses. However, those higher taxes would only be paid by businesses in New York City, not in the suburbs where Democrats are concerned about losing votes.
Hochul also dropped, for now, a plan to try to spur construction of multifamily housing in suburban communities that have historically put up barriers to new development. That proposal had also run into loud opposition from suburban lawmakers.