Matthew Tkachuk scored twice, Eetu Luostarinen put Florida ahead to stay with 5:38 left in what was a crazed third period, and the Panthers forced a Game 7 in their Eastern Conference first-round series by beating the Boston Bruins 7-5 on Friday night.
Aleksander Barkov, Brandon Montour, Zac Dalpe and Sam Reinhart also scored for the Panthers, who got 30 saves from Sergei Bobrovsky. Reinhart capped it with an empty-netter with 28 seconds left — the seventh and final goal of the third period, four of those scores by Florida.
Tyler Bertuzzi and David Pastrnak each scored twice for Boston, which got four assists from Brad Marchand and 26 saves from Linus Ullmark. Jake DeBrusk also scored for the Bruins.
CLICK HERE FOR MORE SPORTS COVERAGE ON FOXNEWS.COM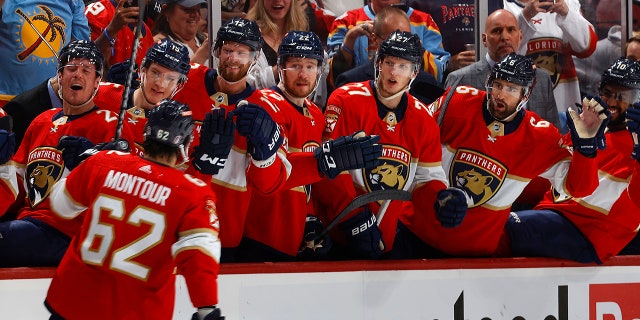 The team with the best regular-season record in NHL history took one-goal leads on two separate occasions in the third period — and couldn't hold either one of them. Now, they face a Game 7 on Sunday just to get into the second round against a Florida team that has already staved off elimination twice.
Not even three power-play goals and one short-handed tally was enough to give Boston a win, either.
The game started along the exact sequence that Game 5 in Boston did on Wednesday night: Florida took a 1-0 lead, Boston tied it, Florida took a 2-1 lead, Boston tied it, Florida took a 3-2 lead, Boston tied it.
Evidently, that's when the teams decided a repeat performance was boring.
They combined for four goals in a span of 6:56 — this time, with the Panthers answering the Bruins.
INTOXICATED WOMAN FOUND IN AVALANCHE'S VALERI NICHUSHKIN HOTEL ROOM HOSPITALIZED: REPORTS
Boston went up 4-3 on a power-play score from Pastrnak, Dalpe tied it for Florida, DeBrusk scored short-handed for a 5-4 lead, and Tkachuk got his second of the night 27 seconds later to tie it again.
And less than 4 minutes later, Luostarinen made it 6-5 — the Panthers back on top with 5:38 left, a sellout crowd in Sunrise waiving white towels in unison. Boston pulled Ullmark twice with hopes of netting the equalizer, had good looks at it in the final minute, but Bobrovsky and Florida's defense held on and Reinhart banged a puck off the boards, down the ice and into the net to seal the win.
AROUND THE RINK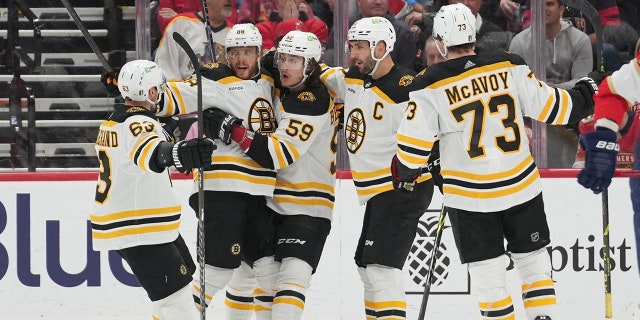 It was captain Patrice Bergeron's 1,463rd game with the Bruins, including the playoffs. That's one behind New Jersey's Martin Brodeur for 13th-most with one franchise. … Florida forward Ryan Lomberg (upper body) missed his second consecutive game. … Bruins C David Krejci (37) and D Connor Clifton (28) had birthdays on Friday. Boston was 1-1 in Krejci's previous birthday games, beating Tampa Bay in 2018 and losing to Ottawa in 2013. The Bruins shut out Buffalo on Clifton's birthday last year.
BIG CALL
KRAKEN TAKE CRUCIAL GAME 5 VICTORY OVER AVALANCHE IN FIRST ROUND
The biggest play of the night might have been made by someone on the Panthers' staff armed with an iPad.
The Bruins appeared to take a 3-2 lead with 11:32 left in the second period on a goal by Brandon Carlo — except the play should have been whistled dead 10 seconds earlier. But Florida took a quick look and challenged the goal by claiming DeBrusk had been guilty of a hand pass to Bergeron in the corner to Bobrovsky's left earlier in the play.
Officials eventually agreed, taking the goal off the board. Barkov scored for a 3-2 Florida lead about two minutes later.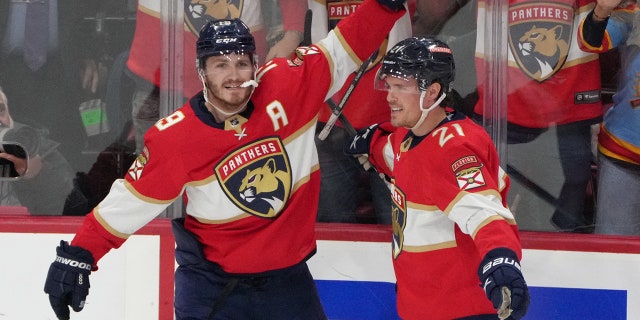 CLICK HERE TO GET THE FOX NEWS APP
RARE NUMBERS
It was the fifth time in Bruins' history that they had at least three power-play goals and one short-handed score in a playoff game. Of the earlier four, two came in 1976, one in 1970 and the other in 1958.