Philadelphia Phillies outfielder Johan Rojas had a memorable first play in the big leagues.
The Phillies were playing the San Diego Padres in Philadelphia on Saturday, one day after Rojas was called up from the minor leagues. Rojas was playing in center field when shortstop Fernando Tatis Jr. came up to bat, as a runner was on first base.
Tatis hit a fly ball out towards center field, but Rojas was able to track the ball down and make the catch as he crashed into the outfield wall.
CLICK HERE FOR MORE SPORTS COVERAGE ON FOXNEWS.COM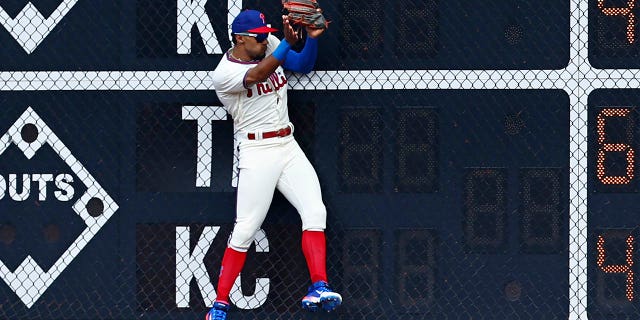 Moments after making the catch, Rojas noticed that Ha-Seong Kim had drifted away from first base. 
NAYLOR BROTHERS MAKE MLB HISTORY WITH MULTI-RUN HOMERS: 'SOMETHING SUPER SPECIAL'
Rojas made an impressive throw to first base, where Kim was tagged out for a double play.
Rojas got the chance to play at the major league level after Phillies outfielder Cristian Pache was placed on the 10-day injured list.
The 22-year-old Rojas was prompted from Double-A.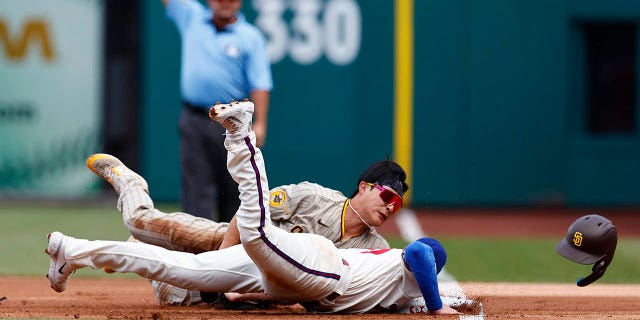 Rojas was batting .306/.361/.484 with 20 doubles, five triples, nine home runs at Double-A.
The Phillies defeated the Padres in the first game of Saturday's doubleheader. Rojas went 0-3 at the plate.
CLICK HERE TO GET THE FOX NEWS APP
Philadelphia won its 49th game of the season and trail the Atlanta Braves by 12.5 games in the NL East division.