The New York City photographer behind the viral photo that captured a crazed man clutching a six-inch blade while creeping up on musicians in Times Square urged New Yorkers to remain vigilant and do their part to report crime to law enforcement.
Photographer Richard Moore told "America Reports" on Monday that he was walking in Times Square last week when he noticed an unhinged man flashing a large knife at tourists on a bench at about 10 a.m. on Broadway.
"I always have my camera on me and I'm always ready for a photograph. That's the way you have to be," Moore said.
TIMES SQUARE SCARE AS KNIFE-WIELDING MAN LURKS BEHIND TOURISTS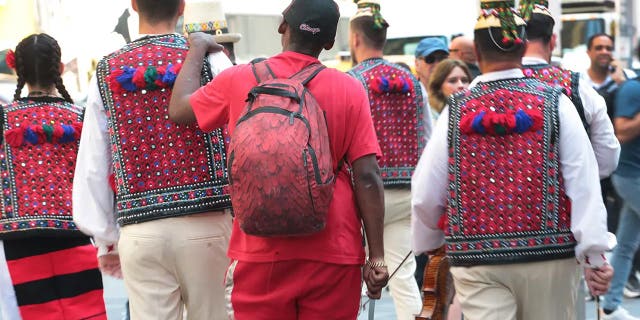 The knife-wielding man, who was clad in all red, then jumped from the bench and began trailing a group of musicians, who all appeared to be part of a Romanian band. A chilling photo captured by Moore shows the man tapping one of the musicians on the shoulder, with a knife visible at his side.
"I knew they were in front of the guy with a knife, and I was about 25 feet behind him. Then he jumped down, followed more closely, went up to one of the guys and tapped him on the shoulder," Moore recalled. "The person half turned and he then backed off."
Moore called 911 and waited 12 minutes for cops to arrive. He told the New York Post that police arrested the man "from behind" and managed to secure the knife. 
With the current prevalence of crime in the Big Apple, Moore said it's important for people to remain watchful and to report criminal behavior to law enforcement as soon as they see it.
NYC SCOOTER SHOOTING SUSPECT CHARGED WITH MURDER, ACCUSED OF RANDOMLY FIRING AT PEDESTRIANS
"If you live in the city and you see something this dangerous, you've really got to make an effort," he told Fox News host Sandra Smith.
A photo captured by Moore made the cover of the New York Post last week, with the headline, "Times Scare."
The NYPD identified the knife-wielding suspect as 22-year-old Deqon Massiah, who has been charged with menacing, harassment and criminal possession of a weapon.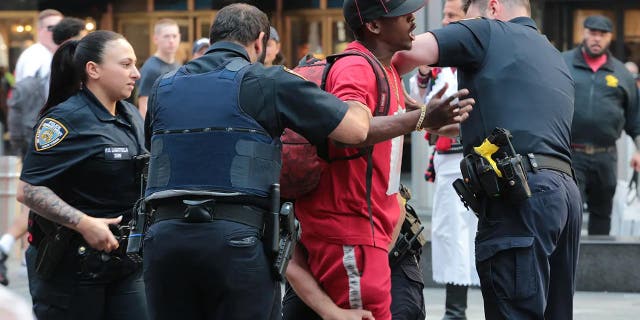 Times Square has been plagued by attacks on tourists over the years, including a Maryland man who was slashed and robbed in 2022 and a San Diego visitor stabbed in the neck with a pair of scissors last New Year's Eve. 
 A new Siena College poll found that 70% of Big Apple residents fear they'll be a victim of a crime. Meanwhile, 87% of New York State residents think crime is either a very serious or somewhat serious problem, according to the poll.
New York City Mayor Eric Adams tried to downplay the latest polling in an interview last week, blaming the media for the staggering numbers of New Yorkers concerned for their safety.
"They start their day picking up the news, the morning papers… and they see some of the most horrific events that may happen throughout the previous day," a defensive Adams said during an interview with Fox 5.
"Plays on your psyche!" he added.  "We know it's going to take time," Adams acknowledges. "But if you lead off every day with some of the horrific incidents that take place in the city with 8.5 million people, there's a feeling that you have."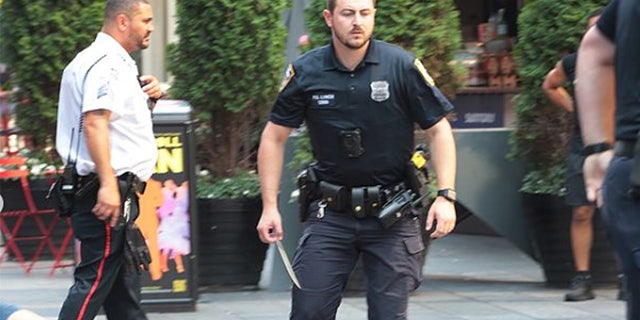 Moore said New York City residents know the truth about crime in their city.
"People who walk the streets of New York as most of us do, they see what happens," he told Smith. "The same with the subway. On the subway station. I've been saying for years to get more police down there. And it's finally happened in the past six months."
Manhattan District Attorney Alvin Bragg admitted in a recent interview that even he has concerns about crime on the subway.
CLICK HERE TO GET THE FOX NEWS APP
"I know the statistics that transit crime is down, but when one of my family members gets on the train, I, too, get a knot in my stomach," he told Fox 5.
Fox News' Rebecca Rosenberg contributed to this report.