Marine rescuers were called to the beach on an island in northwest Scotland after 55 pod whales were found washed ashore. 
Only 15 whales were still alive when the rescue crews arrived, but the teams decided to euthanize remaining whales on welfare grounds. 
The bodies of the whales will be taken to a landfill where they will be buried once post mortem is complete.
A pod of 55 pilot whales have died after they were found washed ashore on a beach in Scotland in the worst mass whale stranding in the area, marine experts said Monday.
Marine rescuers, the coast guard and police were called to Traigh Mhor beach on the Isle of Lewis in northwest Scotland after receiving reports that dozens of the mammals were in difficulty there early Sunday.
The British Divers Marine Life Rescue found that only 15 of the whales — a mixture of adults and calves — were still alive, and attempted to refloat two of the more active animals that were low down in the water.
SCOTLAND ELECTS FIRST MUSLIM LEADER, HUMZA YOUSAF, DESCENDANT OF PAKISTANI IMMIGRANTS
But by Sunday afternoon rescue teams decided that the remaining whales should be euthanized on welfare grounds, after considering the shallow beach, rough wave conditions and how long the whales had been out of the water.
The charity said the whole pod may have followed a female whale onto the beach when she had problems giving birth.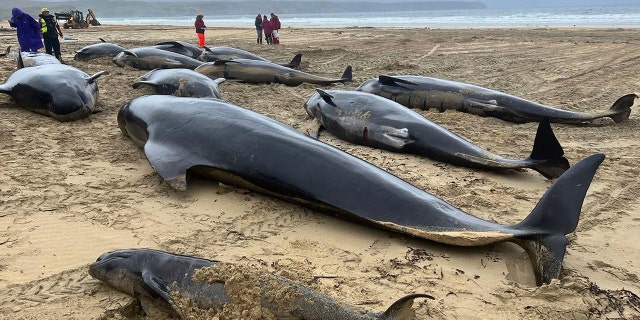 "Pilot whales are notorious for their strong social bonds, so often when one whale gets into difficulty and strands, the rest follow," it said in a statement. "A sad outcome for this pod and obviously not the outcome we were all hoping for."
WATCH: SCOTTISH SEASIDE TOWN VISITORS FIND THE 'SCARIEST ROAD IN THE WORLD'
Experts will begin carrying out post-mortem work Monday to determine what caused the whales' death.
Andrew Brownlow, from the Scottish Marine Animal Stranding Scheme, said that would be a "monumental task."
CLICK HERE TO GET THE FOX NEWS APP
"In terms of the number of casualty animals, this is the biggest one we've had," he told the BBC.
Experts will take samples and data from some of the whales, and the bodies will be taken to a landfill site and buried after the post-mortem is complete, he added.