Pope Francis on Friday echoed calls made by Italian Prime Minister Giorgia Meloni urging Italians to have more babies and fewer pets as Italy faces its greatest population crisis to date. 
The head of the Catholic Church denounced the financial woes plaguing Italy's young populations and urged them to forgo "selfish, egotistical" decisions that play into their family planning.
The pope blasted couples who have pets and not children and called on Rome to provide resources for young families to circumvent the "demographic winter" and to "plant the future" with hope.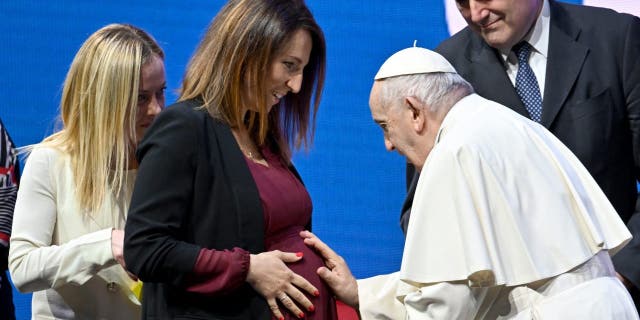 BIRTH RATE IN ITALY HITS RECORD LOW IN 2022 AS POPULATION CONTINUES TO SHRINK
"Let us not resign ourselves to sterile dullness and pessimism," Francis said during an annual gathering of pro-family organizations. "Let us not believe that history is already marked, that nothing can be done to reverse the trend."
The pope's comments come as Meloni looks to encourage a significant spike in births over the next decade after Italy recorded its lowest birth rate ever with 392,598 births in 2022. 
The low birth rate, coupled with an increase in the mortality rate after 713,499 deaths were recorded last year, has officials worried about an economic crash.
In order to circumvent a feared collapse of Italy's social security program, Meloni is backing a plan that would encourage birth rates to increase to 500,000 annual births by 2033 – a proposal that was at the heart of her campaign for the premiership last year when she ran on the mantra of "God, family, fatherland."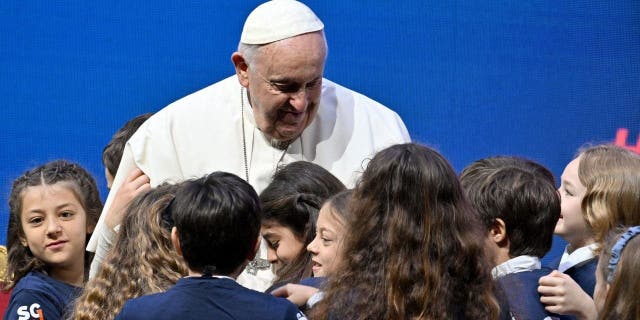 POPE FRANCIS GIVES WOMEN THE RIGHT TO VOTE AT MEETING OF BISHOPS
Italy has one of the lowest birth rates in the world, with women having, on average, 1.24 children.
Numerous studies have suggested that Italy's lack of affordable childcare, low pay, dubious work contracts and tradition of women carrying for older parents are all factors that have led to a declining birth rate. 
Meloni, who shares one child with her husband, has said that it is time to reverse Italy's low-birth trend, though she also believes that the population crisis should be dealt with without turning to surrogacy, maintaining a hardline approach to immigration and refusing to budge on allowing same-sex couples to adopt.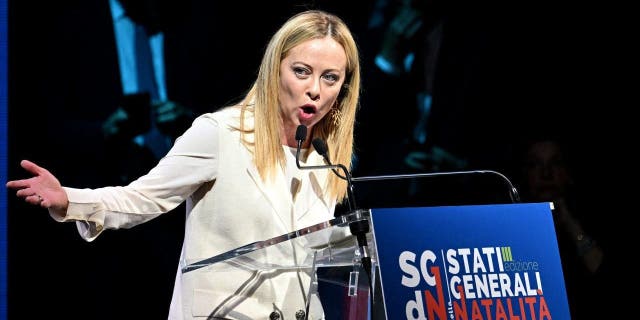 CLICK HERE TO GET THE FOX NEWS APP
"We want a nation where it is no longer scandalous to say that — whatever the legitimate, free choices, inclinations of each person — we are all born of a man or a woman," Meloni said to applause. "Where it is not taboo to say that motherhood is not for sale, that wombs are not for rent, and children are not over-the-counter products that you can choose on the shelf as if you were in the supermarket and maybe return if then the product does not match what you expect."
The Associated Press contributed to this report.