A drug counselor in Portland, Oregon, recorded the shocking moment a homeless man charged his car and smashed his windows with a rock as drugs and crime plague the city.
Kevin Dahlgren told "Fox & Friends First" Thursday that the attack happened when he went to investigate a report of a man "acting crazy" in the area.
"It was terrifying," said Dahlgren, who has over two decades of experience in social services.
"He ran at me full speed, nearly smashed my driver's side window, and that's why I just kept driving." 
PORTLAND SQUATTERS TOOK OVER AN ABANDONED BAR. IT JUST WENT UP IN FLAMES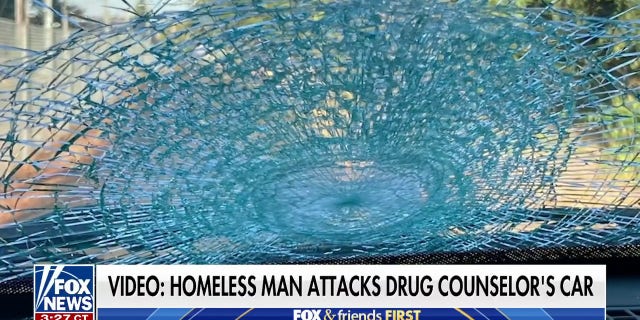 The city's homeless crisis has left residents and businesses on edge, resulting in a population decline for the third straight year, according to census data. Meanwhile, Mayor Ted Wheeler's office has reported a 50% increase in homelessness from 2019 to 2022 and the presence of 700 homeless encampments.
Dahlgren said he reported the attack to a mental health outreach team but received no response, despite warning the man was wielding a rock and posed a danger to others. He said he then called the police, who also declined to pursue.
"What does it take to get someone like this help?," he asked. "Who is supposed to help this person if not the people we pay to help? It was really frustrating." 
'DYSTOPIAN' PORTLAND HOMELESS COMMUNITY BOASTS MAKESHIFT CABINS WITH CHIMNEYS, SOLAR PANELS
Another Portland resident told "Fox & Friends" last month that a homeless man threatened to burn her house down after she confronted him when he set up shop behind her home. 
"It's frightening. Something's going to happen," lifelong resident Vivica Elliot said.
"You don't have any rights as a homeowner to tell a camper to leave, so we're kind of stuck… You want to be able to trust the administrators of your city, and it's kind of like that's not going to happen, so we're on our own."
Resident Jacob Adams issued an emotional plea for help from city officials after being terrorized by homeless people repeatedly setting massive fires directly next to his home. 
"I love Portland and I love where I live," Adams told "Fox & Friends" in February. "I'm asking you to please do something, so the people of the city feel safe."
OREGON LAWMAKERS 'LOVING HOMELESS TO DEATH' BY THROWING MILLIONS IN FUNDING AT CRISIS, LOCAL OFFICIAL SAYS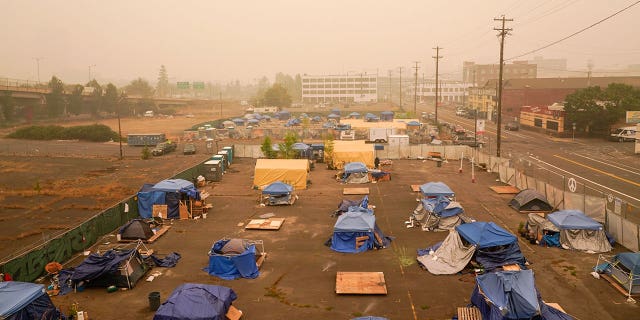 Oregon ranks as the worst state in the nation for the prevalence of mental illness, according to Mental Health America.
CLICK HERE FOR THE FOX NEWS APP
Dahlgren said continuing his outreach in the community has grown more challenging as mental health needs continue to go unmet, leaving citizens "vulnerable" and "victimized."
"We're doing a really terrible job with mental health-type services in this state," he said.
"It's dangerous now for everybody."