President Vladimir Putin declared Tuesday that the West has unleashed a "real war" against Russia amid a scaled-down Victory Day parade in Moscow that is believed to represent the impact of the country's invasion of Ukraine.
Speaking as Russian troops marched on Moscow's Red Square, Putin said that the West had forgotten the Soviet Union's victory over Nazi Germany in 1945, claiming that Russia wants to see a peaceful future.
"Today, the civilization is once again at a decisive, turning point and an actual war has been unleashed against our homeland again," Putin said during a 10-minute address. "But we fended off international terrorism, we will protect residents of Donbas too and ensure our security."
"Our heroic ancestors proved that there is nothing stronger, more powerful and more reliable than our unity. There is nothing in the world stronger than our love for the Motherland," Putin continued.
US PROVIDING UKRAINE $1.2B IN MILITARY AID AHEAD OF EXPECTED SPRING OFFENSIVE AGAINST RUSSIA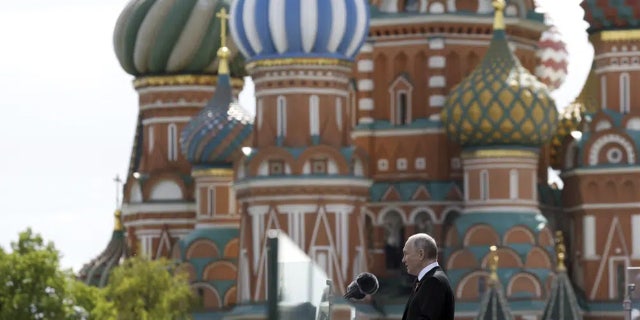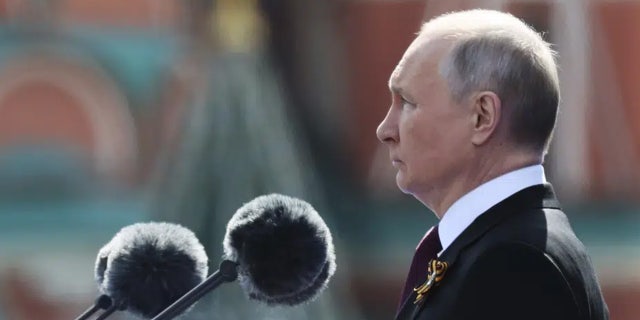 The Russian president continued, saying that the entire country is in support of the "special military operation" in Ukraine.
Since Russia invaded Ukraine nearly 14 months ago, Putin has maintained that the West's "untamed ambitions, arrogance and impunity" are to blame for the conflict. 
He has also continued to describe Ukrainian President Volodymyr Zelenskyy as a puppet.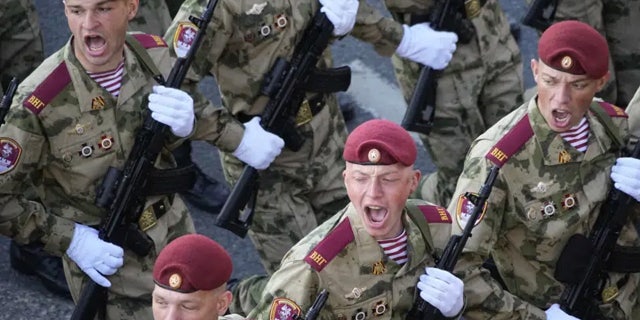 Victory Day is Russia's celebration of Nazi Germany's defeat during World War II, known in Russia as the Great Patriotic War.
Some 8,000 troops took part in the parade in Moscow's Red Square on Tuesday — the lowest number since 2008. Even the procession in 2020, the year of the COVID-19 pandemic, featured approximately 13,000 soldiers, and last year, around 11,000 troops. There was no fly-over of military jets and the event was shorter than the usual hour-long duration.
"This is weak. There are no tanks," Yelena Orlova told The Associated Press while watching the vehicles rumble down Moscow's Novy Arbat Avenue upon leaving Red Square. "We're upset, but that's all right; it will be better in the future."
NEW WORLD DISORDER: CHINA, RUSSIA BLOC SHORES UP INFLUENCE AS COUNTRIES EAGER TO JOIN, INCLUDING US ALLIES
The parade comes as thousands of Russian military personnel have died since Russia invaded Ukraine in February 2022. 
The Kremlin's forces deployed in Ukraine are defending a front line stretching more than 1,000 kilometers (600 miles), presumably thinning the ranks of troops available for such displays.
"This is supposed to be a showpiece for Russian military might. But so much of that military might have already been mauled in Ukraine that Russia has very little to show on its parade in Red Square," said Keir Giles, a Russia expert at London's Chatham House think tank.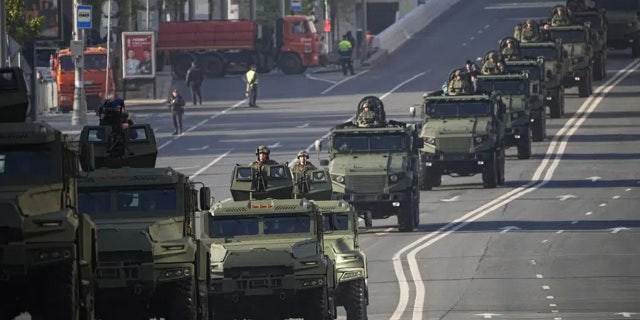 Putin was joined on the Red Square by foreign leaders from former Soviet countries – Armenia, Belarus, Kazakhstan, Kyrgyzstan, Tajikistan, Turkmenistan and Uzbekistan. 
INTERNATIONAL CRIMINAL COURT ISSUES PUTIN ARREST WARRANT OVER CHILD DEPORTATIONS FROM UKRAINE
According to state media, the Victory Day celebrations across the country have been muted this year, after the cancellation of events in other cities over security concerns. Before delivering his speech, Putin walked from the Kremlin to the Red Square where ranks of military personnel were massed. 
Putin concluded his speech with, "To Russia! To our brave armed forces! To Victory!"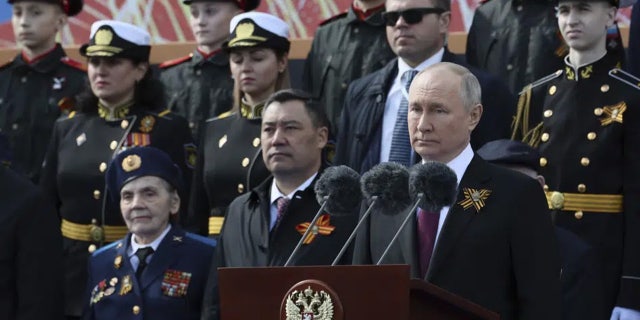 CLICK HERE TO GET THE FOX NEWS APP
On Monday, Zelenskyy announced that he was moving the date of Ukraine's Victory Day celebration to May 8, which aligns with the date Western allies celebrate the WWII victory, and renaming it Europe Day.
"We will not allow lies as if the victory in that war could have taken place without the participation of any country or nation. As then we destroyed evil together, so now we are destroying a similar evil together," Zelenskyy said.
He continued: "Unfortunately, evil has returned. Although now it is another aggressor, the goal is the same – enslavement or destruction. And just as then we relied on the joint strength of free nations, so now we fight against evil together with the free world, together with free Europe. And we will prevail! It will be the Day of our victory."
The Associated Press contributed to this report.