The Zaporizhzhia Nuclear Power Plant (ZNPP) is once again becoming a chief concern for defense officials as Russian forces have begun fortifying its nuclear reactors in apparent preparation for a looming Ukrainian counteroffensive, the U.K. defense ministry said Thursday.
Russian troops have created "sandbag fighting positions" on the roofs of "several" of the six nuclear reactors.
"Russia has controlled ZNPP since March 2022," the ministry said in its daily intelligence update. "However, this is the first indication of the actual reactor buildings being integrated in tactical defense planning."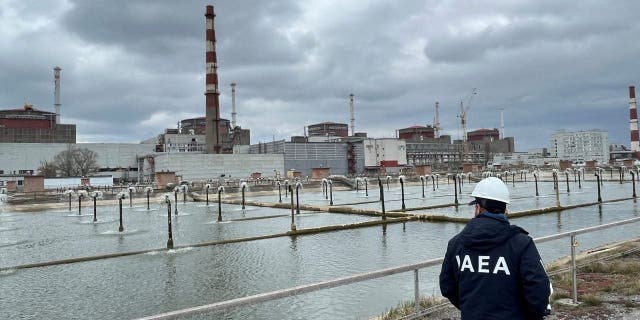 UKRAINE READIES SPRING OFFENSIVE EXPECTED TO BE LARGEST MOBILIZATION SINCE WAR WITH RUSSIA BEGAN
The ministry assessed that Russian forces have likely constructed these fortifications because they are "increasingly concerned" of another "major" Ukrainian counteroffensive – similar to campaigns seen in Kharkiv and Kherson last September and November respectively.
"The move highly likely increases the chances of damage to ZNPP safety systems if fighting takes place around ZNPP," the ministry warned.
The daily brief also noted that "direct catastrophic damage" to the nuclear reactors was "unlikely" if an assault is carried out with infantry weaponry because the structures are "heavily reinforced."
Rumblings that a significant Ukrainian counteroffensive was imminent this spring have surfaced for months, and top strategists and defense officials appear convinced it could happen at any moment, though details on where and how Ukraine will choose to launch its offensive this time remain nil.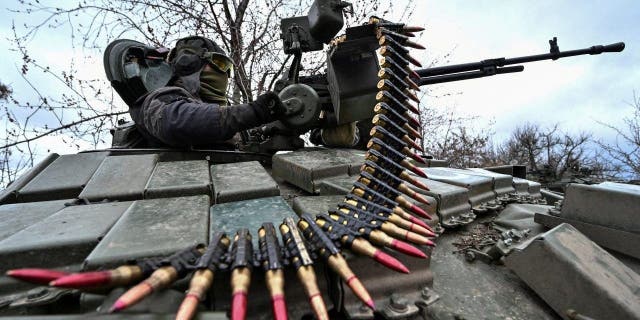 However, the power plant is not the only Russian-occupied site to see an emphasis on Moscow's defensive posture as Ukraine looks to retake its territory.
According to a Reuters report Thursday, the heaviest fortifications have been erected in the southern Zaporizhzhia region – which sits along the strategically vital Sea of Azov and in between the Kherson and Donetsk regions. 
UKRAINE'S GOVERNMENT LAUNCHES INITIATIVE TO STREAMLINE DEVELOPMENT OF DRONES, OTHER TECHNOLOGIES USED IN WAR
Fox News Digital spoke with a geospatial expert from the Institute for the Study of War earlier this month who detailed the most strategically vital area Ukraine will need to retake if Kyiv wants to begin pushing Russian forces out of its eastern flank – a key region which sits in south-central Zaporizhzhia.
Russian forces have heavily fortified areas surrounding the three cities that make up a triangle region, which includes the urban areas of Melitopol, Tokmak and Mykhailivka.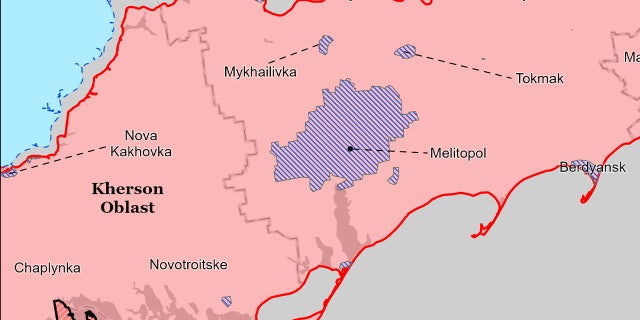 "If they can take this triangle, they will have effectively interdicted the key roads and key highways that are necessary for supporting everything west of this position – that's everything currently occupied in Kherson as well as everything in Crimea," George Barros, a Russia analyst and leader of the Geospatial Intelligence Team at the Institute said. "And that's going to cause a major logistical problem for the tens of thousands of Russian troops that are in this territory."
If Ukraine is able to oust Russian forces from this area, they could also have greater success in securing the Black Sea and the trade routes, which have once again become a chief problem for not only Kyiv, but the global community.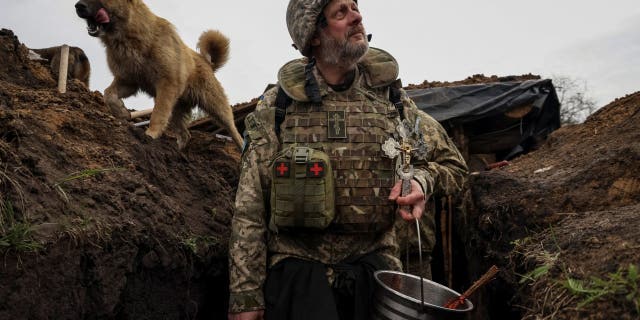 CLICK HERE TO GET THE FOX NEWS APP
Russia's defense fortifications have not only been erected in the south of Ukraine following Kyiv's successful fall campaigns, but across Ukraine's entire eastern flank, reported Reuters Thursday. 
Ukrainian troops have been training with Western forces for months in preparation of its looming offensive, though these Russian fortifications, which include trenches, tank traps, dragon's teeth, concrete pillboxes and other field fortifications, are expected to make the battlefields that much more grueling and likely difficult for Ukrainian forces to make swift advances.